"Rococo Rouge"

"Rococo Rouge"
Produced by Company XIV
Conceived, directed and choreographed by Austin McCormick
428 Lafayette Street Theater-Lounge, New York, NY
Reviewed 20 Sep 2014 by Larry Litt
Rococo Rouge. Photo by Phillip Van Nostrand
Honestly billed as a 'titillating evening of decadent divertissement' Rococo Rouge is one of the most dazzling, provocative and fun productions of this season. Director Austin McCormick has turned the opera, ballet and burlesque worlds on their collective derrieres, rolled them into young and juicy carefully layered parfaits of glorious songs and dances. Once again Company XIV, this highly trained and skilled group of multi-talented artistes presents a sophisticated night out that completely satisfies its audiences.
What attracted most me are the variety of cabaret and vaudeville styles that McCormack is ably to draw out of each of his dozen performers. Their ensemble range is magnified when each takes a turn at either a song styling or extraordinary solo and duo dance numbers.Laura Careless, a lithe modern dancer with the passionately expressive face of a long suffering angel, moves mountains of love to torch throbs sung by chanteuse Katrina Cunningham, creating some the most riveting dramatic moments of the show.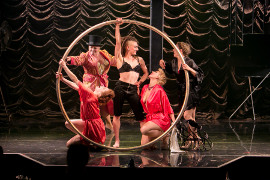 Rococo Rouge. Photo by Phillip Van Nostrand
Glitz and glitter abound. The rarefied costume drag dramatics of the evening belong to bewigged and bewitching Davon Rainey whose dancing is both highly stylized burlesque and a personal call to immediate eroticism.He evokes a mocking sexuality that waves red flags of meaning to specific audiences who then scream with delight.
Lovely Brett Umlauf and grand dame Shelly Watson present operatic arias as if we are in their bedrooms for intimate moments. The theater walls disappear for a few minutes, turned in a dreamland of color and sound. The audience was so quiet I thought I heard heartbeats, probably my own.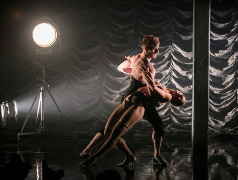 L to R: Steven Trumon Gray & Cailan Orn. Photo by Phillip Van Nostrand
Allison Ulrich and Steven Trumon Gray are both acrobatic performers whose overtly sexual love duet on the suspended aerial high ring give new meaning to the tired phrase 'is there some place different we can seduce each other?' Scorchingly entwined like fig vines wrapped around oaks, their thrill is not gone, it's up there ten feet above our heads, dripping lust.
The message of Rococo Rouge, if there has to be one, is that our mediated, puritanical screen minded society doesn't offer nearly enough erotic fun in live theater. If you agree then this is the show for you.