By Glenn Loney, June 2011.
About Glenn Loney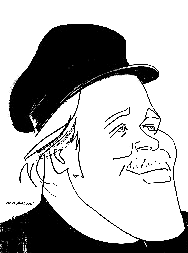 Caricature of Glenn Loney by Sam Norkin.
Report on Charleston's Spoleto Festival USA: 27 May to 12 June 2011
PASSING GLANCES AT SCENES SEEN:
•Channeling Gian Carlo Menotti in a New Medium…
•Elizabeth Futral Channels Émilie du Chatelet: Fearing Death & Translating Newton!
•More Genius from Cornwall & Emma Rice: Not The Red Shoes You Thought You Knew.
•Brilliant Dancing & Choreography from the Corella Ballet: Come Back to Manhattan Next Time!
•Mozart's Magic Flute Gets the French Treatment: Falling Through the Floor a Lot…
•No Khmer Rouge Makeup for Cambodian Khmeropédies: Ritualized Court & Temple Dancing.
•Anne Marie McDermott Brings Louie Gottschalck Back To Vibrant Life: The Union.
Festival Overview:
Celebrating the Arts in South Carolina's Historic Seaport--
With Fort Sumter Only a Cannon Shot Away…
That Charleston & Savannah are the two most beautiful towns in the United States makes it doubly a Pleasure to travel South for the Spoleto Festival USA in South Carolina.
Georgian Savannah is only a Greyhound Ride away, with no concurrent festival, so you have your evenings free to enjoy the Historic Squares, graced with Noble Mansions & Town Houses.
Charleston--with its many Islands & Waterways--encourages Tours by Sea & Land. One Must Do Boat Trip is the Outing to Fort Sumter, where the War Between the States was ignited.
Although Cartoonist Walt Kelly's Pogo once referred to this forbidding Bastion as "Fort Sumptuous," its Outer Architecture & Inner Décor are anything but Lavish.
As is now the custom with many International Summer Festivals, Charleston also has an Arts Component in downtown Museums & Galleries: Graphics, Water Colors, Oils, Silk Screens, Sculptures, & Assemblages…
But, for some, you just cannot have enough Palmetto Fans!
Whatever became of the Festival dei Due Monde?
Inspired by Gian Carlo Menotti's Spoleto Festival in Italy, Charleston was deemed an appropriate site for a Spoleto Clone in the New World.
Early on, Gian Carlo was much in evidence. His various works for American Music Theatre enjoyed an appreciative Public.
As the two Festivals & the two sponsoring towns matured in Arts Production, this close association was dubbed the Festival dei Due Monde, or the Festival of Two Worlds.
Unfortunately, over time, Gian Carlo's concerns for the American Spoleto began to diverge from those of the Local Sponsors & Producers.
He even wanted to turn over the Directorship of the Charleston Spoleto to his adopted son, Francis, not known for his Charm or Management Skills…
That was the end of the Due Monde, on paper & in fact.
Shortly before the Rupture, I'd asked Gian Carlo's Personal Press Representative for an Exclusive Interview. He promised to arrange this, but I was to talk to No One in the Spoleto Office in Charleston, even though the Interview would take place at the Up Scale Mills House.
Asked by the local Press People if I planned any Interviews, I said I was to have one with Gian Carlo, but that was being privately arranged. They stepped in to re arrange it; Gian Carlo's NY Press Person called me in Charleston to excoriate me.
In the event, we never had a Luncheon Chat at the Mills House.
Back in Manhattan, we eventually met at the Algonquin. Gian Carlo was accompanied by his Factotum, a young Israeli named Mooky Dagan!
When I took out my trusty old SONY Tape Recorder, Gian Carlo was instantly repelled by the sight of it: No Recorders!
I don't take Notes, as I cannot read my own Handwriting. So there is No Tape of Gian Carlo. Just some scribbled Memories…
But it was nice that Spoleto Charleston remembered Gian Carlo on his 100th Anniversary with a revival of The Medium. Arguably his best achievement in Opera…
Performing Arts Events:
Gian Carlo Menotti's THE MEDIUM [★★★★★]
Kaija Saariaho's ÉMILIE [★★★★★]
Emma Rice & Kneehigh Theatre'sTHE RED SHOES [★★★★]
THE CORELLO BALLET [★★★★★]
Wolfgang Amadeus Mozart's THE MAGIC FLUTE [★★★]
KHMEROPÉDIES I & II [★★]
The Bank of America's Chamber Music: Program I [★★★★★]
SHOW NOTES OVERVIEW:
The Medium Is The Message: But What Is It Trying To Tell Us?
The Founder of both Spoleto Festivals, Gian Carlo Menotti, was one of the very few modern Opera Composers who also found fame on Broadway.
He was fecund, constantly at work on new projects, but Help, Help, The Globolinks! did not add luster to his reputation. For that matter, it was good that the Charleston version of the Spoleto Festival did not choose to honor his Centenary with The Saint of Bleecker Street.
When the Dock Street Theatre's curtain rose on John Pascoe's new production of The Medium, I had the visual sensation that we were inside the Head of the Statue of Liberty. Or inside the Dirigible Hangar at Moffatt Field…
Immense Hangar like Doors open onto a seemingly Destroyed City in Silhouette. Below them on the stage is the cluttered Séance Space of the fraudulent Madame Flora. Great Steel Girders thrust about the upper air.
Endless mirror surfaces reflect & refract the Jungle of Furniture & Detritus.
In this strange maze, Madame Flora arranges Spirit Rappings & Communions with the Dead for Desperate & Bereaved Parents, almost willfully deceived.
Barbara Deaver was a raffish, compelling Madame Flora, eventually driven mad by her own Ghosts & Fears.
As her Séance Helper & daughter Monica, Jennifer Aylmer was both frustrated by her Mother but also enchanting in her performances.
Gregg Mozgala--as the Deaf Mute Boy of all Tasks, Toby--was Passionate & Pathetic. He did not have to mime his lameness…
Jennifer Feinstein, Caitlin Lynch, & Stephen Bryant were excellent as the piteous Parents.
Joseph Flummerfelt conducted with a keen sense of the unfolding terrors.
John Pascoe not only staged this Medium: he also designed sets, costumes, & lighting.
The Durability of The Medium is impressive. Who now is eager to see a revival of The Consul?
Your Arts Reporter saw it in premiere in the American Pavilion at the Brussels World's Fair, decades ago… Not easy to get a Visa if you seem Too Desperate!
Forget about Help, Help, The Globolinks! My cousin, Tom Hewes, was Lavendar Gas in one production. Possibly at the Santa Fé Opera, but who can remember that far back?
Nonetheless, there was something about the lilting, even simplistic, melodies of some Menotti Arias--especially in the very popular Medium--that lent themselves to Parody.
In Leonard Sillman's New Faces of 1952, Ronnie Graham & Alice Ghostley made mock: Monica, Monica, Dance the Waltz proved an Easy Target.
Nonetheless, John Pascoe's handsome, haunting production of The Medium is too powerful to be sent back to Storage!
It needs to be more widely seen, but it must be a tremendous task to inload & outload the complicated Setting & its Set Props.
Ideally, it should have been seen first at the New York City Opera. Instead of the Stephen Schwartz version of a Fraudulent Medium seen this past Spring.
[Schwartz's Séance on a Wet Afternoon is not soon apt to return to the Repertory of the possibly doomed New York City Opera…
[Watching this Musicalized Tale of a deluded & possibly insane San Francisco Medium--enlisting her weak & waffling Husband to kidnap a Little Rich Girl--then holding her for Ransom, but killing her instead of returning her unharmed to her Parents, I thought it would make a better Movie than an Opera.
[In any case, Gian Carlo Menotti had already created The Definitive Opera about a Fraudulent Medium…
[I didn't realize that Brian Forbes had already made Mark McShane's Medium novel into a Motion Picture!
[Unfortunately for the Future of American Opera--or at least the future of Séance--much of the Score sounds like Background Music for a Major Motion Picture.
[Bring back Menotti's Medium! –Added Editorial Comment]
Terrifying To Die in Childbirth, Finishing a French Translation of Newton's Principia Mathematica!
Pregnant by a Man who has abandoned her, the distinguished Scientist & Mathematician, Émilie du Châtelet, writes him a Letter.
It is the Enlightenment in 18th Century Paris, so this passionately sensible but acutely sensitive Woman phrases an Elegant Reproach with her Quill Pen.
This also permits her to share with the Audience her past Discoveries--about Men, as well as Kinetic Energy, her wide range of Knowledge, her Mental Triumphs, & her Fear of Dying in Childbirth, before she has completed her Translation of Sir Isaac Newton's Principia Mathematica into French…
Of course, she's not Lecturing, as Émilie is an Opera.
This kind of Narrative Content, however, doesn't look very promising on paper.
But the Results--in Sung Performance--are both Glorious & Heart Rending!
This is partly owing to the splendid voice & passionate acting talents of Elizabeth Futral, as Émilie. But even more credit must go to the Finnish Composer, Kaija Saariaho, & her ingenious Librettist, Amin Maalouf.
As Émilie writes her Letter, we hear the squeaking of her Pen on the Paper. But we also see what she is writing, projected onto a myriad of floating White Scrims, like Elongated Triangles.
This is a Magical Effect, as are the Ghostly Videos that enhance Émilie's Agony & Ecstasy.
She isn't Going To Make It… But she leaves a tremendous Legacy behind.
Director Marianne Weems & her Design Team have worked wonders to bring Émilie & Émilie to glowing life. John Kennedy conducted.
[No! Not that John Kennedy. He's dead…]
This remarkable MonoDrama Opera was premiered last Spring at the Opéra de Lyons. After Charleston, it surely should be booked across the country!
It must be seen in New York. But where?
Ordinarily, the New York City Opera should do the Honors, but it already had a disastrous MonoDrama Triple bill recently…
First, Emma Rice Reworked Brief Encounter: Now, She's Re Cobbled The Red Shoes!
There's an Old Saying: If the Shoe Fits, Wear It!
But if it's a Super Slim Manolo Blahnik or a Jimmy Choo Shoe, a Vain Lady can always force her foot into the encasing Leather…
Danish Fabulist Hans Christian Andersen didn't know anything about Choos or Blahniks, but he did know something about what Vanity & Willfulness can do.
Only Judy Garland could successfully wear a pair of Ruby Red Shoes.
Not so the Doomed Heroine of Andersen's cautionary Fairytale.
Once the Cursed Red Shoes are firmly on, she cannot get them off & she will Dance Herself To Death.
In the Movie Version of The Red Shoes, the horror is even greater: she's a Ballet Dancer.
Cornwall's innovative director, Emma Rice--who last season gave Broadway her take on Brief Encounter--has hilariously reworked the Old Red Shoes Tale, with the aid of her Kneehigh Theatre Ensemble.
The Girl who tugs her foot into the Red Shoes [Patrycja Kujawska] looks like she could Milk Cows & Split Rails, but she can't get rid of those furiously Dancing Clogs.
But we aren't backstage at the Royal Ballet. We seem to be on an improvised stage, with a Drag Queen Mistress of Ceremonies [Giles King, as Lady Lydia] on a stage above the action.
The Boniest Knees & the Saggingest BVDS are constantly on view, thanks to the various roles taken by Dave Mynne, Robert Luckay, & Mike Shepherd.
Stu Barker & Ian Ross provide provocative music.
No, it's not Noël Coward. Nor essentially Hans Christian Andersen. But it could be a Palpable Hit on Broadway next season!
Remarkable Dancers, Outstanding Choreography, World Acclaim: The Corella Ballet of Spain!
Actually, Angel Corella, Artistic Director & Principal Dancer of the Corella Ballet of Spain, is hardly an Unknown Quantity in America & Abroad. He was longtime at the American Ballet Theatre & has danced at the Royal Ballet & the Bolshoi.
But two years ago, he returned to his Native Spain to create an ensemble with outstanding Spanish dancers, while developing the Stars of Tomorrow.
Not only from the Visual Testimony on stage at Charleston's Gaillard Auditorium--but also from eager New York Balletomanes, who had rushed down the East Coast, not to miss the Spoleto Programs--Corella has succeeded brilliantly.
Partnered with Carmen Corella, he was liquidly moving in Maria Pagés' Solea. They are an impressive Duo.
The Aqua, Red, Blue, & Pink Pas de Deux Choreographer Clark Tippet devised for Bruch's Violin Concerto No. 1 were marvelously performed.
Christopher Wheeldon's For 4--set to music by Franz Schubert & originally created for Kings of the Dance--fascinated, as it gave Solos to each of the four dancers, allowing them to show their own distinctive qualities.
But Wheeldon's DVG: Dance à Grand Vitesse provided the greatest & showiest Challenge.
When will we see the Corella Ballet in Manhattan?
A Dark, Doom Laden Magic Flute from France: Euro Trash Strikes Again!
If you don't have a really Splendid Queen of the Night, creating a new production of Mozart's Die Zauberflöte may not be a Good Idea.
The same goes for Wagner's RING, without a brilliant Brünnhilde…
Unfortunately, Audrey Luna was overtaxed in this Pivotal Role. Working too hard…
The Young Lovers, Prince Pamino & the Queen's daughter, Pamina, were handsomely interpreted by Fabio Trümpy & Marie Arnet.
Best of all, however, was the Papageno of Ruben Drole, with an immense Bird Cage on his back. He also had a live white Dove [or Pigeon] fluttering on & off his hand!
Even though Papageno describes himself as a Bird/Man, Costumier Agosto Cavalca had his Own Ideas about proper outfits for the cast. Some of Sarastro's Temple Adherents looked like Fugitives from X Men.
The Queen of the Night's Three Ladies were great fun, but they looked like Fugitives from Priscilla Queen of the Desert.
In keeping with the Modern Trend--especially in France--of Euro Trashing Great Opera Classics with Sets, Costumes, Characterizations, & Actions that often have little to do with the Original Libretto or the Qualities of the Music written for Solos, Duets, Trios, & Choruses, this Magic Flute was especially dark & doom laden.
People kept popping up out of the stage floor or suddenly disappearing into gaping holes. This was virtually a Booby Trapped production.
The evil Monostatos remains a Problem. Not only because of the Negro Parody Mozart's Librettest/Comedian Emanuel Schikaneder created…
Staged by Moshe Leiser & Patrice Caurier--with a dull set of seemingly left over stage panels by designer Christian Fenouillat--this depressing production wouldn't look out of place in either Salzburg or Zurich.
The production was initially launched by the Angers Nantes Opéra. At least you cannot blame it on Avignon or Lyon…
[Was it, after all, a Mistake to Revoke the Edict of Nantes?]
Post Pol Pot, Royal Cambodian Khmer Dance Rituals Live On in Video Seminars.
When I was last in the Cambodian Capital, I was escorted to a former Girls' High School, where Khmer Rouge Torture Techniques were raised to a High Art.
[Possibly, Don Rumsfeld & Dick Chaney may have learned something from Pol Pot that they were able to use at Guantanamo & Abu Ghraib?]
A Map of Cambodia was highlighted with real Human Skulls. Even a figure of Pol Pot was seated on a heap of Human Skulls.
Later--spending five entire days among the restored ruins of Angkor Wat & Angkor Thom--I was able to photograph Multiples of Dancing Girls on the Temple Walls.
They, of course, did not move. But their Poses were those of Classical Cambodian Dance…
The Problem with Emmanuèle Phuon's Khmeropédies was not so much the use of Eric Satie's Gymnopédies for its Musical Subtext, as it was the lack of Focus or Direction in this unsatisfying Dance Event.
Initially, a Cambodian Dancer postured at Stage Left, with a slide of some odd piece of stone projected onto an upstage screen. This was not at all interesting or instructive.
Later, however, it appeared that Instruction was, indeed, the aim of the Production. Even with Dance Training Videos projected upstage.
There were some Good Elements in the show, notably the traditional cavortings of Monkey Kings…
But this material needs re structuring, in order to make it an Effective "Theatre Experience."
America Is Beautiful, as Louis Moreau Gottschalk Pianistically Reminds Us in The Union.
The Bank of America--which now has ATM's & Offices on almost every corner in Manhattan--seems to have done so well with the Bail Out that it can now sponsor such worthy causes as the Spoleto Chamber Music Series.
The highlight of Program I was Anne Marie McDermott's spirited key thumping piano interpretation of Louis Moreau Gottshalks's The Union. This curious work ingeniously combines Old Favorite Patriotic Anthems to remind us all of Our Spacious Skies & Fruited Plains.
It could have provided a brief moment of Vintage Gottshalkiana to have also programmed The Golliwogs' Cakewalk, but this would have been decidedly Inappropriate in Charleston. Not so long ago, Movie Theatres had separate "Colored" entrances, leading to the upper balconies.
Works by Franz Schubert & Osvaldo Golijove completed the lively program, ably played by the St. Lawrence String Quartet.
For the Record: There were so many Performing Arts Events on the Official Spoleto Festival USA Program that it would have taken Your Arts Reporter two weeks to have seen & savored them all.
There was, unfortunately, no time to check out the many Piccolo Spoleto offerings. This is Charleston's version of the Edinburgh Fringe Festival.
Next Spring, if you come to Charleston with no Spoleto Festival shows already booked, you can always find something interesting at the Piccolo.
Among the many Main Tent Attractions of the Festival itself that I had to miss were: The Cripple of Inishman--which I had already seen in at the Atlantic Theatre in New York & elsewhere, Taylor Mac in Comparison Is Violence, Or the Ziggy Stardust Meets the Tiny Tim Songbook, the Shen Wei Dance Arts, the Intermezzi, & the Westminster Choir Concerts, as well as an amazing variety of Solo Performances!
I also missed Lee Breuer's The Gospel at Colonus--which I'd seen at BAM quite some time ago & Circa--which I'd seen at the New Victory in Manhattan.
[Interestingly, the New Victory just showed Lee Breuer's remarkable Peter & Wendy--which was, in fact, commissioned by the Spoleto Festival, way back in 1996!]
Also missed, but sure to turn up elsewhere: Dean Wareham & Britta Phillips' 13 Most Beautiful… Songs for Andy Warhol's Screen Tests.
Other Arts On View in Charleston:
Yes, Virginia, the windows of every Art Gallery in Charleston are filled with such Collectibles as Prints, Watercolors, Engravings, Paintings, & Sculptures. There are even some Constructions & Assemblages.
If you have a yen for paintings of the many speared Palmetto Leaves, there are plenty of them. But, in the long, long Market on Market Street, you can buy Palmetto Fans. As well as all kinds of baskets & trinkets made from natural Needles & Fibers…
There seem to be a number of Talented Artists now resident in Charleston. Clown Faces, anyone?
But there are a lot more young artists developing in the Arts Programs of the College of Charleston.
In the Galleries of the College's Halsey Institute of Contemporary Art--located in the Marion & Wayland H. Cato Jr Center for the Arts--you may be astonished at the daring variety of Subject Matter & Treatments.
Some works, however, do not seem to have any Subject Matter, but they have been given a Lot of Treatment…
Notable is the Exhibition of Paolo Ventura, also a Spoleto Event.
Ventura creates tiny Dolls in Period Costumes. He then devises Mini Scenic Environments for them.
When all is in place, he photographs these Dioramas.
Winter Stories is the title of this show. An Old Circus Performer is looking back on a Happier Time in Italy.
For Ventura, himself, this is Italy in the 1930s.
To those who were alive then--as was Your Arts Reporter!--& don't have the Memory Bank of an old Circus Guy, you will remember that Il Duce, Benito Mussolini, was in his Prime. Invading Africa, among other Imperial Adventures…
Alongside Ventura' evocation of The Past, there is the fantastic Record of Eames Demitrios, "Geographer at Large."
Eames--you may remember those Eames Chairs?--has discovered the hitherto unknown Existence of a kind of Parallel Planet.
Not only has Eames Demitrios mapped its Continents & Cities, but he has also photographed Scenes & Locales, as well as placing [or "discovering"] impressive Bronze Plaques, to celebrate this or that Parallel Event.
Right in front of me is his Travel Guide Volume Four, which helps us to Discover Leddl & Parts of le Now Estrelliia…
These are Portions of Kcymaerxhaere, which looks a lot like the World We Live In. But it's only a Fantasy…
Or is it? There are those Photographs of the Bronze Historical Markers, aren't there?
How about the Plaque for the Great Dangaroo Flood?
If you want to learn more about the Parallel Universe of Kcymaerxhaere, try Kcymaerxhaere.com…
A Splendid Side Trip to Savannah:
Years & years ago, I used to be a Regular at Charleston's Spoleto--also, occasionally, at the Real Italian Spoleto Festival--but I always drove up from Savannah, with my Local Host, the Late Hugh Mercer.
If you are a Savannah Native, you will surely recognize that Name.
The Mercer Clan gave the Nation General Hugh Mercer, in the War of Independence. There is a great painting of the General in Combat in the Yale University Art Gallery. There are also Bronze Plaques here & there in the Southland.
Then they gave the Confederacy another General Hugh Mercer. But He & His Cause Lost…
There's a Hugh Mercer Highway & a Hugh Mercer Middle School.
Then, there's the mystery haunted Hugh Mercer House, on one of Savannah's Historic Squares.
You may have already seen this Mansion, if you saw the film, Midnight in the Garden of Good & Evil?
My Hugh Mercer was an Architect who worked for Philip Johnson. He retired to Savannah, where we'd always drive out to the Cemetery to admire the long block of stone that bore these words:
JOHN HERNDON MERCER
"And The Angels Sang"
Hugh was so proud of his song writer cousin, Johnny Mercer. But so was Savannah: they even renamed a local river newly as Moon River!
Hugh, it was, who introduced me to the Savannah College of Art & Design: The "Scaddies," as Hugh affectionately called them…
Not only are the SCAD Students developing as Artists, Craftsmen, Designers, & Architects--their work is on view in their Historic Building HQ--but they are also active in Saving Savannah.
Looking at the fascinating Student Art Works at the SCAD HQ, my eye was both metaphorically & actually caught by the remarkable Graphic Design & Splendid Photography in their various brochures.
They are in Europe. They are in Hong Kong!
There's even eLEARNING…
Although SCAD experts concede Parsons--of the New School in Manhattan--First Place, they say SCAD is in the Top Ten Design Schools in the Nation.
For an outstanding presentation of all their various programs & faculties, you might want to get a copy of their Catalogue. It's so big, you could prop the kids up to the table on Thanksgiving!
Try scad.edu…
You want to design Video Games? How about Film Animation? Then there's Urban Design. TV Producing! How about Sequential Art?
Yes, you can learn how to design knock out Billboard Posters. Not to overlook Design for Sustainability, as well as Fashion Marketing & Management.
You can learn how to write a Play, Direct it, Act in it, Design its Sets, Costumes, Lighting, & Sound!
You can also discover the ways in which you could Review the Play:
Be Too Kind & you won't get your stuff published. Everyone likes a funny caustic Review. Except, perhaps, the Playwright & everyone else concerned with the Production…
One area of the myriad SCAD Educational Offerings seems somewhat apart from the Other Arts being Taught & Tweaked: This is called Equestrian Studies!
Now, it's a Wise Coed who knows her own Mount, but this is not about Ordinary Horseback Riding.
Under Careers in Equestrian Studies there are such possibilities as: Barn Manager, Show Groom, Tack Dealer, Equine Photographer--They Shoot Horses, Don't They?, Equine Journalist/Communications Specialist, Equine Fashion & Accessory Designer, Dressage Rider, & Humane Investigator!
Stop Shooting--or shooting up--Those Horses!
But SCAD also specializes in Art History & Historic Preservation. The Latter is being put into practice every day in the increasingly aging & distressed Historic District of Downtown Savannah.
Down in Greenwich Village, it seems that NYU is devouring every piece of Real Estate in sight. Including the Premises of the Triangle Shirtwaist Fire!
Locals hate this Territorial Expansionism.
But down in Savannah, they are grateful that SCAD is saving the Historic City, one building at a time.
On almost every Historic Square there are Sotheby's Signs--also, unfortunately, in Charleston--to alert you to the availability of one of the City's great Columned Mansions or Sedate Town Houses.
Savannah's Downtown died decades ago. Killed off by a series of Malls, that moved farther & father out, as the first Malls died away, leaving acres of cracked Tarmac.
SCAD is Saving the Day for Historic & even Modern Properties. They have even saved & renovated two Art Deco Diners!
Scott Bennett, our Website Editor, & I ate in one of these. On its very last day, before Commencement!
We got the Last Tomato Slices in the kitchen. There was still some Lettuce left…

| home | discounts | welcome | search | international | lobby |
| museums | NYTW mail | recordings | coupons | classified |