By Glenn Loney, September, 2011.
About Glenn Loney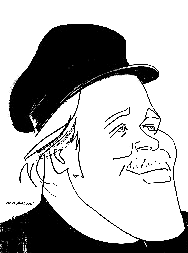 Caricature of Glenn Loney by Sam Norkin.
Report for The Munich Festival 2011
PASSING GLANCES AT SCENES SEEN:
Look Where It Comes Again! Munich's Annual Opera Festival--In Various Venues…
Don't Kill Bambi's Mother! Dead Deer Violated in "Director's Theatre" Rusalka!
Da Ponte's Don Giovanni Staged in Perambulating Cargo Containers!
Brilliant Post Modernist Minimalist Ariadne auf Naxos: Truths Revealed…
In Ferrara, Don't Drink the Wine when Lucrezia Borgia Is Pouring!
Tired of Romeo & Juliet? How About Focusing on Capulets & Montagues Instead?
Outside the Official Festival--But Still a State Theatre: The Gärtnerplatztheater!
Very Early German Opera: Georg Philpp Telemann's Der geduldige Socrates…
Madame Butterfly in the Middle of Munich: Modernist Japonoiserie auf Deutsch!
Wright & Forrest's Grand Hotel Still Open for Business & Monkey Business Also.
Getting Ready for Oktoberfest in July: Looking Forward To More Beer Busts!
CELEBRATING MUNICH & ITS OPERA CULTURE!
During Festival Season in the Bavarian State Capital of Munich, there are always so many different kinds of Musical Entertainments on offer, that it really doesn't matter if you cannot get a ticket to Mozart's Mitridate, Rè di Ponto, at the fabulously Jugendstil Prinzregenten Theater.
The Prince Regent Theatre--named for Prince Luitpold, who reigned in Bavaria, after the Death by Drowning of King Ludwig II, who was succeeded by his Certifiably Mad Brother, King Otto of Bavaria--was deliberately constructed as a Festival Theatre for the Operas of Richard Wagner.
As a Challenge to Bayreuth…
Even though "Mad" King Ludwig--as Wagner's Loving Patron--had funded Wagner's luxurious Villa Wahnfried in Bayreuth & ultimately paid the bills for his now world famous Festspielhaus, Bavarian Kultur Machers in Munich believed Munich & the Bavarian State had more Rights to Wagner Productions than did Wagner's feisty Widow, Cosima Von Bülow Wagner.
King Ludwig's name is rendered in French as Louis & he really thought of himself as a kind of Reincarnation of the Sun King!
In fact, his Last Palace to be Built--there were some others still on the Drawing Boards, before he was declared Incompetent, or Insane--was Herrenchiemsee, inspired by the Palace of Versailles, complete with a Galerie de Glaces, or Hall of Mirrors…
This Summer, many in Munich were thoughtfully, wistfully observing the 125th Anniversary of His Death in Lake Starnberg, where his Cousin, Sissi, the Empress of Austria, was waiting on the other side of the lake to row him to Safety. Or so that's the Story…
Also, already in Mid Summer, the great Bavarian Breweries were constructing their immense Bier Zelten, or Beer Tents, on the Theresienwiese, in preparation for the annual Oktoberfest!
In its earliest days, Munich was a Nest of Monks--hence the Name of München, or Monaco--where many Different Denominations of Holy Friars & Brothers were busy brewing Beer!
There were Franziskaners, Augustiners, Paulaners, und so weiter…
Hofbräu was brewed for the Court & the world wide popular--even, one might say, Lionized--Löwenbräu doesn't sound the least bit Monastic…
At least the Bavarians of that time didn't have problems with Priestly Pedophiles!
Brother Franciskus, you brew me a Good Beer & I'm a Happy Bauer, or Farmer/Peasant!
But, over time, people began to come to Munich--not just outlying Farmers--for its Culture. Not just for its Panoply of Beers.
With the opening of Richard Wagner's famed Festspielhaus, in 1876, in Bayreuth, making a summer trip to Europe for Opera productions in Bayreuth, Munich, & various Italian Opera Meccas became a kind of Cultural Tradition, which grew over the years.
But just before the Outbreak of World War II, American Opera Lovers who wanted to go to Munich for the Festival or to Bayreuth--after the Berlin Olympics of 1936--had difficulties in getting Visas.
Germans--especially German Jews--found it impossible to obtain Visas for journeys abroad. They might not return…
Even amid the Ruins of Allied Bombings of Major German Cities--Munich was 90% destroyed in its Historic Interior!--Festival Fever began again to percolate.
Across Germany's southwestern border in Austria, the Bregenz Festival was founded in 1946.
The Salzburg Festival--founded by Max Reinhardt, in the 1920s--resumed, just across Bavaria's southeastern border.
[Fortunately, Julie Andrews & the entire Sound of Music Trapp Family had escaped just before Salzburg Nazis could seize them, in one of the final festivals before Europe was enveloped in War!]
The Munich Festival also resumed, but its Major Stage was completely destroyed. Its Historic National Theater was nothing but a hollow shell.
It was to remain that way--a kind of Ghost Theatre in the Heart of Munich--until it was restored in 1963: almost Twenty Years after its Fiery Death…
Your Arts Reporter was stationed in Munich for various semesters--from 1956 to 1960--as a University of Maryland Professor Overseas, teaching English Comp & Public Speaking to US Army Officers & Enlisted Men.
I soon became a Regular at the Bavarian State Opera & at the second tier Opera Operetta Musical Theatre, the Gärtnerplatz Theater.
But the Principal Venue for BSO productions during those years was the handsome Jugendstil Prinzregenten Theater, not the shattered National Theater
When I returned Stateside--to teach at Hofstra, Adelphi, & later Brooklyn College--every summer I set off for the Major Opera Festivals. I still do…
I'll never forget the magnificent re opening of the National Theater, restored in all its Neo Classic Glory!
The celebratory production was Wagner's Die Meistersinger, with my by now dear friends Jess Thomas as Walther von Stolzing & Clare Watson as Eva.
In that fabulous 1960s decade, these talented young Americans, Jess & Clare, were to become the King & Queen of the Bavarian State Opera
But, even today, an American is Very Important to the BSO. He is Fresno born Kent Nagano, the GMD, or General Music Director.
This Autumn, there will be Two Premieres at the BSO: a new Contes d'Hoffmann & a Turandot!
Remaining in the Repertory--among other handsome productions--will be: Carmen, La Bohème, Fidelio, Tosca, Der Rosenkavalier, Die Zauberflöte, & Die Fledermaus.
[There was a time when the Bavarian State Opera had some sixty productions in storage, with nearly forty on tap for its Repertory. If a Tosca suddenly fell ill & there was No Cover, Carmen could be set up on stage in a few hours…]
The National & the Prince Regent also share their stages with the Bavarian State Ballet, so there's something for almost everybody!
Over at the Gärtnerplatz, some of the BSO's repertory choices are being echoed, but the actual stagings won't look anything like those at the National.
The relationship of these two companies is rather like that of Royal Opera, Covent Garden, & the English National Opera. Or that of the Met to the New York City Opera, when the NYCO still was a Contender…
On the Gärtnerplatz Bill for the coming Season's Repertory--among other productions--are: Falstaff, The Cunning Little Vixen, The Mikado, The Bartered Bride, The Magic Flute, Die Fledermaus, The Love of Three Oranges, La Traviata, Hansel & Gretel, Der Freischütz, The Wizard of Oz, La Cage aux Folles, & Philip Glass' Fall of the House of Usher.
There will also be a Premiere of a new opera, composed by Detlev Ganert, titled Joseph Süss. This is the tragic story of the German Jewish Financier, Joseph Süss Oppenheimer--Advisor to Duke Karl Alexander of Württemberg--whom the Nazis enjoyed calling Jud Süss or Jew Süss…
He was hanged as a Traitor in Stuttgart in 1738…
The Moral of that bit of History is that you do not want to lend money to Profligate Rulers who will repay you with Death, instead of your Principal, with Interest…
The summer Opera Productions were generally so interesting that Your Arts Reporter & his Web Editor, Scott Bennett, are looking forward to a Winter Journey back to Munich, perhaps for the Christmas Season, when Christkindl Markts are thriving in the Bavarian Capital & in Nuremberg & Salzburg as well!
BAVARIAN STATE OPERA PRODUCTIONS AT THE NATIONAL THEATER:
Dr. Antonín Dvorák's RUSALKA [★★★]
Wolf Mozart & Lawrence DaPonte's DON GIOVANNI [★★★]
Richard Strauss' ARIADNE AUF NAXOS [★★★★★]
Gaetano Donizetti's LUCREZIA BORGIA [★★★]
Vicenzo Bellini's I CAPULETI E I MONTECCHI [★★★★]
OPERA & MUSICALS AT THE GÄRTNERPLATZ THEATER:
Georg Philipp Telemann's DER GEDULDIGE SOCRATES [★★★★]
Giacomo Puccini's MADAME BUTTERFLY [★★★★]
Wright & Forrest & Yeston's GRAND HOTEL [★★★★]
SHOW NOTES OVERVIEW:
When planning the trip of Munich for the Festival, I requested--in addition to the challenging productions I was actually able to savor--Mozart's Mitridate, Rè di Ponto, Wagner's Tristan & Isolde, & Donizetti's L'Elisire d'Amore.
Apparently, Press Tickets are becoming much more limited, which may seem odd, as Print Outlets for Reviews are disappearing. Must be All Those Blogs out there…
I'd hoped for Mitridate, not only because it is so seldom staged, but also because Word of Mouth made it seem the One Opera one had to see this summer. Also, it was being presented in the Prince Regent Theatre, my favorite Playhouse in Munich.
The Soprano Star was staying in my friend Christiane's Studio Apartment, in the house in which Thomas Mann once wrote Buddenbrooks. But even the Star couldn't provide a ticket…
After I'd sent my Letter of Request off, I remembered I'd seen L'Elisire d'Amore last summer, with its hovering Space Ship…
Maybe I'll be able to see the Tristan next summer?
As a Preface to the five BSO Reports that follow, I am devastated to admit that--after spending some hours discussing Rusalka, Don Giovanni, & Ariadne auf Naxos, complete with Historical Backgrounds--instead of hitting SAVE, I inadvertently touched a panel which returned me to the SHOW NOTES Temp of the previous day.
Rather than attempt to Reconstruct, I'll refer to the brief jottings I made in Munich, intending to complete this Report when back in Manhattan. [The Gärtnerplatz reports, on the other hand, were finished when I was still in Bavaria, so they are more extensive…]
Water Nymphs Should Stay in Their Own Element & Not Just Because of Global Warming!
Dr. Antonin Dvorak was not the only composer or author fascinated with the Idea of a Union between a Water Nymph & a Human.
There's also Ondine--remember Audrey Hepburn as Ondine?--as well as Melusine, who has her own Opera, devised by Aribert Reiman. But not often performed…
For that matter, Dvorak's Rusalka is infrequently staged, given its scenic problems, swimming out of the river into the Palace.
There is another Problem, but this is for the Soprano who sings Rusalka. She longs to become Human, to leave her Watery Element, to feel the Passions that Humans experience.
But, when the Witch, Jezibaba, [a crafty Janina Baechle], makes this possible, Rusalka loses the Power of Speech. You can do a lot with Mime, but when the Composer makes you Mute, there is definitely a Problem.
The Handsome Young Prince [Piotr Beczala, also a Salzburg Festival Star this summer!]--who encounters Rusalka [the affecting Kristine Opolais] on a Hunt & falls in love with her, begging her to return with him to the Palace--loses interest because she doesn't speak. He thinks her Cold & Indifferent.
So he falls in love with a Foreign Princess [the somewhat bossy Nadia Krasteva], devastating the unhappy Rusalka.
In the Palace, she even longs to return to her Watery Home, diving into a big Aquarium, frightening the Goldfish!
The Production Photos will give you some idea of this unusual staging, but Dr. Dvorak surely would have been surprised to see a Deer actually killed & eviscerated on stage, as the Climax of the Prince's Hunt.
When this occurred at the Premiere--so it is reported--there was an Outcry! Every performance would require a new Dead Deer: PETA ALERT!
Now, the Deer is a Prop, but that doesn't prevent a bevy of white clad Nymphs from wrestling with other Deer Carcasses & smearing Blood all over themselves & their Pristine Gowns!
This may be a kind of Tribute to Hermann Nitsch, who long ago made his Name as an Artist by slaughtering Pigs & letting their Blood drip down onto a Naked Woman lying below.
This made Nitsch a Star of what has been called Wiener Aktionismus!
He also staged Olivier Messiaen's challenging opera, St. Francis of Assisi, for the Munich Festival! St. Francis, of course, did not slaughter Pigs…
Another unlooked for Visual Surprise in the current Rusalka is the Wasserman [Alan Held] apparently fucking a Nymph from Behind.
The National Theater is blessed with a complicated system of Stage Wagons that can move up or downstage & to Right or Left, onto very large side stages. Of course there's a Revolve, or Turntable.
[The Metropolitan Opera has the same system, devised by Prof. Walther Unruh. It was supposed to Save Money on Set Design, but, in fact, it Increases Costs by encouraging Designers to create more settings!]
But there's also an Elevator!
So we get to see not only the Prince's Palace, but what lies beneath: It looks like the Boiler Room.
Or perhaps this is supposed to suggest the Underwater World?
Rusalka at last is desperate to return to her Lake or Stream, but there's a Curse on her. She must kill the Prince, who has abandoned her. She is even given a Knife for this deed, but she cannot.
She seems--along with other desolate Nymphs--to be in the Fever Ward of a Charity Hospital. When the Prince comes to her, instead of stabbing him, she kills him with a Kiss!
This unusual staging was the Concept of Director Martin Kusej, with stage & costume designers Martin Zehetgruber & Heidi Hackl abetting him.
Tomás Hanus conducted, with his head above water…
Don Giovanni Makes Good Use of Old Cargo Containers!
What's the Big Problem with Seville?
Considering that both Figaro & Don Giovanni are Literary/Legendary Citizens of Seville, why do opera stage directors feel it necessary to move the Narratives of Seville set plays & operas to other Locales or Venues?
Last summer, at the Salzburg Festival, the lusty Don seemed to be skulking around a dark patch of trees in the Black Forest. But a dense woods in which there was also a Bus Stop!
In Munich, however, Stephan Kimmig has found a new use for all those Cargo Containers that seem to pile up, unused, near most major Dock Facilities.
He & his stage designer, Katja Hass, have devised a two tiered pile of the Containers for their Don Giovanni, having them endlessly shuffle back & forth during the various scenes. This is fascinating to watch, but something of a Distraction if you are really intent on Plot Developments.
Then, of course, there's also the matter of Singing, when you don't want to get hit by a huge iron box that was recently on a Train, Truck, or Ship…
Actually, Gerald Finley does very well as the Penis Driven Don, although he seems to have Three Personalities, for which he also has Three Wigs.
The first is the Long Hair of a Hippie Tough. Then, with the long blond second wig, he seems a gold clad Rock Star. With the third, close cut, he looks a bit chastened.
But he's really Not: He plays the TV Chef as he prepares the Final Meal for himself & the Commendatore [Phillip Ens], whom he'd earlier slain but just recently, in the Cemetery, has invited to dine.
The Cemetery seems another Tribute to Hermann Nitsch: there are Sides of Beef, recently skinned & dressed…
What is it with Carcasses at the BSO?
For Masetto's Wedding Festivities--which seem set in Antarctica--a Cargo box car interior is all Snow & Ice & Penguins!
But when Masetto [Levente Molnár] gets a real Beating, it's with Modern Baseball Bats. Not Icicles…
Yes, this production rejoices in Graffiti, as well as some Sexual Explicitness. More or less, but didn't lusty Leporello [Alex Esposito] have a Real Fuck?
While Erin Wall's Donna Anna seems properly outraged at the Very Idea of being defiled by the Don, Véronique Gens' Donna Elvira longs for more.
Laura Tatulescu's pert little Zerlina had better watch her step, however.
In addition to the distraction of the Endless Re conformations of Containers, there's also a small Horizontal Screen hung above the Cargo Boxes. It shows Images & Videos that must have some kind of Meaning, some form of Relevance?
Constantinos Carydis conducted: his Cargo Container was fully loaded!
Think Twice About Boarding Theseus' Ship! Naxos Is Over run by Italian Comedians!
Less certainly is More!
The beautiful spareness of the Munich Ariadne made this production one of the most impressive I've ever seen. It also revealed to me a Potent Relationship that I'd never before sensed…
Frankly, the experience of seeing & hearing this elegantly simple staging & performance was worth the whole trip to the Munich Festival.
Originally conceived as part of a very special Max Reinhardt style production of Molière's The Bourgeois Gentleman, complete with Ballet, Commedia, & Opera, the performance proved Too Long--although the Juilliard School did make an effort at reconstruction/revival some seasons ago.
As Ariadne finally emerged, it's both an Opera & a Commedia, but with a somewhat hidden Love Story that I'd never before detected.
The most overwhelming Ariadne I've ever seen recreated the backstage area of what looked like an 18th Century Court Theatre, in the Palais of a Viennese Nouveau Riche Grandee.
Not only was there an elegant Grand Staircase leading up to a Grand Salon, barely visible at top stage right, but the stage itself was teeming with the riggings & drapes of old fashioned productions. In short, a Theatre Historian's Wet Dream…
Director Robert Carsen, however, has chosen Simplicity, abetted by his designers, Peter Pabst, Falk Bauer, & Manfred Voss.
Instead of two hundred years ago, the Time is Now. The Self Important Host seems to be a CEO, accustomed to being obeyed, his wishes transmitted by an officious Young Man.
He has invited Guests to enjoy a Repast, prefaced by an Opera he's commissioned, as well as some Fun & Games from a Traditional Italian Commedia Troupe.
Now that the Hour is at Hand, he's concerned that the Roast may dry out before the Entertainments are concluded. So, obviously, the Opera & the Commedia will have to be performed Simultaneously!
The Young Composer [Daniela Sindram, in a breeches role]--for whom this is his first important performance--is understandably Distraught!
Not to mention the Primadonna [Emily Magee], whose Ariadne has not only been abandoned by the fickle Theseus on the barren Island of Naxos, but whose hopefully stellar performance is sure to be damaged by all those Commediens, trying to Cheer Her Up…
What I never before noticed may in fact be owing to Carsen's intuitive direction, rather than to anything very explicit in Hugo Hofmannsthal's Libretto.
Although the traditional Commedia Love Interest, Zerbinetta [Daniela Fally], seems completely immoral, flirting with everyone & even admitting a life of fun & folly, she is, in fact, desperately Alone & Unloved.
She is, somewhat like the Composer, an Outsider, longing for Connection & genuine Affection
They Connect!
When the desolate Ariadne has almost given up hope of Rescue, a simple Shaft of Light upstage reveals the God Bacchus [Robert Dean Smith], who has come to claim her!
This is a brilliant staging, brilliantly sung & acted.
Darkness, Mirrors, & Simplicity focus attention on the Powers of the Opera Fable & on Strauss' Unusual Score.
Bare Stage for Lucrezia Borgia: Just Imagine You're In Ferrara for the Fun & Games!
Neither Lucrezia Borgia nor I Capuleti e I Montecchi are Major Works of their respective composers. One thinks with admiration more often of Donizetti's Lucia & of Bellini's Norma.
Lucrezia, in fact, is based on a Pot Boiler of a play by Victor Hugo, who had better luck when his Les Miserables was musicalised…
For that matter, Richard Strauss' Ariadne auf Naxos is hardly his most beloved or frequently produced opera.
As with Lucrezia & The Capulets & the Montagues--to return those Feuding Families to their rightful Shakespearean Heritage--these three operas are not & never have been Popular Favorites.
Can it be that the BSO's Intendant, Klaus Bachler, decided it was time to take a New Look?
When the curtain rose on Christoph Loy's spare production of Donizetti's Lucrezia Borgia, however, I had the uneasy sensation that I'd seen it somewhere before.
But that surely cannot be, as I didn't see it last summer & I wasn't able to come to Munich in 2009--Subdural Hematoma--or in 2008--a Plague of Bedbugs…
What struck me most initially was that the Young Bloods who are hanging around the Piazza were all dressed like English Public School Boys in Uniform. That & the fact that the large white Letters, forming LUCREZIA BORGIA on the backstage wall, kept moving Off stage Right, until they were gone…
Then there was that bunch of what looked like 19th century Peasants, who seemed out of place in a Post Modernist Production.
Edita Gruberova, as Lucrezia, was powerful. As this is not top drawer Donizetti, one might think that the opera was also staged for her to show her great strengths as a vocal & dramatic artist.
But you want to be careful what you drink if you go to a ball at the Borgias…
Especially if you are her long lost Son, Gennaro, whom she poisons before she learns who he really is.
His friends mock him for being, as they imagine, Lucrezia's Lover. Her jealous husband--the Evil Duke Este of Ferrara--believes that as well.
So Gennaro defaces the Ducal Escutcheon on the Castle of Ferrara.
In the current production, this involves knocking the Letter B off the back wall, with its rapidly disappearing BORGIA name.
Lucrezia demands the Death of the Person who has done this.
Gennaro is apprehended, & the Duke forces Lucrezia to administer the Death Penalty.
So Lucrezia poisons him, only to learn almost immediately after that she is his Mother!
She gives him an Antidote, only to Poison him again--after having dispatched all his friends.
This time, Gennaro refuses the Antidote, because this opera cannot have a Happy Ending.
Unfortunately, owing to the almost defunct Postal Systems abroad, my Official Program & my notes are lost. I have only the Cast Insert on my desk now.
But I can certainly recall how impressive Silvia Tro Santafe was as Maffio Orsini. As well as the Gennaro of the admirable Pavol Breslik.
Paolo Arrivabeni conducted. He arrives very well indeed!
The Capulets Are Having a Ball, But Things Are Not Going To Turn Out Well!
As staged by Vincent Boussard--with the ingenious cooperation of designers Vincent Lemaire/settings & Christian Lacroix/costumes--this production is a Long Way Off from any well known opera or ballet with a Romeo & Juliet Title.
In fact, Vicenzo Bellini's librettist, Felice Romani, created his own version of the Veronese Tragedy. No Nurse. No Friar Lawrence…
There is a Lorenzo, but he is a Doctor, a well intentioned Go Between for Romeo, in his quest to win Giulietta & end the Feuding.
But Giulietta has a Problem. She cannot Make Up Her Mind. So she is going to marry Tebaldo--can this be the Bard's Tybalt?--as her irate father wishes.
But she has Second Thoughts: she really does love Romeo!
So she does drink a Potion to feign Death.
Romeo--as per Shakespeare--arrives at the Tomb, sees her presumed Corpse, & drinks Poison. [Not obtained from the Lucrezia Borgia production, however!]
Giulietta awakes. She is very disappointed, indeed, & wants only to join Romeo in Death.
Lorenzo accuses her father of having murdered both the Lovers.
The Production Photos should give you an Idea of how unlike most Romeo & Juliet stagings this was.
At the opening, a score or more of Riding Saddles are suspended Overhead. No Horses in sight.
But this tumultuous gathering of Veronese Citizens seems to be more about Men in funny Top Hats…
Giulietta is discovered alone on stage, with what seems to be a white ceramic Wash Stand bolted to the wall.
High above on the stage right side of the wall is a White Sculpture, whose Inhabitants are not at first easy to Decode.
Reaching out to this Sculpted Symbol, Giulietta precariously perches on the Wash Stand. She even sings in this odd pose…
But the Master Stroke in the Production is the Massive Flight of Stairs that seems to originate in the Cellar of the National Theater, rising up through the entire Stage Space, to disappear in the Flies.
Up & Down its wide, wide steps, a Company of Bizarrely Clad Women slowly moves. They do have Escorts, but this seems to be a Panoply of Fantastic Costumes. It makes the Top Hats seem as naught in comparison.
This is a Co Production with the San Francisco Opera!
It looks like it might cost a small Fortune to transport all the Elements of the Staircase to the Golden Gate. One hopes SF Opera's David Gockley has already seen the Specifications!
Yves Abel, conducting, kept a tight rein on the singers, despite the apparent Initial Peril of Giulietta [a fragile fretful Ekaterina Siurina]. In the Breeches Role of Romeo, Vessalina Kasarova was fierce & exemplary.
When this Production breathes its Last, who gets all those Saddles?
Munich or San Francisco?
Patient Old Socrates, the Philosopher with Two Quarrelsome Wives!
From Classic Gossip we have learned that the Great Athenian Teacher/Philosopher, Socrates, had a famously Nagging Wife, called Xantippe.
But, having just seen Georg Phillip Telemann's early German Opera, Der geduldige Socrates, I have discovered that he had Two Wives!
Apparently, Athens had used up so many of its Young Men, in fighting its Enemies, that there was a dire need for more Manpower in the Ranks. You could not call them Cannon Fodder, as Cannons had not yet been invented to Kill People in Just Causes…
It's interesting that one has to go to the Opera house to learn Ancient History that's not available in the Classroom.
But audiences at the Gärtnerplatztheater in Munich have had to wait since 1721 for this Opera based Information!
This Season was the First Ever presentation of Telemann's Lustspiel in Munich!
It premiered in Hamburg way back in the early 18th Century, but maybe it just didn't catch on at that time?
In the early 18th Century & even up to the time of Mozart, almost all German Kings & Austro Hungarian Emperors preferred to have Italian sung in their Court Theatres & French acted on their stages.
Fred the Great believed that Sung German in his Palace in Sans Souci sounded like Horses braying…
But Telemann was pioneering the idea of Opera in German, which came to be called a Singspiel, rather than an Opera Seria or Opera Buffa.
As newly staged in Munich--with the colorful & imaginative settings of Frank Philipp Schlössmann & the glittering golden costumes of Katharina Weissenborn--this is a Socrates [Stefan Sevenich] who is still a Long Way Off from drinking Hemlock because he was said to have Corrupted the Young Men of Athens.
Actually, he was giving very Good Advice to Nicia, a Noble Athenian Senator [Gregor Dalal] & his eminently Marriage Ready Son, Melito [Robert Sellier].
Melito is already promised to one wife, but he can now have a Second Spouse.
The lovely, gold lameé clad Rodisette [Christina Gerstberger] & Edronica [Ella Tyran] are competing for that Position. But this handsome fellow cannot make up his mind, despite prodding from Dad & Socrates.
These Bravura Coloratura Ladies have even enlisted Silent Artists to create Artworks to emphasize their Charms for the Prince: A Sculpture & a Painting. We don't get to see what they've been working on until the Final Curtain. But it's worth the wait!
Despite his Reputation for Wisdom, Socrates has his hands full at home with his own two Quarreling Fishwives [Sandra Moon & Thérèse Vincent].
As for imparting his Wisdom to his Pupils, Plato, Pitho, & Alcibiades seem like a trio of Commedia Clowns. So much for the Greek Myths about these--in Maturity--Great Greeks!
All Marital Problems are finally resolved, thanks to the Return of a Nude Adonis [Denys Mogylyov] from the Underworld & the Interventions of a Boy Soprano Cupido [Maximilian Wintergerst].
As the importunate Antippo [a fabulous Countertenor, Yosemeh Adjei] has been begging both Melito's Would be Wives to marry him instead, when the Athenian Bigamy Edict is rescinded, he gets one & Melito gets the other.
Not only is this production a Fabulous Fest of Baroque Music & Fantastic Coloratura, it's also a delight to behold! Not only because of the glittering costumes & elegant wigs, but also because of the ingenious settings, devised by Axel Köhler.
Socrates lives in a blue sky walled Villa, surrounded by Cloud Infested Bookcases. Everywhere, there are Busts of Socrates, large & small. A red rimmed Outline of his Bust even provides an Impressive Portal.
Because the Gärtnerplatz rejoices in a Turntable--or Revolve--that can counter revolve, the Complex Setting seems to Have a Life of Its Own. Constantly changing, moving, revealing New Vistas!
The Orchestra--with some "Authentic Instruments," as Pro Musica Antigua used to style Lutes & such--was remarkable, under the direction of Jörn Hinnerk Andresen.
They even offered--as an Act II Vorspiel--Telemann's Deutschland grünt & blüht im Frieden, with colorful brass accents.
But--given Modern Attention Spans--some Unnoticeable Cuts would not have been amiss…
Neon Crazed Modern Tokyo Roars & Rushes Around an Abandoned Cio Cio San…
Instead of a quaint Almost Mikado Vision of Japan--in the Era of the Great White Fleet & a Lt. Pinkerton in crisp US Navy Whites--Director Doris Dörrie has opted for a Madame Butterfly of the Vietnam Period of American Imperialism.
Elaine Ortiz Arandes is still heart breaking as the tender little Schmetterling whose wings are broken by the thoughtlessness of an American Abroad in Uniform. Looking for a Good Time…
With No Thought of the Future or what he has left behind: In fact, not only a Wife till death do us part, but also a Son, "Trouble."
Adrian Xhema powerfully plays & sings the part of a Fatigue Clad US Officer, really indifferent to those around him, not only the Japanese…
He could as easily be in Baghdad or Kabul, but Pucinni didn't know about those Possibilities when he adapted David Belasco's Broadway Hit for the Opera Stage.
Franziska Rabl was also admirable as Butterfly's Maid & only Friend, Suzuki.
Using the Projections of Tobias Heilmann, Designer Bernd Lepl was able to evoke with great--even stifling--Visual Power the Horrors of Modern Life for the Legions of the Oppressed Poor in Modern Tokyo
The fragile two level setting of Butterfly's modest home--nonetheless, she did have a Modern Washing Machine!--revolved for various scenes.
But, in order for that to happen, the U of the surrounding Projection Surfaces had to be raised. Everything was made to seem small & cramped, as are, even today, the Lives of so many Japanese "Salary Men."
A Novelty was the Schmetterlingstanz of Butterfly, awaiting the arrival of Pinkerton.
Ordinarily, this is just a beautiful Orchestral Interlude. But, in this unusual staging, Butterfly was enveloped in a Cocoon of what seemed to be windings of White Cloth.
She emerged as a Butterfly, with a great Fan unfolded on her back…
Tadeusz Wojciechowski conducted.
Both Vicki Baum & Ted Turner Would Love This Grand Hotel--It Revolves!
Most people know Grand Hotel from the Hollywood Movie.
Broadway Regulars may remember it from the original Wright & Forrest Musical, later revised & enhanced by the Songs of Maury Yeston, better known for Nine.
Even at the Gärtnerplatz in Munich, Ted Turner has to be recognized as the man who bought that fabulous Film Archive.
But the Gärtnerplatz Production--cleverly designed by Christian Floeren--would make all of them Proud. It is Elegant & Handsome to look at, especially as it Revolves!
The delightfully Jazz Age Costumes are a Treat & the Dance Routines [devised by Hardy Rudolz] should make any Oldtime 42nd Street Troopers green with Envy!
What is perhaps most amazing about this attractive, lively staging is the Sheer Number of Performers on stage. No Broadway Musical can now afford to have so many Dancers & Singers in the Chorus…
Grand Hotel has always been--for Show Crazed Americans, at least--a Very Special Show.
Even though most of them have no idea that Author Vicki Baum based it on life at the Hotel Adlon, THE HOTEL in the Heart of Berlin in the Flaming Twenties, the heyday of the Weimar Republic.
Even under the Nazis & Adolf Hitler, the Adlon was still The Place To Be Seen, just inside the Brandenburg Gate, near the American Embassy.
Well, we Bombed both of them Flat in World War II…
One of the first Theatre of the Ridiculous Parodies created by the late Charles Ludlam was called Big Hotel. It was, in its way, an Hommage to the Original Film.
Ludlam rechristened the faded Pavlovian Ballerina, Elizabeta Grushinskaya, as Birdshitskaya, but that was just all in fun. Periodically, Bill Vehr would demand: "When are we going to do the Babylonian Sequence?"
Of course, there is no Babylonian Sequence in either Vicki Baum's novel or in the film…
The Narrative Linkage in the Musical of Grand Hotel is the character of Otto Kringelein [Gunter Sonneson], a dying Accountant, who has decided to splurge all his Savings on a few days of the High Life at the Grand Hotel.
In Pavel Fieber's feverishly & ingeniously active production, Grushinskaya is somewhat desperately embodied by April Hailler: Her Career is Over, but she cannot face that fact…
Others who eminently enact the roles that Vicki Baum created & Ted Turner once owned the rights to include: Milica Jovanovic [Flämmchen], Lucius Wolter [The Con Man Baron], Hardy Rudolz [General director Preysing], Marianne Larsen [the faithful Raffaela], Dirk Lohr [Oberst Otternschlag], & Hansjörg Hack [various characters].
There are also Two Gollywog Faced Black Entertainers, Jimmy 1 & Jimmy 2.
For most Americans--even in the 1950s, when seeing such characters as Negro Minstrel Men on German Stages--this was & is Unacceptable.
Nonetheless, if you can afford to go to Munich--after the Financial Collapse of both the Dollar & the Euro--you won't be disappointed with an evening at the Gärtnerplatztheater.
Complete with its remarkable Revolving Stage!

| home | discounts | welcome | search | international | lobby |
| museums | NYTW mail | recordings | coupons | classified |