By Glenn Loney, September, 2011.
About Glenn Loney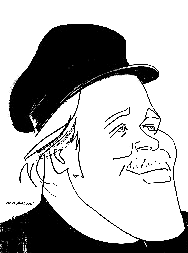 Caricature of Glenn Loney by Sam Norkin.
Report from The Bregenz Festival 2011
PASSING GLANCES AT SCENES SEEN:
•The Arrival of Austria's President, Dr. Heinz Fischer, To Open The Bregenz Festival!
•Festrede for the 2011 Festival: Changes To Be Made--New Horizons!
•Inside Jean Paul Marat's Head: Umberto Giordano's André Chénier Loses His Own Head!
•Schöpfung with England's Judith Wier…
•On an English Achterbahn or Roller Coaster: Burning the Kebabs Wagon!
•Lake Stage André Chénier Will Survive the Alpine Winter To Live Again Next July!
•A Potent Plea from Kunsthaus Bregenz: Free Ai Wei Wei…
Austria's Westernmost City--Bregenz--Celebrates With Annual Summer Festival!
Ever since 1946, the City of Bregenz--handsomely sited on the Southern Shore of Lake Constance--has featured an Opera, Operetta, or Musical on a Lake Stage.
Over the years, this has evolved from a Floating Barge into an incredibly Complex Stage, erected on concrete piles, driven into the lake bed of what Austrians & Germans prefer to call the Bodensee.
For the 2011 Edition of the Festival, the stage that had been constructed for Aida--shown in 2009 & 2010--was deconstructed, to be replaced with a Giant Head, modeled on that famous painting of Jean Paul Marat, dead in his bathtub, after having been stabbed by Charlotte Corday.
But the Lake Stage Opera was not about Marat, but about the Dissident Poet, André Chénier, who paid with his Own Head during the Revolutionary Ravages of the Terror that wracked Paris from the Storming of the Bastille to the Rise of Napoleon.
The Festival opened with the arrival of Austria's very popular President, Dr. Heinz Fischer, who was greeted by charming children, dressed in the distinctive & Folkloric Costumes of the various hills & valleys of the Vorarlberg Countryside.
Inside the spacious Festspielhaus, Festival Intendant David Pounty had planned a program that included not only Important Speeches, but also Musical Entertainments, themed to the French Revolution.
Not only did the entire audience sing both the Austrian National Anthem & the Vorarlberg Landeshymn, but also several repetitions of the Marseillais.
Latter day Austrians might be forgiven for forgetting that their own Habsburg Princess, Marie Antoinette, was a Headless Victim of the Revolutionary Passions that the Marseillais had inspired way back in 1789…
An excerpt from Franz Joseph Haydn's Die Schöpfung served to remind the Festival Guests that Creation was a major theme of the Festival, especially in regard to the celebration of the Talents of Judith Wier, an English Composer of Note, whose Achterbahn had been specially commissioned for this year's festival by David Pountney.
Günter Rhomberg, the retiring President of the Bregenzer Festspiele--reviewed the many important Milestones the Festival had achieved under his Untiring Stewardship. He was rewarded with Thunderous Applause & a Standing Ovation.
This will be a difficult challenge to follow, as will that of the New Intendant, who will replace David Pountney, who will go to Opera Cardiff.
Your Roving Arts Reporter--who first came to the Bregenz Festival in 1956, only ten years after its Founding--first interviewed David Pountney years ago at ENO, the English National Opera, where he was one of its most innovative Stage Directors.
Considering Pountney's previous affiliation with ENO & that the Judith Weir Opera is a co production with the Royal Opera, Covent Garden, it's interesting that he has chosen to retreat to his Native Wales, rather than return to London…
Nonetheless, when Your Roving Arts Reporter years ago went to Cardiff, to report on the Cutting Edge Productions being mounted there, he was very impressed. Surely, Pountney will continue in this vein…
Considering the current flurry of worries about the Soundness of the Euro--not to overlook the Fears for the Future of the European Union--it was encouraging to hear both Dr. Fischer & Dr. Claudia Schmied argue for the Importance of the Arts.
For an American, it's always of interest to note how many European Leaders & Lawmakers are proud to lay claim to the Doktor Titel.
What Decent, God Fearing American would vote for some Elitist who had not only been to University, but who also had won a Doctorate?
Dr. Schmied--whose name means Blacksmith!--works in Vienna at a Metaphoric Forge, where she is responsible for Unterricht, Kunst, & Kultur.
Can you imagine any self respecting American respecting a National Government that would think of Education, Art, & Culture as somehow being related?
Kultur is not something you can achieve with Home Schooling…
Designing Marat's Head with Lego Blocks!
Every Bregenz Lake Stage Production is distinguished by some Amazingly Constructed Set Piece.
For its recent Tosca--which you may have seen in a James Bond/Daniel Craig Movie--this was a Giant Eye, moved by a massive Crane.
For Ein Maskenball--or Masked Ball--an Immense Skeleton loomed over the Lake Stage for two summers, surviving even the Alpine Winters…
Aida, which preceded André Chénier, featured two huge blue star studded Legs from a blown up Statue of Liberty, whose Torch was sunk into the waters of Lake Constance!
From Legs to LEGO!
If you cannot come to Bregenz this summer or next--but DO make the Effort!--you can see from the Production Photos provided in this report that the series of Stairs & Steps that seem to bulge out of Marat's Head look like a Computer Pixel Breakdown of a more Complex Image.
This was achieved by first building up the stairs on a set model with a series of LEGO Blocks.
David Fielding was responsible for the Design Concept, but a Legion of Technicians helped achieve its Final Effect, under the energized guidance of Gerd Alfons, the over arching Technical Director for all aspects of production & planning, not only for the Festival, but for year long activities in the Festspielhaus, which is also a popular Conference Center.
The Genial Gerd--who is an Old Friend, after many years of my reporting on the Bregenz Design Wonders for Theatre Crafts, Opera News, & other US publications--always takes me up on the Great Lake Stage to walk about & talk about the ingenious Tech Solutions to the design problems posed by innovators like David Fielding.
With my Website Editor & Colleague Scott Bennett, Gerd took us on a Guided Tour of the Chénier Set. This has been recorded on Video, which will soon be available…
We did not go inside Marat's Head, although some of the cast do so, oozing out of Marat's Eyes, among other Orifices.
Acrobatic Dancers--Cirque du Soliel style--even cavort on top of the Head, when it is still covered with a Giant Patterned Cloth of Late 18th Century design. Later, this immense expanse of Fabric is drawn back up over the Head.
Eventually, a Piston opens up the Head, revealing Mounds of immense Books, the Intellectual Treasures of the Age of the Enlightenment!
Spikes also spring out from the Head, near the Close & Chénier's End.
Because the Playing Area of the Lake Stage is so large, even though the Head is the Center of Attraction, there have to be Other Acting Venues.
Stage Right of the Head, high in the air, is an Open Book: Chénier's Poems, with silhouettes of scenes projected on the vertical page, the horizontal providing an Acting Surface. A door for entrances is also concealed in the standing page.
Down in the Lake, below the Head, but also stage right, is what appears to be a Great Calling Card, held by Chénier's Thumb. Onto this card march & gallivant a troupe of Fantastically Wigged & Garbed Lords & Ladies of the Ancien Régime, elegant fodder for Robespierre & the Guillotine.
Later, the Card floats in front of the head, ending Stage Left, below a Giant Baroque Oval Golden Empty Mirror Frame. Now, it becomes effectively the Revolutionary Nest of Vipers who decide Who Shall Live & Who Shall Die.
It is a Tradition of Operas & Musicals on the Lake that the Water between the Stage & the hundreds & hundreds of Bleacher Seats shall be crossed by one or more boats or ships sometime during the performances.
For Chénier, Death chooses a small rowboat…
For Keith Warner, the stage director for André Chénier, the Major Problem obviously was how to fill this remarkable Stage Picture with Action, when many of Umberto Giordano's opera scenes are, in fact, very Intimate.
This also was visibly a Problem with the recent Aida: Who is Singing Where?
Spotlighting the Operative Singers in intimate scenes proves effective, but the ingenious Sound System is also of major importance.
The Audience sees the Wiener Philharmoniker--powerfully conducted by Ulf Schirmer--only on two giant TV screens at either side of the stage.
Both the Prague Philharmonic & the Bregenz Festival Choirs are deployed on stage in costume, but they may also be heard, rather than seen…
Because Lake Operas are so frequently performed during the season, they are often Triple Cast.
For our Giordano Premiere, Héctor Sandoval was an eloquent, passionate Chénier, with Scott Hendricks as his Death Determined Antagonist Gérard, who makes sure he dies on the Guillotine.
Joining him in Death, Norma Fantini, as Maddalena di Coigny, was both elegant & understandably distressed.
Others in the generally admirable cast included Rosalind Plowright, Tania Kross, Tobias Hächler, David Stout, & Peter Bronder…
The Costumes--from Incroyables & Decadent Bewigged Aristocrats to the Revolting Revolutionaries--were the ingenious confections of Costumière Constance Hoffman.
Achterban: On a Distinctively English Roller Coaster with Judith Weir!
Under the Operative Rubric of Schöpfung--borrowed from Haydn, if not from God--the consummately English Composer Judith Weir is being celebrated with not one, but TWO, new operas.
It was not possible to see Der Blonde Eckbert, a chamber opera to be shown in the City Theatre am Kornmarkt. But it was described in the Official Program as Der Alptraum hinter dem Alltag. Or: The Nightmare behind the Everyday…
As for Wier's Achterbahn, she's fortunate that the Bregenz Premiere is a co production with Covent Garden. Gerd Alfons' shops have devised an ingenious vision--designed by Tom Pye--which involves only two major Set Pieces.
The Royal Opera has a handsome, stripped down production ready to go!
One of the extremely light weight pieces resembles, at first, the Prow of a Ship, but it later comes to resemble other shapes, as well as serving as a Projection Surface for intriguing Patterns & Images.
The other Construction looks like a Red Lattice, or even a section of Railroad Track, seen in Diminishing Perspective. It can rotate on a Pivot set in the Festspielhaus stage floor. As can the Prow…
LCDs enable it to light up with various useful Info, such as Lottery Numbers.
Although Achterbahn is a German Term, it is a Metaphor for the American Concept of the Roller Coaster. Or the Hurricaine or the Tornado…
Supposedly inspired by a Sicilian Folktale, the On Stage Actuality has nothing Mafiosi about it.
In effect, this is the Roller Coaster of Life!
Emma Bell energetically plays & sings the role of Tina, or Miss Fortune--an intended Pun…
Her insufferable Louis Vuitton Toting Parents, Lord & Lady Fortune--an edgy Alan Ewing & an imperious Kathryn Harries--have just Lost It All.
Their ill prepared & essentially ignorant daughter, Tina, following the CounterTenor Advice of Fate--an amorphous Andrew Watts--plunges disastrously into The Real World.
This involves at least two semi spectacular scenes: One of them is in a Sweat Shop with files of girls at what seem endless sets of Sewing Machines.
Later, Tina is employed at Donna's Launderette, with two levels of Green Washers, stretching across the stage. Something is going on inside, but it isn't Wet Wash…
Then, there's Hassan's Kebab Wagon. Brit Thug Boys set it on fire. It explodes on stage: Spectacular!
So much for that Old Rule about No Open Flames…
Tina Wins the Lottery. She also marries a Rich Young Man [Jacques Imbrailo], whose Money Can Fix Everything! He even Bails Out Hassan [Noah Stewart]!
There are No Memorable Arias in Achterbahn. I don't plan to buy the Sheet Music to play it at home.
Not being able to see this Production at the same time, I'm not sure that just listening to the Score would be very rewarding. It is pleasant enough, even melodious at times, but it's the kind of Contemporary Opera Music that is useful mostly as Musical Accompaniment for Sung Texts.
Although Your Arts Reporter was mugged by a Drug Snogged Black--while photographing the Regent Canal in Shoreditch some seasons ago, which is not Far Off from the Big City Horrors that Weir offers--the Events & People seem rather Too English to have much Resonance for Audiences in San Francisco, Denver, or Manhattan.
So, Good Luck with Covent Garden!
Paul Daniel conducted. Chen Shi Zeng staged. Costumes by Han Feng…
FREE AI WEI WEI!
He Is Still Really Un Free in China, Though Celebrated in Bregenz & in Manhattan!
At Kunsthaus Bregenz, there is currently an impressive presentation of the Architectural Designs & Models of Ai Wei Wei.
In Manhattan, in Grand Army Plaza, Ai Wei Wei's huge bronze Heads of the Chinese Zodiacal Symbols are also exciting both Admiration & Puzzlement: If he's such an Obvious Genius, why did the Communist Chinese Government destroy his Shanghai Studios & throw him in Prison?
He's Out Now, but still NOT FREE…
More about the Bregenz Exhibition in www.NYMuseums.com & GlennLoneyArtsArchive.com soon!

| home | discounts | welcome | search | international | lobby |
| museums | NYTW mail | recordings | coupons | classified |