"Nana," a Film of Holocaust Remembrance
by Serena Dykman

Reviewed by Nancy Kempf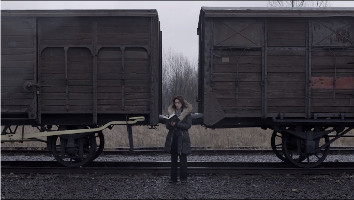 The filmmaker's mother, Alice Michalowski, reading from Maryla's memoir, as seen in "Nana," a First Run Features release
Serena Dykman's documentary "Nana" is a eulogy, not only for her grandmother, Maryla Michalowski-Dyamant, who died when Serena was 11, but for all victims of the Holocaust. "I remember a lot of people attending her funeral," Ms. Dykman recalls. "I remember that she was a very important person, a public person." And she remembers hearing the vocabulary of her grandmother's mission – words like "Auschwitz," "Birkenau," "ghetto," "Mengele," "gas chambers" – "and not understanding them, but knowing they were bad words."
"Nana" is also a film of three generations of women, and the dynamic between Ms. Dykman and her mother Alice Michalowski, Maryla's daughter, does much to propel the arc of the documentary narrative and imbue it with love and hope.
The director tells us that as more and more people became aware she was making a documentary about her grandmother, they began to send film footage until, in the end, she had almost 100 hours to work with. From home movies, extended excerpts from archival interviews Maryla gave over the course of a life spent bearing witness, stills, paper documentation, and extensive interviews Ms. Dykman conducted with Maryla's many erudite friends and colleagues – emerges a documentary that is both a remembrance of her grandmother and a powerful addition to the literature of the Holocaust.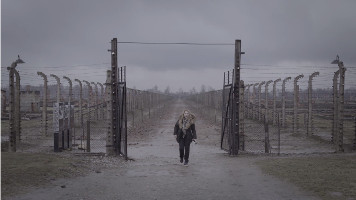 The filmmaker, Serena Dykman, as seen in "Nana," a First Run Features release
Maryla was born 6 November 1919 in Bedzin, Poland, two miles from the German border, with a population of about 60,000 that was equally Jewish and non-Jewish. Her father was an accountant, and she had a brother a year-and-a-half her junior. It was a non-religious family, as comfortable celebrating Catholic holidays as Jewish ones.
In her late teens, Maryla was an aspiring opera singer who auditioned at the Krakow Opera House, one of three to get a callback. She tells one interviewer, it wasn't until about this time that anti-Semitism began to seep into the community. What happens in Bedzin in 1939 – and the ensuing events – is a story that, on the one hand, we know all too well, and on the other – perilously – we seem not to know well enough. This is the dilemma at the heart of Ms. Dykman's project: that we not sigh at yet another Holocaust story and instead see that story afresh, through the eyes of a remarkable, intelligent and insightful individual – its tragic impact on the one who lived it and the imperative for the subsequent generational telling of it through daughter and granddaughter.
Among the director's many interviewees is Johannes Blum, a German-born professor who has recorded over 1,200 Holocaust survivors' stories, of which Maryla's was the first. Blum emphasizes the intimacy involved in interviewing a survivor. One becomes aware that the suffering never lessens but metamorphoses over time with the telling.
Ms. Dykman asks each of her interviewees: What was Maryla's goal in making it her life's purpose to keep her story alive? "The importance of liberty, and of democracy, the importance of remembering what happened so we don't forget," says one. Maryla understood that "…blind hatred can hit anyone, anywhere, any time," says another. And another warns, "Malevolent politicians still exist. Political manipulators like Hitler still exist. And even in the most democratic countries, we're never shielded from a bad election."
When Ms. Dykman follows up with the question as to what Maryla would think of the political developments of today, her subjects are in agreement that Maryla would be dismayed. One sadly notes, "She would have been appalled with the realization that their experience wasn't enough to show people that peace is the only objective we should have." Another, that Maryla "could never have imagined that in a country [Belgium] that had opened its arms to her, a democratic, tolerant, welcoming country, that she'd have to be careful of what she said in public, conceal the fact that she's Jewish, and be scared for her children and her grandchildren."
While she lived, Maryla acknowledged her naiveté in thinking anti-Semitism would be punished because "we suffered so much. …. I'm very afraid of it happening again. I'm not just talking about the Jews; everywhere you look there are massacres…."
Throughout "Nana," the horror of Maryla's story accrues. It is a tragic, moving story to be sure, yet the strength of her testament is almost equaled by the quiet alarm sounded by those who praise her tenacity, while making the case for the imperative to stay ever vigilant, for it can, indeed, happen here.
Maryla Michalowski-Dyamant (r) and Alice Michalowski with infant Serena Dykman as seen in "Nana," a First Run Features release
Ms. Dykman's mother Alice insists that, as the daughter of a survivor, she has an obligation to keep her mother's story alive. She, like her mother, knows she must forego naiveté, for what happened in the past is always a possibility in the future. Ms. Dykman, the documentarian, has internalized this understanding and takes upon herself an inheritance laden with responsibility to "perpetuate the memory."
Throughout the film's archival footage, Maryla expresses, again and again, her doubt that others can possibly understand the depths of what she describes to them. In one interview she explains, "In the beginning we did not talk about it. But when I heard about those who denied the Holocaust, I thought it was our duty to speak out. We speak at schools. I go to Auschwitz very often. …. I do it for those who didn't get this chance. …. I recount all this to young people so that they can finally understand everything that can happen if we support regimes like that of Hitler and others."
Another of Ms. Dykman's subjects makes a chilling distinction. "Genocide is not just any kind of crime. It's a crime where one is killed because of who he is, not because he does something or occupies a territory. Simply because he exists."
Serge Noel, who co-wrote Maryla's 2000 memoir "Memorial des morts sans tombeau" with her, leaves us with this: "Within the deepest, blackest hole, humanity still exists; it can't be destroyed. And we'll never be able to destroy it. I think that was her message." Let us hope Maryla was right.
Nana will be playing through April 19 at the Cinema Village, 22 East 12th Street, New York, NY 10003
(212) 924-3364