LINDA GLICK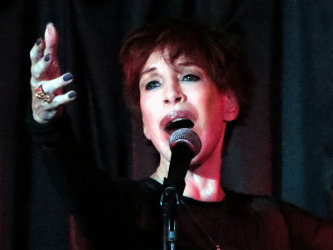 Linda Glick explains it to us all, charmingly.
Linda Glick in "Teach Me Tonight"
Pangea Restaurant & Supper Club, 178 Second Ave. (betw. 11th & 12th Streets), East Village
October 18 & 25, November 1 & 10, 2017 at 7:30 PM.
Reviewed by Paul Berss October 1, 2017
Veteran cabaret performer Linda Glick appeared at Pangea in a series of four performances entitled "Teach me Tonight," splendidly accompanied by pianist Ian Herman. A former language teacher of French and Spanish, the charming and likeable Glick wove some songs together with the theme of teaching, making for some interesting choices and very entertaining personal stories.
The act was "splendidly accompanied" by pianist Ian Herman.
"Teach Me Tonight," is a straight love song, but her teaching segment also included a song as powerful as any speech could be calling for tolerance: "You've Got To Be Taught," from Rodgers & Hammerstein's "South Pacific." Glick introduced the song with the story that the producers, fearing it would cause trouble, wanted the song dropped from the show and the absolute, and correct, refusal of Oscar Hammerstein to do so. The evening included several songs that are obviously favorites of Ms. Glick: "James" by Billy Joel," Cole Porter's "Just One of Those Things," sung as a ballad instead of the usual snappy up-tempo; and Harold Arlen's "When the Sun Comes Out," all delivered with mature and intelligent interpretations.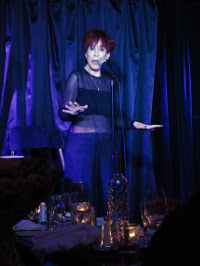 Glick sings beautifully in French and Spanish.
Glick sings beautifully in French and Spanish, and I would love to have heard a second song in each of those languages. Early in her career, Glick was booked into a club to sing in French, in fact, and her agent took the liberty of billing her as Lillie Perrier (named after a bottle of water, obviously). Her disguise was uncovered when one of her French students happened to be in the audience and "outed" her by telling the audience that she had flunked him in French. Good music, stories, accompaniment, and a warm feeling between performer and audience made for a most pleasant experience.
Ms. Glick will return to Pangea in the Spring, we are told.
Photos by Kamoier Williams.