DRUMS OF ILLUMINATION

December 22, 2018
Theater for the New City
Reviewed by Paul Berss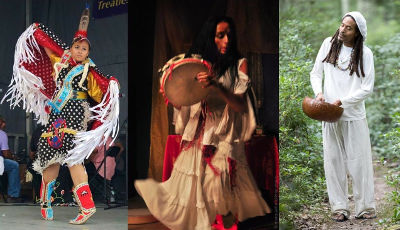 L-R: Josephine Tarrant in Hoop Dance, Alessandra Belloni, and Kevin Nathaniel
In "Dreams of Illumination," Alessandra Belloni, a renowned percussionist and authority on Southern Italian traditional music, dance and theater, had the winning idea of presenting music that celebrates peace and healing representing three different cultures. This was realized at Theater for the New City with the presentation of her own I Giullari di Piazza (The Jesters of the Square), members of the Native American SilverCloud Singers and Dancers and African percussionist Kevin Nathaniel. The uniting of these three cultures--Southern Italian, African, and Native American--provided a unique and much appreciated experience for the audience, which included Mayor de Blasio and his wife. The program was true to the theme of unity, peace and healing, with musical and dance prayers for the healing of the planet, music and dancing to honor the Black Madonna, lullabies, and healing chants and dances, most native to their respective cultures.
The program opened with the SilverClouds performing a Zuni Song in honor of the sun, with the dramatic drumming and robust chanting of the Native Americans, followed by I Giullari in Jesce Sole, a traditional healing chant from Naples. The charming Kevin Nathaniel performed his original composition Sunshine, a song that gives thanks for the sun. The audience enthusiastically participated in repeating the word "sunshine," and clapping in rhythm. While almost all selections were traditional, the SilverClouds stepped into the future with an original love song that included such lyrics as "Even though you done me wrong, I love you. Oh yes, I really really love you." Several numbers included dancing which, like the musical selections, I found most effective when authentic, such as the tarantella and a Brazilian dance.
Highlights of the program included a superbly performed Native American Hoop Dance by Josephine Tarrant, recipient of awards in contests around the U.S. Leader of the group, Kevin Tarrant, explained that the dance originated in order to heal an ailing member of a tribe. Another fascinating explanation came from Belloni, who spoke of the origins of the Pizzica Tarantata, a traditional healing trance dance used to cure the tarantati. All dancers and the members of I Giullari got into the act, lying on a white cloth as Belloni furiously beat the tambourine above them to drive away the disease. Even the violinist, Joe Deninzon, delighted the audience as he laid on his back and swiveled around on his feet, all the while continuing to play the violin. The program ended with a Round Dance for all performers and audience members with dancing feet, including the de Blasios.
All clad in native garb, the performers were soloist Kevin Nathaniel, the SilverCloud members Kevin Tarrant, Murielle Borst, Josephine Tarrant and Travis Richardson, and Belloni with I Giullari members violinist Joe Deninzon and percussionist Vinnie Scialla.

Dancers were Francesca Silvano, Peter DiGeronimo, Karma Cloud and Leyla Haynes.
A truly unique program - entertaining, educational, great music and, as the program states, "inspired by the need to bring Light during the Solstice into this time of darkness."