SPEAKOUT: PROTEST PLAYS AND MORE
Interdisciplinary festival designed for the virtual stage
Streaming on demand June 21-25 ,2021
Presented by Multistages, sanctioned by The Theater Authority
Online Only
Reviewed by Paul Berss June 21
With this online presentation Multistages, led by Lorca Peress, promised a "multi-cultural, multi-disciplinary online festival of commissioned new works in theater, dance, poetry, music and multimedia." It did indeed deliver eleven theater and dance segments of great variety, sensitivity, clarity, and purpose. Nothing arty or overly complicated; all direct and with understandable messages.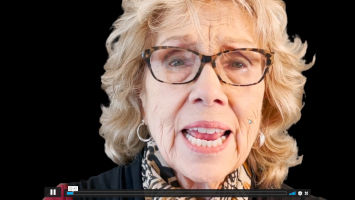 Poet Gloria Vando in "Liberal Confession"
"Liberal Confession" was a poem written and delivered by Gloria Vando, spoken against a muted background of protest noises - shouts, dogs barking, chanting. Indeed, Vando spoke of her many and ongoing participation in demonstrations against war, racism, and other injustices. She cited marching with renowned figures in many dangerous, familiar, and controversial situations, but again and again returned to the statement that "nothing has changed," concluding with the statement she will continue to fight. Though her frustration was evident, she was never overly-emotional, and her steady and sincere delivery made "Liberal Confession" even more potent.
"Percussive," choregraphed by Jennifer Chin. L-R: Anne Parichon-Buoncore, Madeline Jafari, Oscar Antonio Rodriguez, Richard T. Sayama, Jennifer Chin.
A dance segment followed, performed by Anne Parichon-Buoncore, Madeline Jafari, Oscar Antonio Rodriguez, Richard Sayama, and choreographer Jennifer Chin. Activist Chin describes her choreography as attempting to "express international trauma and the need for communities to protest, empower each other, and collectively breathe." The style was typical contemporary movement.
L-R: Michael Gene Jacobs, Dimitri Carter, Donnell E. S,ith in "Trilogy," a short play by Nathan Yungerberg directed by Toussaint Jeanlouis.
"Trilogy," a play by Nathan Yungerberg, featured three black men of different backgrounds - a father, a teacher, a gay man - each thinking out loud, confessing feelings of sadness, isolation, fears. The father stating "I pray that the world my son will come of age in will be a safer place." Others expressing similar worries, and again, all actors were sincere, never overdone, deeply sensitive.
Oscar Antonio Rodriguez in "Rage," choregraphed by Jennifer Chin, projections by Jan Hartley.
The dance "Rage" featured soloist Oscar Antonio Rodriguez as a man experiencing uncontrollable rage, dancing in front of threatening clouds and lightening. The tumult subsequently turned into fire, and consumed the dancer. A statement, perhaps, that uncontrollable rage can end up devastating the one who rages.
| | |
| --- | --- |
| | |
| Messeret Stroman Wheeler in "Lessons on Solidarity" by Gena Bardwell, directed by Kimille Howard. | L-R: Angela Davis; W.E.B. Du Bois at Hugh Gordon Bookshop; Frank James Whitley, owner of the book shop in the heart of Los Angeles, which are depicted in "Lessons on Solidarity" by Gena Bardwell. |
In "Lessons in Solidarity," written by Gena Bardwell, performer Messeret Stroman Wheeler recounted the experience of traveling with her father to L.A. to her grandfather's bookshop, where she had the life-changing experience of meeting Angela Davis. She got an autograph from Ms. Davis and asked her many important "why" questions about injustice, questions that are still looking for answers.
"The Keepers" by Melody Cooper, directed by Lorca Peress, featuring Brie Eley, Amanda Salazar and Rainbow Dickerson.
"The Keepers" was a sci-fi climate change fantasy written by Melody Cooper, and performed by three actresses, Rainbow Dickerson, Brie Eley, and Amanda Salazar. One actress appeared to be coming to us from the future to warn about a climate disaster if not taken care of now, including running out of water fit to drink. The work did not hold together well, though the climate change concern was clear.

Vanessa Guadiana (L) and Kate Bornstein (R) in "My Body My Battlefield" by Fengar Gael, directed by Kimille Howard.

After another women's dance trio, the evening moved into "My Body, My Battlefield," by Fengar Gael, with Kate Bornstein as a Reverend having a conversation with Vanessa Guadiana, a pregnant young woman who claimed that her fetus gave her information, and in her remarks demonstrated that she was homophobic, a believer in conspiracies, anti-masks, anti-vaccines - the whole nine yards. The Reverend, who revealed that she was born male, showed endless patience in her gentle responses to the young woman's ignorance and nuttiness. A sad example of opposites not connecting in any way.


Michael Striano (top), Wai Ching Ho (L) and Lu Yu (R) in "Beautiful Morning" by Dorothy Tan, directed by Eugene Ma.
Beautiful Morning" by Dorothy Tan was performed in Chinese by Wai Ching Ho as the Woman and Lu Yu as the Man. A protest march about China and Chinese people, inspired by Covid, was taking place very close to them, and they discussed whether or not to join in. The frightened Woman suggested it was more important to make a pumpkin bread and to be passive in order to survive, even discouraging her granddaughter from participating. The Man, though also frightened, felt a strong need to participate. Along came Michael Striano, a young, seemingly sympathetic trickster. He offered to escort the Man to the march, where he promptly hurt him and ran away. As an ambulance came for the Man, the Woman called her granddaughter and encouraged her to join the demonstration after all.
Newspaper headlines were flashed across the screen telling of brutal attacks, followed by a group dance in which the dancers crouched and breathed heavily, obviously suffering and grief stricken.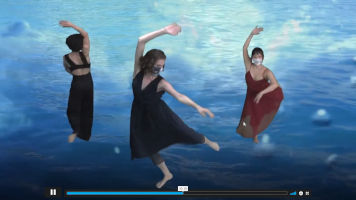 "Women's Trio" -- L-R: Anne Parichon-Buoncore, Madeline Jafari, Jennifer Chin.
This was a beautifully presented evening - unpretentious, well acted, and true to its message of fairness and humanity. [pb]