PERIAPSIS MUSIC AND DANCE

Periapsis Music and Dace
June 27, 2021
Dixon Place, NYC
Reviewed by Paul Berss
The evening began with a warm welcome from pianist/composer Jonathan Howard Katz, expressing the company's excitement at performing live again, and thanking the audience for attending as well as the parties who help support the company.
"Equipoise" Photo by Andrew Fassbender
First on the program was "Equipoise" by guest choreographer Gabrielle Lamb, a duet for Erin Dillon and Evita Zacharioglou to a driving piano score by Katz, also the Artistic Director of Periapsis. I experienced the well crafted dance as two women in a relationship or conversation. They remained connected in different ways throughout the dance, sometimes by watching the other dance or copying the other's movements, getting closer as the dance progressed, and finally ending in a caress.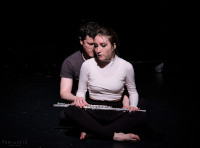 "on the other side of silence"
Next on the program was "on the other side of silence," performed by dancer/flutist/composer Annie Nikunen and Katz, who performed Nikunen's lovely, impressionistic music for piano. Katz is not only a good sport in participating with the dancers, but seems quite comfortable interacting with them, and at one point he walked away from the piano with the dancer in a lift over his shoulder. Nikunen began seated on the piano bench with Katz, who provided a little music as the couple engaged in some steamy embracing. Moving downstage, Nikunen picked up a flute, dancing and playing her music at the same time. The piece ended with the couple totally relaxed, seated on the piano bench, having achieved their goal of "moving and partnering while playing instruments."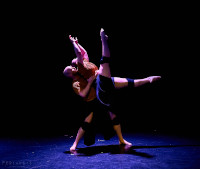 "Unleash" Photo by Andrew Fassbender
One of Periapsis' resident choreographers, Rohan Bhargava, created his duet "Unleash" to an atonal score for cello and flute by Asha Srinivasan. Dancers Elisabeth Jeffrey and Christopher LaFleche acted out a troubled relationship, perhaps an on-again off-again romance, sometimes engaged with one another; other times in conflict. As in all works on the program, the costumes were simple and functional.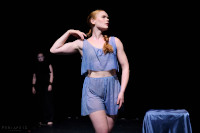 "To Take You There" Photo by Andrew Fassbender
The evening closed with "To Take You There," choreography by Alia Kache, danced by Erin Dillon and featuring cellist Issei Herr and soprano Sharon Harms, expertly performing the poem "Live Girls" by Andrea Cohen set to music by Katz. The poem speaks of a poet who is constantly disturbed by an art class taking place on the floor above her, with painters noisily moving their easels around an almost still female figure whom they are painting. Periapsis clearly integrates the music and dance as well as the musicians and dancers, who move together, even play musical instruments and sing together.

Katz and performers took a final bow, and he brought onto the stage the choreographers, all warmly greeted by the audience. Periapsis stays true to its vision of integrating original music and choreography, and they do so with taste, intelligence, and total commitment.