THE WESTERN WIND
in
'THE LIGHT RETURNS: Joyous Music for the Holidays

Reviewed December 4, 2021 by Paul Berss

Presented by live at the Church of St. Luke in the Field, NYC, and online, Western Wind Vocal Sextet delighted with "The Light Returns: Joyous Music for the Holidays" December 4, 2021.
L-R: Steven Hrycelak (bass), David Vanderwal (tenor), Todd Frizzell (tenor), Eric S. Brenner (countertenor).
Performers were sopranos Linda Lee Jones and Elizabeth van Os; countertenor Eric S. Brenner; tenors Todd Frizzell and David Vanderwal, and bass Steven Hrycelak. Instrumentalists were Patricia Davis, violin; Will Holshouser, accordion and Nir Furman, drums.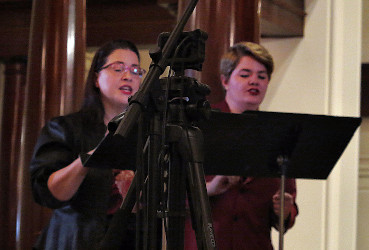 L-R: Linda Lee Jones (soprano), Elizabeth Van Os (Soprano).
As always, Western Wind can be counted upon to present an evening of rarely heard, carefully researched, and beautifully performed holiday music in several languages and from around the world. No "I Saw Mommy Kissing Santa Claus" on a Western Wind evening; selections included Medieval and Renaissance Christmas Motets and Carols, Hebrew, Sephardic, and Yiddish Chanukah songs, and rarely heard selections by composers including Cristobal de Morales and Carlo Gesualdo da Venosa, of the 16th century, to contemporaries Gerald Cohen and Peter Yarrow, to traditional Swedish, Finnish, and English holiday music.
Christmas music included "Nordic Polska," a suite of happy Scandinavian polkas, galops and more; "Nowel, Out of Your Slepe, "English songs going back to the 15th century; "King Witlaf's Drinking Horn" by 19th century composer John Liptrot Hatton with words by henry Wadsworth Longfellow; "O Radiant Dawn" to music by contemporary composer James Macmillan, and "The Road to Bethlehem" by none other than tango legend Astor Piazzolla.
Chanukah music was also represented by ancient, traditional, and modern music selections; to name a few, "Haneros Hallalu" by Louis Lewandowski, a 19th century German composer of synagogue music; "Happy, Joyous Hanukkah" to words by Woody Guthrie; and "Light One Candle" by Peter Yarrow, of Peter, Paul and Mary.
Segments began with spoken introductions of brief and interesting information about the selections.
Having now seen two Western Wind concerts, I again commend them on their outstanding musicianship, their unpredictability, and their daring and scholarly programming. I look forward to their future presentations - no telling what treasures they will come up with!!