Philip Dorian
Chekhov Goes Country: "Songbird" in New Jersey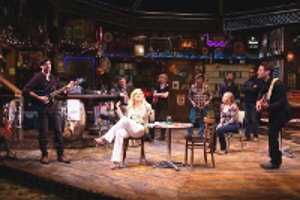 Caption: Felicia Finley and the company of "Songbird"
Through July 1 at Two River Theater, Bridge Ave., Red Bank NJ. Performances Wed at 1pm & 7pm; Thurs at 1 & 8; Fri at 8; Sat at 3 & 8; Sun at 3pm. For tickets ($40 - $70): 732-345-12400 or online at www.tworivertheater.org
Country music has never appealed to me. I might leave it on a rental car pre-set, but would never seek it out. If, however, it was all as flavorful as Lauren Pritchard's music and lyrics for "Songbird," I could become a fan. Her score is original in more ways than one. Titles like "Black Widow Woman," "Whiskey Lullabies," "Highway Fantasy" and a dozen more attest to its honky-tonk bona fides, but that DNA is enhanced by undertones of both rock and jazz. Coupled with Michael Kimmel's affecting book (and a nudge from a Century-plus-ago playwright), "Songbird" is a rare blend of foot-stomping rhythms and heart-tugging emotions, that Two River Theater Company is serving up with style.

"Songbird" is based, subtly and effectively, on Russian dramatist Anton Chekhov's "The Seagull," an 1896 play you need not have seen or read (or even heard of) in order to appreciate this multi-faceted hoedown derivative.

The play opens with Tammy Trip (Felicia Finley)'s Grand Ol' Opry debut and then flashes years forward to when the now-fading former Opry and touring star comes home to Nashville with celebrity songwriter Beck (Eric William Morris) in tow. Tammy's son Dean (Merrick Smith), a budding songwriter himself, albeit one with dubious talent, is hopelessly in love with his singing partner Mia (Ephie Aardema), whose instantaneous infatuation with Beck sets off emotional dynamics that echo Chekhov's 1896 theatrical family.

The Two River cast is a believably close ensemble. It's as if their portrayals of family and long-time friends who tolerate one another's quirks and faults have osmosed into their onstage bonds with one another, a feeling I had when I saw the original production off-Broadway in 2015, featuring, btw, six of this ten-member cast.

Each of the ten is a triple-threat: acting/inhabiting the close-knit characters, singing in solo turns and as a harmonious group, and, in a casting-director's challenge, accompanying themselves on piano, guitar, violin, bass and, of course, tambourine. A notable hold-over from off-Broadway is Andy Taylor (not Mayberry's) as a saloon denizen (Chekhov's schoolteacher) whose richly mellow cello underpins Ms. Pritchard's score, transforming a hoedown band into a country-flavored orchestra.

Ms. Finley might read a tad young and sprightly for Tammy, but she acts up a storm in the emotionally complex role, and she sings like…well, like a not-really-faded Nashville star. (She plays the spoons, too!) Barmaid Missy, married to Rip (Deon'te Goodman) but longing for Dean, is played with quiet intensity by Kacie Sheik. Dressed all in black (Chekhov's Masha), someone observes that she "sings like June but looks like Johnny." Darned if her "Cry Me a River" (same title, new song) doesn't evoke a likeness – to June.

Sheltered, innocent Mia is the catalyst around whom much of the play's emotional content revolves. Ms. Aardema, well-remembered from "The Last Five Years" in an Asbury Park dive bar in 2014, captures her extremes: before and after the caddish Beck uses and discards her (as in Chekhov's Nina and Trigórin).

Bob Stillman is particularly effective as Tammy's ailing brother Soren, who owns the bar where most of the scenes are set. "That Ain't Right," he sings, and much that occurs in his bar really ain't, but set designer Jason Sherwood's bar itself is a gem, as authentic and atmospheric as this northeasterner could imagine. (And well it should be, considering how much they drink in it!) Aaron Porter's lighting washes and isolates without calling attention to itself, and Sarah J. Holden's costumes are use-worn but not shabby.

Original music director/arranger/orchestrator Kristopher Kukul is still on the job (thank you!) and Marc Kimelman has signed on to choreograph, a contribution more in evidence here on a significantly wider stage than before. That expansion isn't necessarily a plus; some of the intimacy is lost, although, under Gaye Taylor Upchurch's direction, Mia and Beck's encounter in the gazebo-like setting is a moving romantic interlude. Only later do you realize that they hadn't actually touched. Upchurch and her creative team are as much an ensemble as the cast.

"Songbird" succeeds in a particular aspect that was important to Chekhov, who, despite its serious – even tragic – elements, labeled "The Seagull" a comedy. Like that play, "Songbird" is not frivolous, nor does it skirt serious issues (or change the ending), but it is also more than a bit funny. Family in-joke jibes are tossed off and accepted in good spirits.

There's rustic profundity, too, as in "Everybody likes daytime drinking; they just feel compelled to lie about it" and one of the best lines ever: "I wish hangovers and orgasms would switch duration." At just over two hours, "Songbird" is just right.