Philip Dorian
STELLAR CAST IN WORLD PREMIERE OF
"FERN HILL" IN NJ
Jill Eikenberry and John Glover
Through September 9
New Jersey Rep, 179 Broadway, Long Branch.
Performances Thurs & Fri at 8PM; Sat at 3 & 8PM; Sun at 2PM.
For info and tickets ($50): 732-229-3166 or online at www.njrep.org

The six actors appearing at New Jersey Repertory Company in Long Branch have amassed thirty-five Broadway credits among them, with six Tony Award nominations (and a win) to boot. Lured to the 75-seat venue by the prospect of creating roles in the world-premiere of a play by another lauded actor-playwright, the deluxe half-dozen are a formidable acting ensemble.

"Fern Hill" is Michael Tucker's second full-length play to premiere at NJ Rep, after "The M Spot" in 2015. Like the earlier play, "Fern Hill" explores emotional and physical (read: sexual) relationships, this time among three couples – not as in swingers, I hasten to add, but three pairs with their own histories and hang-ups.

The couples are gathered at Sunny (Jill Eikenberry) and Jerome's (David Rasche) farmhouse, Fern Hill, to commemorate the men's milestone birthdays: Vincent (John Glover) will soon be 80, Jerome, known as Jer, 70, and Billy (Tom McGowan), 60. Including Vincent's wife Darla (Dee Hoty) and Billy's wife Michiko (Jodi Long), all are engaged in the arts and academia: painters and teachers, a photographer, and, oh yes, Billy ("not a name for an adult person") plays bass in a fading reunion road band.

Over the course of an evening get-together, Sunny floats the idea of a communal living arrangement at Fern Hill (named after a Dylan Thomas poem), where the couples could all live and be there for one another as they age. "We all get along great," someone says. "Precisely because," says another, "we don't live together."

Three-quarters into the first act, one of the characters drops a bombshell concerning one of the others (no spoilers here). To Tucker's credit, the characters have been well enough established by then, for the revelation to become the centerpiece of the play. As it develops, all three marriages are affected.

Those marriages are diverse without being absurdly so. Vincent is significantly older than Darla, a point made with the birthday comments and, in case we were dozing, by his hip replacement surgery. Mr. Glover captures curmudgeonly Vincent's insecurity, and Ms. Hoty's Darla accepts, or at least is resigned to, the role of care-giver. I suspect that Darla's decision to attend her gallery opening in Vienna pleases the women in the audience. (Mr. Tucker writes women very well. He neither objectifies them nor patronizes them by making them heroic.)

Billy is a middle-aged rocker, and Michiko is the younger woman he met on tour. (Michiko's Asian ethnicity is not a plot point.) Billy's constant wise-cracking, some funny enough, gets tiresome, but Mr. McGowan's timing cannot be faulted, and the character is redeemed in the second act. ("You totally have the right to remain silent. Carmen Miranda.") McGowan is also particularly moving when Billy stands silent during Michiko's speech about an accommodation she needed from her husband. It is the play's most tender moment, and Ms. Long expresses it perfectly.

Sunny is complex; she's insecure, about her painting, yes, but also about her aging allure and about some qualities she has sublimated for years. She's not helped by husband Jer, whose assumption of superiority prompts him even to correct a minor slip in her grammar. (He does this only once – in the play – but it is enough.)

The spouses circle around each other, none more realistically than Sunny and Jer (wince); as enacted by Ms. Eikenberry and Mr. Rasche, they reveal and withhold in equal measure until the group, er, communal therapy takes hold. Even then, it's unclear where they'll end up, which is fine; it is their business anyway, not ours.

Under director Nadia Tass, whose career has flourished in Australia as well as in the US, the play takes on a sort of dual personality, with six characters morphing into three units and back again. The individuals are distinguishable, as are the couples. I doubt that's by accident. (And as usual, designer Jessica Parks captures the essence of the piece, with several distinct playing areas on one unit set.)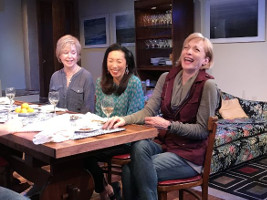 from left, Jill Eikenberry, Jodi Long, Dee Hoty.
"Fern Hill" is not overlong at just over two hours, including intermission, but some pruning would put a tidy cap on it. We get, for example, that Billy is a gourmet cook before he details his elaborate clam sauce recipe, and there's some relationship-info repetition. That noted, plays that pose questions are deeper than ones that purport to answer them; "Fern Hill" is the former.

Will the gang-of-six turn Fern Hill into a commune? Tucker's play comes thisclose to answering that, but pulls back just in time. More interesting is the question the audience is prodded to consider: How many and how much of your deepest personal secrets would you openly reveal in an effort to rescue a dear friend from a dire situation? "I think when you hold secrets from a person you start not liking them very much," says one character. "Fern Hill" is about opening up. To others, sure; but also to oneself.