Philip Dorian
"Blithe Spirit" Will Lift Yours…
Second wife Ruth (Kate MacCluggage), left, and former wife Elvira (Susan Maris)
Through Sept 2
Shakespeare Theatre of New Jersey, Madison NJ (on the Drew University campus).
Tues & Wed at 7:30PM; Fri at 8; Sat at 2 & 8; Sun at 2 & 7:30PM.
For info & tickets ($29 - $69): 973-408-5600 or online at www.ShakespeareNJ.org
Considering the running time of some I've seen, The Shakespeare Theatre of New Jersey's "Blithe Spirit" comes in at a relatively compact two and three-quarters hours, including intermission. Even at that, Noel Coward's 1940 play still seems drawn out, but the fault is not with these players or their director. Sir Noel (he was knighted in 1970 and died in '73) was inordinately fond of his own words, a penchant he indulged in "Blithe Spirit" more so than in some other works. (There's hardly a wasted syllable in "Present Laughter.") I suspect that director Victoria Mack snipped a line here and there, and the pace, especially in the expository first act, doesn't flag, all to the advantage of the play's intriguing plot.
The idea of a deceased former wife being re-animated through a séance to haunt her former husband and his second wife is a delicious concept. That the late Elvira (Susan Maris) is audible and visible only to Charles (Brent Harris), leaving new wife Ruth (Kate MacCluggage) understandably bewildered, is icing on the confection. A three-way conversation with one of the parties unable to see or hear one of the others is a sure-fire comic device. (There's even one, albeit without comic intent, in "Death of a Salesman.")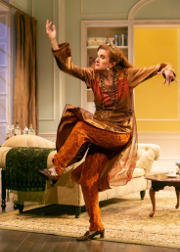 Madame Arcati (Tina Stafford)
With Dr. and Mrs. Bradman as house guests, Charles has invited eccentric spiritual medium Madame Arcati (Tina Stafford) to conduct a séance as background for a book he is writing. Even Mme A is surprised when the table takes on a life of its own and when Elvira later materializes (sort of).
After his initial shock at Elvira's re-appearance (cue spit-take), Charles settles into acceptance, which Harris plays with aplomb. Ruth is initially disbelieving, then angry. Eventually she just wants Elvira to go back to…wherever she came from. Charles and Ruth are the prototypical Coward couple, tossing off insults and rejoinders that sting, but only until countered with return fire. In neatly-drawn Brit accents, Harris and MacCluggage have at it stylishly. MacCluggage is at her best once Ruth accepts that Elvira is in the building. "I was talking to Elvira," she snaps in a particularly funny line, considering she neither sees nor hears Elvira.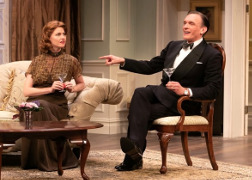 Ruth (Kate MacCluggage) and Charles (Brent Harris)
Taking a cue from the definition of blithe: casual and cheerful, happy or joyous, this Elvira is an upbeat spirit, indifferent to any consequences except for the fun of sparring with Charles and, indirectly, with Ruth, with nary a care in the world. (And why would she have?) Less sophisticated than second-wife Ruth, she is even referred to as having been girlish in life. In the coquettish person of Ms. Maris it is easy to see how the urbane Charles would have been attracted to her. ("It's a pity she died so young" he muses.)
As if Mme. Arcati weren't written odd-to-the-max, she's played here like a…well, I don't know what. A dervish maybe? She rides her bike to the house (as scripted), so the goggles, high socks and knickers (outer ones, for my British readers) are de rigeur, but her gyrations, leaping and spinning about the room, are stranger than strange. I can't attest to Stafford's motivation, but she sure looks funny doing it…and earns the final curtain call.
Dr. and Mrs. Bradman are well-played by Ames Adamson and Monette Magrath. His Bernard Shaw appearance and demeanor are appropriate, and her poise in lovely 1940s evening wear is a visual treat, as is Ms. MacCluggage in Ruth's outfits, all credited to designer Hugh Hanson. There's also the maid Edith, who figures in an essential plot point; Bethany Kay is as hyper-kinetic as the role requires…and maybe a tad more.
Charlie Calvert's comfortable living-room set does not call attention to itself, except when it's supposed to. Michael Giannitti's lighting fulfills its essential duty to the play, as does Ms. Mack's initial directorial outing for the Shakespeare Theatre, where her many acting credits have been outstanding. If directing-from-acting is a bit more than a lateral move, this promotion from within serves the Company well.
[Full disclosure: I was involved with the Shakespeare Theatre at its inception years ago (as the New Jersey Shakespeare Festival). The Company is long since under new artistic management, and I believe my critical judgment to be unaffected by that history. Admittedly, I am pleased when their productions merit praise. Last month's "Titus Andronicus" was one such, as is this "Blithe Spirit."]