Stockard Channing Sparks Dysfunctional-Family Drama
"Apologia"
Through December 16 at Laura Pels Theatre, 111 West 46th Street NYC.
For performance schedule and tickets ($99): 212-719-1300
or online at www.roundabouttheatre.org
Reviewed by Philip Dorian.
Line readings are a generally under-valued (and under-credited) facet of the actor's craft. As many times as you see "Hamlet," for example, is how many different readings of the "To be or not to be" soliloquy you will encounter.
Stockard Channing. Photo by Joan Marcus.
Having read Alexi Kaye Campbell's "Apologia" before seeing the New York premiere (from London) at Roundabout's Laura Pels Theatre, I was struck by how the play, interesting on the page, was enriched by Stockard Channing's creative and sometimes counter-intuitive delivery of some lines. "She's pretty," Kristin (Channing) says to her son about his girlfriend, intoned in a way that negates any other qualities the young woman might possess. "You're pretty," spoken later directly to Trudi, is as warm as the other was cold.
This is not to suggest that you should read "Apologia" (or any play) before seeing it, but just to emphasize Channing's uncanny ability to extract sub-text from the words on the page. Laurence Olivier once noted, "Talent is plentiful, skill rare." Channing has a ton of both.
Peter (Hugh Dancy) and Trudi (Talene Monahon) show up at Peter's mother's English countryside cottage to celebrate mom's birthday. That they are early for dinner doesn't much matter because the oven is on the blink. The chicken being raw doesn't matter either, because Trudi is a vegetarian ("Pescetarian. I eat fish"), which is but one of her less-than-endearing characteristics that Peter had failed to mention, including that she's American (ex-pat Kristin is an Anglophile) and that she and Peter had met at a Christian prayer meeting.
Soon joined by second-son Simon's girlfriend Claire (Megalyn Echikunwoke) and Kristin's protest-march cohort Hugh (John Tillinger), they go 'round and 'round on Kristin's preoccupation with leftist causes (Karl Marx's photo hangs in the loo) and the implications of the sons having been 'abducted' by their father while in elementary school.
Consumed at the time (and still) with causes and protests, mom did not fight for custody. Nor, tellingly, is either son even mentioned in her just-published memoir. Mom's explanation is that it is not a life-memoir, but rather a review of her career as an art historian, one of the rationalizations that informs Kristin's apologia, which is the crux of the play.
[App-ah-LOW-djah: a defense or justification, usually written, of one's actions or opinions.]
Kristin is a bottomless well of socially-conscious opinions, many of them Quixotic, all conveyed so convincingly in Channing's commanding performance that you want to sign on. The woman who sacrificed traditional values for fiercely-held beliefs is now forced, however reluctantly, to question those choices. Kristin does not admit to doubts, but Channing's layered performance reveals them below the surface of her apparent confidence.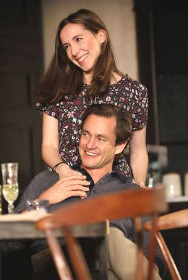 Talene Monahon and Hugh Dancy. Photo by Joan Marcus.
Trudi is secure in her own beliefs and increasingly self-assured sharing them. (Her 'faith' is essential, but thankfully there's no preachiness.) Trudi is nearly a match for Kristin; Ms. Monahon's Trudi is much more than just pretty.
Peter's banking career distresses his mother. Worse, he seems to be embracing born-again Christianity ("That's one thing I thought I got right," mom laments). Hugh Dancy, whose British stage and film credits are legion, imbues Peter with a complacent acceptance. He's not over his childhood trauma, but he's over letting it define him. In contrast, second-son Simon, also played by Dancy (no spoiler; it's in the Playbill), is borderline catatonic. Showing up in the night with a physical injury that mom gently tends (Symbolism 101), his emotional wounds remain open.
Introduced as a soap opera actress, Claire promptly dispels that notion. "It's more of a serialized drama that follows the trajectories of various people's lives," she clarifies (helpfully, right?). It also pays well, judging by her elegant designer dress, which draws splashy attention. Ms. Echikunwoke (Showtime's "House of Lies") does more than justice to that dress – and to Claire's pretentiousness.
Hugh is the playwright's sarcastic-relief, a function squarely in actor Tillinger's wheelhouse. His pointed comment as Claire exits may not be the play's funniest, but it gets the biggest laugh. Director Daniel Aukin balances the work's drama, humor and humanism at a satisfying pace.
Plays about dysfunctional families, with a dinner-party-gone-wrong and servings of acerbic humor, have become an over-examined genre. What elevates "Apologia" above the fray is the presence of Stockard Channing at the head of the table. Also, where many modern plays rely on multiple mobile phone intrusions to move the plot, "Apologia" includes just one brief call. And it's a doozy. (Do not set your iPhone down next to someone else's identical model.)