The Stratford Festival in Ontario
The Stratford Festival in Ontario routinely employs the talents of two theater geniuses, separated in their endeavors by four centuries. The earlier is William Shakespeare, around whose plays the Festival was founded 67 years ago. I have seen three pairs of star-crossed lovers there, two melancholy Danes, a pair of crook'd Kings (one female), multiples of the popular comedies and Christopher Plummer as both Lear and Prospero.
The modern genius is director-choreographer Donna Feore, whose grasp of musical theater and ability to communicate its wonders are boundless. Her terrific "Crazy for You" in 2014 and last season's "The Music Man" were stand outs. In 2016, with approval from the Michael Bennett estate, she restaged "A Chorus Line" with a thrilling result.
Seeing four of this season's twelve productions, two by Shakespeare and two musicals staged by Feore was an abundance of riches.
No two Shakespearean plays could contrast more sharply than "The Merry Wives of Windsor" and "Othello," one a rollicking comedy and the other a dark tragedy.
In "Merry Wives," two assertive married women turn the tables on Sir John Falstaff, their bungling would-be suitor, whose indignities and comic capers lead to the play's satisfactory resolution.
In "Othello," Iago, a villain for the ages, plots against trusting Othello, leaving both of their compliant wives slain, each by her own husband's hand. At its gut-wrenching resolution, my companion asked rhetorically, "How can these actors possibly do this again tomorrow?"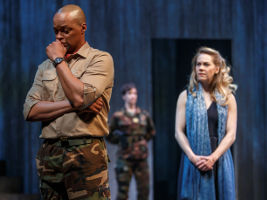 Michael Blake as Othello and Amelia Sargisson as Desdemona.
Also distinguishing the two plays from one another is their differing forms. "Merry Wives" is 87 percent in prose (the most of all Shakespeare's plays) and 13 percent verse, while "Othello" is near the inverse at 19 percent prose, 81 verse. This bespeaks the need for opposing acting styles. The Stratford company masters both. "Merry Wives," driven by Geraint Wyn Davies' superb Falstaff, moves along at a merry clip, with sharply comic dialogue and a dose of slapstick. What makes the dual accomplishment more remarkable is that 16 actors appear in both plays, including, most notably, Michael Blake, who plays the jealousy-driven Othello and Mr. Page, the trusting of the two "Merry Wives" husbands. Blake plays both of these opposite characters to perfection.
Perhaps to avoid over-playing Iago's sliminess, Gordon S. Miller plays him as a straightforward bad guy. The character has significantly more lines than Othello (1100 to 890), much of that difference directly to the audience. Letting us in on his evil intentions, usually with a friendly, confiding tone, not in evidence here, can even have us siding with him. It's director Nigel Shawn Williams's choice, I guess, but I missed the glint in Iago's eye.
What I did not miss is Desdemona's complacency in the face of her husband's murderous intent. Played with emotional depth by Amelia Sargisson, this Desdemona fights like a hellcat during Othello's assault, until her husband overpowers her. It is a shattering enactment, and the play's final scene that follows, which can feel anti-climactic, is anything but.
None of the Shakespeare actors is in "Little Shop of Horrors" or "Billy Elliot the Musical," but if they were, they would probably excel in those contrasting musicals under Feore's direction. Her "Little Shop" is an especially lively take on the show. The R&B girl-trio, for example, dances as well as sings their narrative segments, and the few mini-crowd scenes are spirited, but it's an odd choice in the #MeToo era.
Ostensibly about an insatiable person-eating plant gobbling up all of humanity (think unfettered Greed), the boyfriend-battered heroine Audrey getting nothing but platitudes from her male co-workers is cringeworthy. The abuser does become the plant's first human meal, but its second course is the kindly florist, enticed by shop assistant Seymour, whom the proprietor had adopted as his son.
Then Audrey, chewed upon but lingering, offers herself up to the plant to demonstrate her love for Seymour. I get that it's an allegory, and audiences seem to enjoy it, but for me "Little Shop" is past its sell-by date.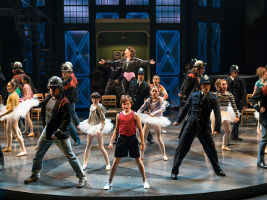 Nolen Dubuc, center, and the cast of "Billy Elliot the Musical"
"Billy Elliot the Musical," on the other hand, is timely, emotionally resonant and exquisitely conceived. After an early number, I thought "It doesn't get any better than this." And then it did, in pulse-quickening dance sequences that include energetic tap, classic ballet and every style in between.
In a rare fusion, the musical numbers in "Billy Elliot" spring from seemingly incompatible themes: young Billy's burgeoning interest in the ballet and the economic and political fallout from Britain's 1984 coal miners' strike. Against the background of the strike that crushed the British National Union of Mineworkers, Billy's evolution-in-dance is an uplifting saga.
That the contrasting story lines mesh so well is a tribute to Lee Hall, who adapted his own screenplay from the 2000 British film, and to Elton John's exciting musical score. Under Feore's direction and choreography, the whole of this "Billy Elliot" exceeds the sum of its parts.
Growing up in a single-dad household, 11-year old Billy stumbles into a young girls' dance class after his boxing lesson. Caught up among the girls' awkward pliés and off-balance pirouettes, he catches the eye of Mrs. Wilkinson, the caustic ballet teacher. Against the wishes of his father and brother, Billy continues in the class, earning an audition for Britain's prestigious Royal Ballet School.
You needn't have seen the movie to predict the outcome, but getting there is a stirring dramatic and musical journey. Tears of compassion well up for the struggling miners and their families, while the exhilarating dance sequences are heaven-sent ... joyous.
Three young dancers rotated in the Best Musical Tony Award Broadway production, but it is impossible to imagine a better Billy than Nolen Dubuc. His and Feore's rapport is palpable; the lad acts the role impeccably and progresses from inept novice to accomplished dancer right before your eyes. There are also nine Ballet Girls, ages 5 to 12, with nary an affectation among them. Mrs. Wilkinson is tough, sarcastic and funny. Hard-bitten, she nonetheless becomes a surrogate mother to Billy; Blythe Wilson is perfection in the role.
And, oh, the musical numbers: there's the rousing "Solidarity, " sung in counterpoint by the robust choruses of grim coppers and miners facing off with the Ballet Girls between them; "Expressing Yourself," a nifty music hall song-and-dance of Pride between Billy and his chum Michael (Emerson Gamble) and an exquisite "Swan Lake" danced by Billy and his older self (Colton Curtis). Billy's "Electricity" sets the Festival stage ablaze, and there's much more.
Substituting our current political woes for the British coal miners' despair and replacing Billy's passion for the dance with whatever dreams or ambitions sustain you completes the metaphor. How fortunate these performers are to be able to perform Donna Feore's magnificent "Billy Elliot" again tomorrow.
The four shows reviewed here run through October. The season also includes Shakespeare's "Henry VIII," the classic comedies "The Front Page" and Noel Coward's "Private Lives," as well as the family-friendly "The Neverending Story" and Arthur Miller's "The Crucible." For complete brochure call 800-567-1600 or visit stratfordfestival.ca.