FORGOTTEN MAN
Amie Bermowitz and Steve Brady. Photo by Andrea Phox.
Through September 15, 2019
NJ Rep, 179 Broadway, Long Branch.
Thurs & Fri at 8pm; Sat at 3 & 8; Sun at 2pm.
For tickets ($50): 732-229-3166 or at www.njrep.org
Reviewed by Philip Dorian
You needn't be familiar with 20th Century Russian – Soviet Union, that is – history in order to appreciate D. W. Gregory's "Memoirs of a Forgotten Man." While a sense of that history will enhance the experience, "Forgotten Man" stands on its own as a gripping mystery-drama, premiering now through September 15 at New Jersey Repertory Company.
As a National Rolling Premiere, "Forgotten Man" also debuts this summer at theaters in West Virginia and upstate New York, but it is hard to imagine it any better than at NJ Rep, where, directed by James Glossman and realized by four fine actors, it is an engrossing two hours (including intermission).
The play takes place in separate locations and decades: Moscow in 1957 is the play's present, with flashbacks to Leningrad in 1937. The dates evoke Joseph Stalin's brutal tenure as General Secretary and Premiere of the Soviet Union (1930s-40s) and later, the repressive regime that assumed power after Stalin's death in 1953. (Flashbacks-within-flashbacks can be confusing, but 1957 and '37 are clearly delineated.)
A Soviet journalist with the gift of total recall is the subject of a study being presented to a government censor for approval. Alexie (Benjamin Satchel) is blessed (or cursed) with perfect, instant memory. Glancing briefly at a list of fifty random numbers, for instance, he can immediately rattle them off without hesitation. Backwards, too, if you please.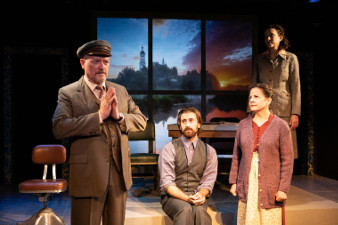 Steve Brady, Benjamin Satchel, Andrea Gallo, Amie Bermowitz (standing at rear). Photo by Andrea Phox.
Alexie is the object of Natalya (Amie Bermowitz)'s research, completed 20 years earlier and just now submitted to government functionary Kreplev (Steve Brady) for review. Ostensibly scanning the dissertation for anti-Soviet sentiments (by analyst or subject), Kreplev has his own guarded personal agenda.
Alexie has his own way of perceiving things, ascribing colors and tastes to words and attitudes. Crossing the street, "…honking horns smelled like fried onions and every horn…a different color." Strange – amusing even – as that sounds, Alexie's recollection that a speech by Bolshevik revolutionary Nikolai Bukharin "gave off the smell of turpentine" is intuitive. (A victim of Stalin's "Great Purge," Bukharin was executed in 1938.)
As Kreplev's probe deepens, portions of Natalya's interaction with Alexie are acted out, with Kreplev as observer. It is an effective device. Kreplev is a wily interrogator, a quality that Brady captures in both subtle and obvious tones and mannerisms. He also doubles as Alexie's brother Vasily in the earlier scenes, demonstrating how just putting on a cap can switch personas.
As adept as Brady's Kreplev is at drawing out Natalya's motives and hidden past (one brief exchange speaks volumes), Bermowitz matches him in Natalya's reluctance to be forthcoming and her anxiety over the reception of her report. As temperate and understanding as Natalya is with her subject, Bermowitz changes gears effectively, doubling as Alexie's family's devious neighbor.
Andrea Gallo does more than fill in gaps in several roles, all fully realized. She's Alexie's politically unaware mother, his childhood teacher and, in a remarkable transition, his stogie-chomping editor. She – and a few remarks by Alexie – account for the play's scant humor.
In a couple scenes, Alexie speed-talks his way through long lists of unrelated words and numbers. The actor has memorized and rehearsed, of course, but damned if it isn't amazing anyway. Satchel finds degrees of warmth and humanity in what could be a robotic character.
Likewise, there is much more to directing than moving actors around, but with so many specific settings depicted on NJ Rep's small, sparsely furnished stage (I counted at least six), establishing locales from scene to scene is not a gimme. Glossman does that, as well as guiding his cast into authentic relationships. (The Alexie/Natalya connection, straddling the boundary between academic and personal, is particularly well acted and directed.)
"You think of memory as a camera," explains Natalya. "It's not a camera. The mind doesn't take pictures, it leaves impressions. And over time the impressions change." But not for Alexie. He cannot let go even of the things that don't matter. "Once it's in there, it stays," he says pointing to his head. Is there a limit to his brain's storage capacity? And if so, can one learn how to forget in order to make room for new memories? Is Alexie a potential danger to an oppressive political regime? A threat to other people's more orderly sense of recall? Or is he just an oddity in a traveling carnival show? "Memoirs of a Forgotten Man" poses questions. Theatergoers are welcome to provide their own answers.