A Socially Distant Group Hug: "Godspell" Live!
Through September 4 at Berkshire Theatre Group Colonial Under the Tent, 111 South Street, Pittsfield Massachusetts.
Performances (many sold out) Tues-Fri at 7pm; Sat and Sun at 1 and 7pm.
Phone for reservations (All seats $100): 413-997-4444
Reviewed by Philip Dorian
Each actor has his/her own upstage pod behind a clear panel six or more feet from those adjacent. Most of the action and musical numbers are performed stage front, 25 feet from the first audience row. During back-up singing, the sliding panels protect downstage singers from saliva-droplet spray. The panels are as clear as air (and wiped during intermission), and Nathan Leigh's efficient sound design is unaffected by the barriers. Photo by Emma K. Rothenberg-Ware.
"Not to put any pressure on you, but the entire American theater is depending on you to be smart." Thus spoke Kate Shindle, president of Actors Equity, to the cast of "Godspell," the first live production her union has authorized since the nationwide shutdown in March. And smart they were on opening night August 7 at Berkshire Theatre Group's Colonial Under the Tent facility in Pittsfield, Massachusetts.
Smart, and smartly prepared to perform the 1971 musical chestnut within the boundaries decreed by the state of Massachusetts and by Equity (eight of twelve cast members and two Stage Managers are members) without dampening the show's live-ness. In fact, for this audience member at least, the restrictions, including spittle shields, sometime masks and social distancing, became incidental to the performance about ten minutes in. (Massachusetts limits attendance at outdoor events to 100, capped here at 75.)
Nicholas Edwards as Jesus. Photo by Emma K. Rothenberg-Ware.
"Godspell" was one of several Bible-themed musicals from the 1970s, joining "Two By Two" (Noah's Ark), "Superstar" and "Technicolor Dreamcoat" in that decade. It began as a non-musical master's thesis by John-Michael Tebelak and was workshopped at Café La Mama, where Stephen Schwartz ("Pippin," "Wicked") added music and lyrics. The show then moved to an off-Broadway house, where it ran over five years before moving to Broadway, for another year run.
Based on the Gospel According to St. Matthew, "Godspell" depicts a series of parables acted out in oft-updated contemporary language and meshed with Schwartz's folk/rock/gospel score. Despite some negative-to-scathing reviews, the upbeat and spiritually unassailable show became a staple of school, church, and community theater groups. The simple concept has a group of young disciples (originally hippie types) learning from Jesus to not cast the first stone or your pearls before swine, but instead to turn the other cheek and help thy neighbor. Moral counsel and an appropriate song accompany each lesson. Indeed, one of the songs is "Learn Your Lessons Well," sung – and tap-danced! – by the delightful Kimberly Immanuel.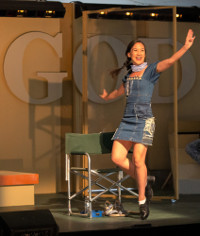 Kimberly Immanuel in "Learn Your Lessons Well." Photo by Emma K. Rothenberg-Ware.
Without its usual touchy-feely ambience, the text is more sermon-like (not to advantage), but Nicholas Edwards's Jesus is an ingratiating fellow, whose "All For The Best" soft-shoe vaudeville turn with Judas (Tim Jones) is a highlight. The two eschew canes for yardsticks, ensuring the six-foot mandate.
Guided by musical director Andrew Baumer, all the numbers, directed front, are welcome bridges between scenes. The show's breakout hit, "Day By Day," is Isabel Jordan's shining moment, and Emily Koch stops the show with her full-out Gospel-rich "Bless the Lord." The ensemble aces the eleven o'clock number "We Beseech Thee."
Obviously a labor of love for director Alan Filderman and choreographer Gerry McIntyre, "Godspell" accomplishes its goal. Their fresh young cast, working under unique restraints, extract more spirit and pleasure from the show as any I've seen – or could imagine – before.
The passage of time burnishes memory. In 1959 I saw Ethel Merman's first public performance in "Gypsy," and on August 10, 1987, the 5,000th performance of "A Chorus Line." Breaking a five-month fast with "Godspell" last week doesn't rank with those, but, under the circumstances, it is and will, I suspect, remain memorable. Who could have predicted back in 1970 that fifty years later, John-Michael Tebelak and Steven Schwartz's modest musical homily would be, for a few weeks anyway, the most famous play in America?