Theater Is Live And Well In New Hampshire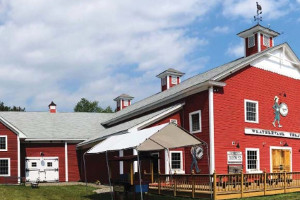 Weathervane Theatre
Having performed years ago in theaters tucked away in tourism towns across the country, my first sighting of Weathervane Theatre in Whitefield, New Hampshire prompted a rush of déjà vu. It is somehow fitting that this picture-book New England venue is the nation's first authorized by Actors Equity Association since the Covid-closure in March to offer indoor theatrical performances with multiple cast members. They are doing so with three shows in rotating repertory: two musicals, "The World Goes 'Round" and "Little Shop of Horrors," and Tom Dudzick's vintage comedy, "Miracle on South Division Street." I saw both musicals.
Pandemic restrictions, imposed by Equity and by the state of New Hampshire, are in place. Audiences are capped at twenty-five percent capacity (60 of 240 seats), with alternate rows and seats cordoned off. Masks are required and sanitizing stations are located at the entrances. The company has installed a new air filtration/purification system, and the facilities are professionally deep-cleaned after every performance. The actors are subject to daily temperature checks (as is the audience upon arrival).
Also, because the theater is prohibited from operating a concession stand and to control crowding, both originally two-act shows are performed in 90 minutes without intermissions. "World" runs smoothly that way, and "Little Shop" is unfazed by some compression...and one major adjustment, about which more below.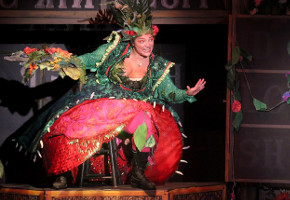 Monica Rosenblatt as Audrey II in "Little Shop of Horrors"
Both of the shows originated off-Broadway: "Little Shop of Horrors," from 1982, about a flesh-eating plant, became a community and high school theater perennial; the less-familiar 1991 "And the World Goes 'Round," ("And" has been dropped) is a revue of songs by composer John Kander and lyricist Fred Ebb. The former show is a bit shopworn, while "World" remains an "unexpected delight" (as per critic Frank Rich) even if you know what's coming.
Even casual theater fans know that Kander and Ebb wrote "Chicago" and "Cabaret." Less known are the team's "The Act," "The Rink," the "Funny Lady" movie and a half dozen others. "Chicago" and "Cabaret" are represented, but the true pleasure of "World" lies in a dozen gems from those under-the-radar shows. Performed in solos and various combinations by The Weathervane Five (my dubbing), each number is a standalone treat as well as an essential part of the whole.
In the only fair order, alphabetical, Robert H. Fowler crushing on "Sara Lee" (from a Kander and Ebb album) is as tasty as the title baker, while Marisa Kirby's song-and-dance to "Arthur in the Afternoon" ("The Act") is as sexy as a non-sexual dalliance could be. Jewell Noel's "How Lucky Can You Get" ("Funny Lady") is happily contagious, and Weathervane's producing artistic director Ethan Paulini's "Mr. Cellophane" ("Chicago") has never been more woebegone.
If you look up 'belter' in your glossary of show-business terms there should be a picture of Monica Rosenblatt, who earns that appellation with "Maybe This Time," from the "Cabaret" movie. And no ensemble number anywhere is more infectious than the syncopated swing version of the "Cabaret" title song. (When the show's originators auditioned the non-conventional arrangement for the writers, Fred Ebb broke a nervous silence: "Well," he said, "you made the old turkey gobble again.")
Cast of "The World Goes 'Round"
Directed and especially well choreographed by Amiee Turner, creatively lighted by Scout Hough, and accompanied by musical director/conductor Matthew Everingham's spiffy four-piece band, "The World Goes 'Round" is a thoroughgoing joy.
"Little Shop of Horrors" drew a "full house" (the 60 limit) on Saturday afternoon. ("World Goes 'Round" had played to fewer the night before.) Based on Roger Corman's 1960 non-musical film, notoriously shot in two days, "Little Shop" is set in kindly Mr. Mushnick's (Robert H. Fowler) Skid Row flower shop, where nebbishy clerk Seymour Krelborn (Jorge Donoso) breeds a plant he names Audrey II out of love for shop girl Audrey (Marisa Kirby). She, however, is dating Orin (Ethan Paulini), an abusive dentist. The mysterious plant responds to the taste of human blood and grows to amazing size, feasting first on Seymour's rival Orin and then (spoiler alert), on his benefactor Mushnick and even sweetheart Audrey. The play ends with cuttings from Audrey II threatening to devour the audience and, by extension, the world. ­­Allegory noted! Think greed, lust for power, whatever. Fill in your own blank.
Despite its popularity, "Little Shop" is not an impressive entry in the annals of American musical theater, but its music (Alan Mencken) and lyrics/book (Howard Ashman) are bouncy enough, and this cast fulfills its mission. A doo-wop trio (Nicole Fluegge, Jewell Noel, Grace Livingston Kramer, all on target) is diverting, and one number, "Somewhere That's Green," sung here by Ms. Kirby (sans Audrey's extreme squeakiness), is lovely. While the face mics tend to distort dialogue, director/choreographer Kevin Smith Kirkwood keeps the show moving; there are awkward moments, but never a dull one.
Compressing the play into one 90-minute act serves it well. The most significant edit involves the growth of Audrey II. First seen as the usual small, red-lipped potted plant, we skip the intermediate scenes and segue right into Audrey II emerging as a ravenous, larger-than-life…wait for it: Monica Rosenblatt? Yup, and an impressive Audrey II she is. No booming bass tones for this rapacious vegetation; instead, Ms. R's commanding middle-register resonance. "Little Shop of Horrors," with its nasty, abusive-partner sub-plot (Orin actually smacks Audrey in scene and no one reacts), may be past its sell-by date, but for macabre theatrics, you can't beat watching Monica's Audrey II luring people to their doom under her (and costume designer Rien Schlecht's) voluminous spiky skirt. Let's just say it works.
As did pretty much everything in Whitefield, New Hampshire. I never felt more at home than I was, seated inside Weathervane Theatre waiting for the opening strains of a live, in-person musical show. There's no business like it.
The Weathervane season runs through October 11. For the three-play calendar and ticket info: www.weathervanenh.org