| go to index of reviews | go to entry page | | go to other departments |

Paulanne Simmons
"Kin" Is Kind to Families

"Kin"
Directed by Sam Gold
Playwrights Horizons
Main stage Theater
416 West 42nd Street
Opened March 21, 2011
Tues. at 7pm, Wed. thru Fri. at 8pm, Sat at 2pm & 8pn, Sun. at 2:30pm and 7:30pm
Tickets: $70 (212) 279-4200 or www. TicketCentral.com
Closes April 3, 2011
Reviewed by Paulanne Simmons March 19, 2011
It isn't until the very last scene that it becomes obvious why Bathsheba Doran called her latest play "Kin." But when it all comes together, the play is a poignant and insightful statements about how people, as fragile and imperfect as they may be, come together to form new families.
"Kin" is directed by Sam Gold. But it is the set, designed by Paul Steinberg that seems to most dominate and hold together the series of vignettes that form the drama. It is a rolling rectangle, a platform with sides and roof that frames and separates all of the action and allows for a meaningful transition between scenes.
| | | |
| --- | --- | --- |
| | | |
| A scene from the Playwrights Horizons production of Kin, the world premiere of a new play by Bathseba Doran. Photo by Joan Marcus. | Kristen Bush as Anna and Matthew Rauch as Simon. Photo by Joan Marcus. | Patch Darragh as Sean and Kriten Bush. Photo by Joan Marcus. |
It is through these vignettes that character and history are revealed.
Anna (Kristin Bush) is writing her doctorate (later turned into a book) on the punctuation in the poetry of John Keats. Her boyfriend Sean (Patch Darragh) is a transplanted Irishman, the product of a mother, Linda (Suzanne Bertish), who has been psychically wounded many years ago, and a deadbeat dad. Her best friend, Helena (Laura Heisler) is a lonely and suicidal actress who can't seem to stop grieving for her dead dog.
Anna's mother died several years ago, but her father, Adam (Cotter Smith), a former military man who seems to wear a uniform even when dressed in civilian attire, is very much alive. His most meaningful relationship is with Kay (Kit Flanagan) his dying mistress.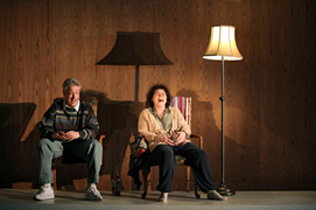 Bill Buell as Max and Suzanne Bertish as Linda. Photo by Joan Marcus.
Doran does a fine job rounding out her characters, and the actors bring them to life most convincingly. Despite the many entanglements, "Kin" is a romance, of sorts. But both the attention given to supporting characters and strong acting on the part of Flanagan, who is both funny and sympathetic as a character that could easily get on one's nerves, and Heisler, whose makes Helena's plight particularly searing, sometimes obscure the principal relationship in the play.
The action develops slowly in this drama, and for a while it's hard to see where it is going. There are a few scenes in "Kin" that could easily be left out, most specifically one in which a bear plays a significant role. But for the most part, the play proceeds steadily toward its very satisfying conclusion.
"Kin" may have a romance central to its plot, but the play is not really about romantic love. It's about people creating the network of relationships we call family and how this network is held together and supported by love.