| go to index of reviews | go to entry page | | go to other departments |

Paulanne Simmons
"The Lapsburgh Layover" Is Top Flight Entertainment



"The Lapsburgh Layover"
Directed and Devolped by Oliver Butler
Ars Nova
511 West 54th Street
Opened Sept. 12, 2011
Tuesday through Saturday at 8pm
Closes Sept. 24, 2011
Tickets: $20. 212 352-3101
Reviewed by Paulanne Simmons Sept. 9, 2011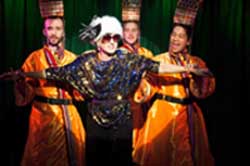 Dave Johnson Leah Walton, Bradey K. Wren, Justin Jain.. Photo credit ; Ben Aron.

Times are hard. Many of us are in need of a good laugh, and one of the best places to get one these days is Ars Nova, where its company-in-residence, a group of theatrical nut-jobs called the Berserker Residents are presenting "The Lapsburgh Layover." "The Lapsburgh Layover," written and performed by Justin Jain, Dave Johnson, Leah Walton and Bradley K. Wrenn, and directed by Oliver Butler, is really much more of an experience than a play, or even a play-within-a-play, which it closely resembles. Audience members are led down one stairway to a room where they go through customs, and up another stairway to a supper club. There the citizens of Lapsburgh, a tiny country that seems to bear a linguistic and cultural similarity to Russia, present a theatrical entertainment to help their guests relax while their international flight refuels.
The entertainment, called "Detective Mickey and the Case of What Happened at Club Regard," is a parody of those murder mystery dinner shows, which are themselves a parody of film noir and the hardboiled detective novel. The show the Lapsburghers put on revolves around a sexy chanteuse, a detective who has seen it all, a friendly and voluble barman and a fat southern mayor with a drawl that comes out of a Tennessee Williams play. Who could ask for more?
Between scenes the actors revert back to citizens of Lapsburgh as they try to convince the audience of the glories of their land through a powerpoint presentation delivered with hilarious sincerity. The eager citizens also make a few time share pitches that had this reviewer almost falling off her seat laughing.
Throughout the layover, the audience is asked to enter into the action, which becomes especially important when it is revealed that an army of killer frogs (having invaded the country some time ago) is about to attack. Everyone is given a vital job to accomplish in case of an emergency: shake bells, defend the group with spoons the actors distribute, repeat certain chants to frighten the ruthless amphibians.
Justin Jain, Dave Johnson, Bradey K. Wrenn. Photo credit ; Ben Arons.Brel Is Alive and Well and Living in Paris. Photo by Ben Aron.
If the absolute hilarity of this show has not by now become apparent, let it be noted that the production also boasts a terrific cast with a perfect sense of frenetic timing, absurd and extravagant costumes, and dramatic lighting and sound effects.
The Berserker Residents is an ensemble in the best and truest sense of the word. The improvisation and group writing that is at the heart of the work shines through everything they do - and do so successfully. If this Philadelphia-based company represents what emerging artists have in store for us, the future does indeed look rosy.