TWO VIEWS OF "INADMISSIBLE"
Paulanne Simmons
Glenda Frank
---
Paulanne Simmons

"Inadmissible" Is More than Acceptable
"Inadmissible"
Directed by Sherri Eden Barber
Canal Park Playhouse
508 Canal Street between Greenwich and West streets
From Jan. 25, 2012
Wed. thru Sat. at 7:30pm
Closes Feb. 18, 2012
Tickets: $18, (866) 811-4111 or or www.canalparkplayhouse.com
Reviewed by Paulanne Simmons Jan. 26, 2012
Kathryn Kates, Charlene Greene and Richard Hoelher. Photo by Jim Baldessare.
If you have any shared of a belief left that idealism is alive and well in higher education, it will most certainly be destroyed by D.B. Giles's new play, "Inadmissible" A comedy, well directed by Sherri Eden Barber, "Inadmissible" offers a behind the scenes look at how universities' admissions committees choose among their candidates.
Elaine Callaway (Kathryn Kates) is the head of the English department at an unnamed university trying to make it into The Top 10. For many years she has been selecting graduate students for the university's graduate playwriting program with the help of longtime associate Martin Hemmings (Richard Hoehler) and a man they refer to as Henry.
When Henry ends up in the hospital as a result of an allergic reaction cause by accidentally eating shrimp, Martin and Elaine must choose a replacement. After considering and rejecting several candidates, they settle on a young, ambitious adjunct, Joanna Newley (Charise Greene), and the fun begins.
Because Joanna is aspiring and relatively innocent, both Elaine and Martin believe they can manipulate her into backing their favorite candidates. At various times they alternately lie, promise and blackmail. The fortunes of the candidates rise and fall precipitously throughout.
Both Elaine and Martin have agendas that may or may not benefit the school but definitely advance their own careers. Each tries to trump the other in bringing money and prestige to their department. Sometimes it's hard to figure out who is more venal.
It would be impossible and unfair to theatergoers to reveal all the different plot twists in this delightfully wicked play. Suffice it to say "Inadmissible" is filled with many pleasant surprises until its unexpected but very plausible ending.
In many ways this is an ensemble piece, with Greene, Hoehler and Kates each pulling his or her own weight ... and then some. The formidable Hoehler makes Martin especially conniving as the cynical former actor who wants to raise his own and the university's profile by accepting an unqualified student because her mother is rich and famous. His goal of course is Elaine's job.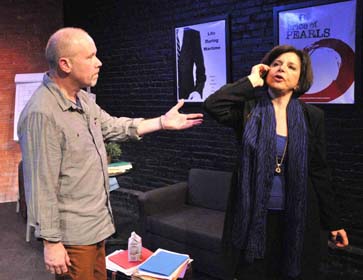 Richar Hoelher and Kathryn Kates. Photo by Jim Baldassare.
But Kates triumphs as the wily Elaine who soon shows herself an equal match to her treacherous subordinate. Greene has the least stage time, but her character is the most unstable of the lot, and Greene executes Joanna's growing self-assertion with believable ambivalence.
The small stage at Canal Park Playhouse, which might be a problem with other shows, here only increases the claustrophobic feeling of three people (mostly at odds) making big decisions in a small office. And Barber and her cast keep the energy consistently high.
One can only hope that the shenanigans one witnesses in "Inadmissible" are something of an exaggeration. But we can be pretty sure that it contains just enough truth to make it hit-the-spot funny.
---
BACKROOM POWER PLAYS

"Inadmissible"by D.B. Gilles.
Directed by Sherri Eden Barber
T he Canal Park Playhouse,
508 Canal St., NYC.
Jan 25- Feb. 18, 2012. Wed. – Sat at 7:30 PM;
Tickets $18. Call 866-811-4111.

In a recent episode of ABC's detective series "Castle," a beautiful, accomplished teen -- the famous novelist's daughter -- is rejected by Stanford University. She is devastated. We've all felt that way one time or other -- after applying to a program, for a grant, for publication. Writers often don't even receive rejection notices, just silence. "Inadmissible," an expertly crafty play by D.B. Gilles at Canal Park Playhouse, is about the admission process, the personalities and the factors that enter into decisions that can change a life.

When the play opens, the admissions committee is grappling with a problem. Their third wheel, Henry, a tenured faculty member and long time participant, inadvertently ate shrimp, triggering a major allergic reaction and a stint in Intensive Care. Before making up their minds about the replacement, Martin (Richard Hoehler), another tenured professor, and Elaine Callaway, the chair person (Kathryn Kates), dish the faculty -- and the graduate program candidates whose personal essays are heartfelt but dumb. It's nasty and very funny.

But the real fun is about to begin. Elaine recommends Joanna (Charise Greene), an adjunct and Martin's former student. Martin disagrees but is overruled. Joanna leaps at the opportunity to serve. She does not realize she could be paid -- as Elaine makes clear when she asks Martin not to tell her. What Martin does say is that he had to battle Elaine to get Joanna on the committee. Henry, Martin explains, always cut deals on how to vote: you support my candidate, I support yours. He and Joanna, who is uncomfortable with this exchange, fence a little before she agrees. She's grateful to him for including her.

The lies soon snowball. Joanna, alone with Elaine, asks her about Henry's making bargains. He would never do that, Elaine clarifies. And I chose you because you share his integrity. Joanna quickly switches sides, but Elaine also is not above pulling rank, making career promises, and employing blackmail. Even attempted murder doesn't phase her. It's another negotiation tools.

The taut plot with its surprising twists and by-ways is matched by some fine performances and lively direction by Sherri Eden Barber. The office setting by Clifton Chadick had just the right feel of a comfortable academic room, where people discuss new ideas, students and each other. The end feels a little tacked on -- Joanna learns the political ropes and tries some moves herself -- but this is after all a modern comedy of manners.

What makes this play more than an evening's entertainment is the insights offered into the admissions process. It's not news but the tone is pitch perfect. There are two slots left after the candidates from the right schools (read Ivy League), who have demonstrated promise and talent, have made the A, B or C list. Diversity is a major factor as is geography. One candidate for the last slots has a rich father. One has a powerful mother -- an agent to the stars. And the third, Joanna's selection, has talent. Joanna, given half the application, thinks her candidate is a male. No one is reading the full application. It's not until late in the second half of the play that Joanna's selection catapults to the top because of a biographical detail. But even then, money trumps -- half a million dollars that the chairperson squeezed from a parent -- until Joanna plays her last card.

The Canal Park Playhouse is a charming 1825 land marked building with two tiny theatre spaces. The 55-seat main stage is a small jewel, very comfortable, with seats salvaged from the Sullivan St. Playhouse where the "Fantasticks" first opened, and state of the art lighting and sound system.