Power and Money in "Rutherford &Son"
Rutherford & Son
Directed by Richard Corley
Mint Theatre
311 West 43rd Street, Third Floor
Opened Feb. 27, 2012
Tuesday through Thursday at 7 PM, Friday at 8 PM, Saturday at 2 PM & 8 PM, and Sunday at 2 PM.
Tickets: $55, 866/811-4111 or at www.minttheater.org.
Closes April 8, 2012
Reviewed by Paulanne Simmons Feb. 29, 2012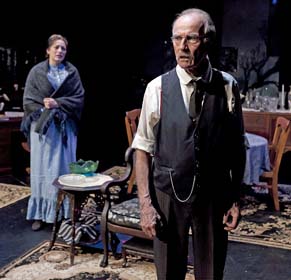 Sara Surrey and Robert Hogan. Photo by Richard Termine.
These days when a dysfunctional family is the subject of a drama, the unhealthy behavior one observes is attributable to repressed sexual desire and unexplained sadomasochistic tendencies. So a play that harkens back to a simpler times when people acted from the more concrete desire for power and money is a welcome change.
Githa Sowerby's jewel, "Rutherford & Son," comes to theatergoers thanks to Mint Theater Company's dedication to the reintroduction of forgotten plays. The Mint is staging "Rutherford & Son" on the hundredth anniversary of its premiere. Although the play was scheduled for only four performances at London's Royal Court Theatre, critical response was so enthusiastic it soon traveled to the West End. What makes this success particularly remarkable is that such critical acclaim for a female playwright was unprecedented at the time.
Set in the industrial north of England. "Rutherford & Son" tells the story of a family ruled by John Rutherford (Robert Hogan), the powerful and determined patriarch and owner of the family glassworks business he inherited from his father.
John has a spinster daughter, Janet (Sara Surrey), who has never been allowed to love any of the inferior men who might have sought to marry her. He has two sons, Richard (James Patrick Nelson), a meek minister who has never been able to earn the respect and love of his congregation; and young John (Eli James), who has never been able to earn a living to support his wife, Mary (Allison McLemore) and their infant child.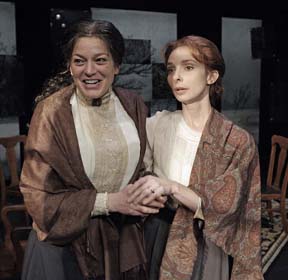 Sara Surrey and Allison McLemore. Photo by Richard Termine.
When John comes home with his wife and a new invention he is determined to sell (not give) to his father, all the resentments and hidden desires harbored by the children come to the fore. But Rutherford, despite his dire need for this new process that could save the failing firm, is inflexible to the point of cruelty and conspires with his assistant, Martin (David Van Pelt) to steal the invention.
Rutherford is dismissive of his children's attempts to assert themselves. He drives his daughter to illicit love. He is convinced he can bully John into doing his bidding. When Richard brings a neighbor, Mrs. Henderson (Dale Soules) to the house to plead with Rutherford for mercy towards her errant son, Rutherford turns her out.
Everyone in the family, including the aging Aunt Ann, makes Mary feel like an unwelcome and barely tolerated intruder. But Mary is the outsider who understands the strengths and weaknesses of the Rutherfords and how to use them to her best advantage.
Director Richard Corley has assembled an excellent cast led by the formidable Hogan. James and Nelson, are each believably timid and resentful as Rutherford's emotionally battered sons, as is Van Pelt as his submissive employee. Soules adds a welcome comedic note to the dour drama.
But it is McLemore and Surrey who provide the moving surprises at the end of the play. They are the characters with the personal strength that makes this so much of a woman's play.
In the early 20th century, when women moved from their father's house to their husband's house, seldom achieving any real autonomy, the portrayal of women who take their fate into their own hands and even force men to obey them is something of a revelation. We have to thank Sowerby for writing the play and the Mint for staging it again one hundred years later.