Roslyn Kind at Brooklyn College

Roslyn Kind in Concert
Brooklyn Center for the Performing Arts at Brooklyn College
Walt Whitman Theatre
April 28, 2012 at 8pm
Tickets: $35 (718) 951-4500
By Paulanne Simmons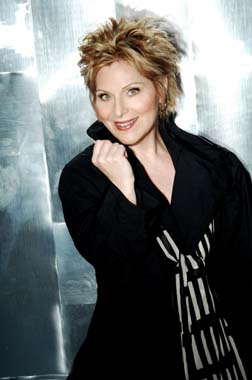 Roslyn Kind
For some people appearing in concert at Brooklyn Center for the Performing Arts might be just one more stop on a tour. For Roslyn Kind it means coming home.
Raised just one subway stop from Brooklyn College (at Newkirk Avenue), Kind has fond memories of Brooklyn: attending Hebrew school at B'nai Jacob Synagogue on Glenwood Road, learning to swim at the St. George pool in Brooklyn Heights.
Kind also remembers a home filled with music. "My mother had a beautiful, soprano voice, and she sang in the house all the time," says Kind. And of course, Kind is Barbra Streisand's younger sister.
But it was Kind's mother who introduced her to an older generation of singers such as Nelson Eddie and Dinah Shore. Curiously, Kind claims her mother did not like belters. When she or her sister would sing at home, her mother would ask, "Why are you screaming?"
Go figure!
For young people growing up in Brooklyn of the 50s and 60s there was the ever-present transistor radio playing the hits of the day and frequent visits to Mel's Record Rack.
Although in the 7th and 8th grades Kind imagined herself a math teacher, she says she soon discovered "my talents lie elsewhere." The afternoon after she graduated from Julia Richmond High School, she had a recording session at RCA Studios, where she cut her first record.
After the release of her first album, "Give Me You," Kind embarked on a whirlwind of performing activity, including engagements at the nation's top nightclubs and three appearances on The Ed Sullivan Show, leading up to her New York debut at the Plaza Hotel's legendary Persian Room at the age of eighteen.
Kind has continued to release albums that showcase her talent, including "This is Roslyn Kind" and her latest, "Come What May." She has also been seen in the theater ("Three From Brooklyn" at the Helen Hayes Theater and the Off Broadway musical "Show Me Where The Good Times Are") and on television ("Switched At Birth," "Gimme a Break," "The Nanny," "Saturday Night Live" and "The Tonight Show").
Kind moved to L.A. in 1973. It was a time when many New York nightclubs were closing down and the coast looked more promising. Back in Brooklyn, Kind says she will sing "a little jazz, pop, ballads... songs that I can communicate to an audience."
According to Kind, one of the biggest challenges is bringing today's music into her world. "I'm known for a certain type of music," she says. "I try to find songs of today for my style." Kind says she loves lyrics that touch her heart, and she loves making people happy because "that's what entertainment is all about."
"I love looking in people's eyes," says Kind. "And knowing that I've touched someone's life in a positive way."