A Chorus Line Is Still Kicking
"A Chorus Line"
Directed by Mitzi Hamilton
Paper Mill Playhouse
22 Brookside Drive, Millburn NJ
Opened Oct. 7, 2012
7:30 p.m. Wednesday, 1:30 and 7:30 p.m. Thursday, 8 p.m. Friday, 1:30 and 8 p.m. Saturday, 7 p.m.
Tickets: $26-$96 (973) 376-4343 or www.papermill.org
Closes Oct. 28, 2012
Reviewed by Paulanne Simmons Oct. 7, 2012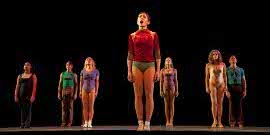 The Company of A Chorus Line at Paper Mill Playhouse. Photo by Jerry Dalia.
Thirty-seven years after "A Chorus Line" opened on Broadway it's iconic place in theater history remains unchallenged. Directed and choreographed by Michael Bennett, the show received 12 Tone Award nominations and won 9 of them, including best book (James Kirkwood and Nicholas Dante), score (music by Marvin Hamlisch, lyrics by Edward Kleban), choreography and direction. "A Chorus Line" also won the 1976 Pulitzer Prize for Drama.
But the show was not only a critical triumph. It was also a financial success. The show ran for 6,137 performances, which made it the longest-running production in Broadway history, until 1997, when it was eclipsed by "Cats."
So it seems a bit nit-picking to note that "A Chorus Line"'s premise - a director believes performers' personal histories are important factors in their ability to play certain roles and takes the time to interview each candidate for an upcoming show - makes no financial or artistic sense.
At this late date, who wants to point out that the plot of "A Chorus Line" is nothing more than a contrivance to get a bunch of gypsies to reveal themselves to the audience? But the ruth is that it takes really, really good actors to make all those monologue, delivered to an offstage director, sound like spontaneous outpourings.
The Company of A Chorus Line, directed and choreographed by Mitzi Hamilton. Photo by Jerry Dalia
The Paper Mill Playhouse production of "A Chorus Line," directed and choreographed by Mitzi Hamilton (one of the dancers in Bennett's original production) has all those great numbers performed by superb dancers and singers. The opening and closing scenes are particularly stunning. But there are many times when the actors seem a bit like very well-rehearsed students on assembly day. Then they start to dance or sing, and all is forgiven.
However, some members of the chorus line are more successful than others. Rachelle Rak is particularly convincing as Sheila, and Kyle Brown is a very funny Greg. J. Manuel Santos starts off lukewarm in Paul's great monologue but ends in a burst of emotional intensity.
Perhaps the one unusual choice Hamilton made was Martin Harvey a Zach, the director. Harvey speaks with a British accent, which, coupled with his generally snarky attitude, makes him seem not only unlikable but also extremely out-of-place in this otherwise American production.
At the press opening the show seemed a bit rushed. Perhaps Hamilton was concerned about the ability of a 2012 audience to sit through such a long show without an intermission. Hopefully, the show will slow down during its run.
This may not be a flawless production, but it is certainly a delightfully entertaining and sometimes very moving glimpse into the heart of musicals, and particularly their gypsies. One more time the actors in "A Chorus Line" do what they have to do. And one suspects they do it for love.