Once Again We are asked "Who's Afraid of Virginia Woolf?"
Who's Afraid of Virginia Woolf?
Directed by Pam MacKinnon
Booth Theatre
222 West 45 Street
From 9/27/12, opening 1013/12
Tuesday at 7pm, Wednesday at 2pm, Thursday & Friday at 7pm, Saturday at 2pm &
8pm, Sunday at 3pm.
Reviewed by Paulanne Simmons Oct 25, 2012
Edward Albee's "Who's Afraid of Virginia Woolf" has hit 50. The question is whether it's a tired-out 50 that's no longer particularly relevant, or a vigorous 50 that's still got lots of juice.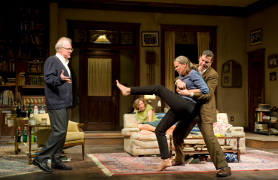 L-R: Tracy Letts, Carrie Coon, Amy Morton and Madison Dirks. Photo by Michael Brosilow.
Certainly the SteppenWoolf production, featuring Tracy Letts and Amy Morton as George and Martha, the older couple and Madison Dirks and Carrie Coon as Nick and Honey, the young innocents they decide to torture, makes a strong argument for the latter. It is a tribute to Albee and director Pam MacKinnon, as well as the excellent cast, that we very soon realize the achingly sad older couple, bound together by mutual failure and self-loathing, is a frightening image of what one fears will become of the younger couple.
In fact, a quick look at the perfect set designed by Todd Rosenthal tells it all: a disorderly living room, worn-out, and filled with volumes upon volumes of books. But the fact that sharp direction, and quick and witty dialogue make major themes evident very, very quickly is both a blessing and a curse. Only over-the-top acting and a patient audience can insure that the house won't be a bit emptier at the end of this long play than it was at the beginning.
No doubt many critics will compare this staging with the 1962 production featuring Uta Hagen as Martha and Arthur Hill as George, and Melinda Dillon as Honey and George Grizzard as Nick, or the 2005 revival starring Kathleen Turner as Martha and Bill Irwin as George, with Mireille Enos as Honey and David Harbour as Nick, or even the 1966 movie with Elizabeth Taylor opposite Richard Burton and George Segal as Nick and Sandy Dennis as Honey. The SteppenWoolf production will surely not come up lacking. But is this really the question we should be asking?
There is certainly great pleasure in seeing a classic like "Who's Afraid of Virginia Woolf?" on stage yet again. But the real reason for re-staging such plays is to introduce them to new audiences, which hopefully will find them as fascinating and meaningful as the old audiences did.
And exactly what makes "Who's Afraid of Virginia Woolf?" so compelling these days? Certainly not the language, which is quite tame by modern standard. Nor is the constant bickering and bitching particularly startling to anyone who has seen "God of Carnage." Those who prefer the gay version of sadomasochistic relationships need only think of "The Boys in the Band."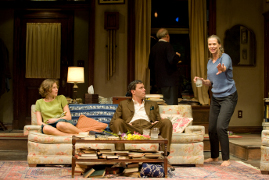 L-R: Carrie Coon, Madison Dirks, Tracy Letts and Amy Morton. Photo by Michael Brosilow.
It should, of course, be noted that Albee's play is the trailblazer and not the imitator, but this has little relevance for younger viewers, who are much more interested in how long it takes the writer to make his point and how many times he makes it before the audience is allowed to leave the theater and get back to text messaging.
On this account, "Who's Afraid of Virginia Woolf" doesn't do so well. In fact, the night this reviewer saw the show, there were several couples of differing ages who left during the second intermission.
So the right question here is not whether this was a terrific production, which of course it was. It is whether any production of a three hour play in which the major points are all revealed in the first act, nothing really happens in the remaining two, and the big surprise at the end of the play is no surprise to those who know the play and these days not such a big deal to those who don't, can long endure, even when it is supported by critical acclaim.