"Annie" Teaches Us How to Be Happy in Hard Times
Annie
Directed by James Lapine
Palace Theatre
Broadway at 47th Street
Opened Nov. 8, 2012
Reviewed by Paulanne Simmons Nov. 14, 2012
Lilla Crwaford (Annie) and Sunny (Sandy) in "Annie," at the Palace Theatre. Photo by Joan Marcus.
America's favorite orphan is back. And so is her little dog Sandy. When "Annie," the musical based on Harold Gray's long-running comic strip "Little Orphan Annie," first opened in 1977, Jimmy Carter was in the first year of his presidency. He'd just taken over from Gerald Ford, the president who succeeded Richard Nixon, the only president to ever resign from office, and many attributed Ford's loss to the Daily New headline "Ford To City: Drop Dead," words the unfortunate politician never actually said.
After the difficult Nixon years, the Big Apple and the country were ready for a comeback and this musical with music by Charles Strouse, lyrics by Martin Charnin and book by Thomas Meehan, captured the hearts of the American public and ran for nearly six years. At least two hit songs came from "Annie," "Tomorrow" and "It's the Hard-Knock Life."
These days we are in the midst of a so-so recovery from what seems like an endless recession. Unemployment is still high. And it may well be that the unmitigated optimism of 'Annie' is just what the doctor ordered.
Leading the charge is James Lapine, who directs an excellent cast featuring the adorable Lilla Crawford as Annie, the formidable Katie Finneran as Miss Hannigan and Anthony Warlow as a surprisingly human and humane Oliver Warbucks. Not to be forgotten is the show-stealing Sunny, who plays Annie's lovable canine friend, Sandy.
Over the years, "Annie" has become such a staple of community and school theaters that there are few people who have not seen some version of the show, even if it was a version in which Annie was not much older than her tormenter, Miss Hannigan. For those people, it might be especially delightful to see a professional production with genuine Broadway glitter and talent.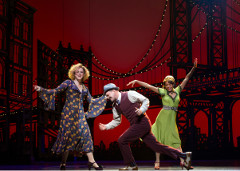 L-R: Katie Finneran (Miss Hannigan), Clarke Thorell (Rooster Hannigan) and J. Elaine Marcos (Lily St. Regis). Photo by Joan Marcus.
Finneran, who provided the brightest moments in the 2010 revival of "Promises, Promises," is once again at her best as a woman of somewhat easy virtue. This time she steals our hearts as the woman we love to hate. But it is Crawford who deserves special admiration for her fortitude in singing her heart out while onstage with an adorable four-footed creature many in the audience would love to take home.
The chorus of Annie's fellow orphans is charming, enthusiastic, and most important for those interested in political correctness - diverse. There's even a joke about one of them speaking Korean.
Many theater critics often decry the lack of depth in what Broadway offers audiences every season. This may be true. But there are times when a sweet and sentimental fantasy that tells us "the sun will come out tomorrow" is just what we need in difficult times.