"Honky" Is a Black Comedy
"Honky"
Directed by Luke Harlan
Urban Stages
259 West 30 Street
Opened March 14, 2013
Tues. thru Sat. at 8pm, Sun. at 3pm, added Sat. matinees 3/23 and 4/6 at 3pm,
S pecial Holy Week schedule: 3/27 - 3/30 at 8pm with added performance 3/26
Tickets: $40 (212) 868-4444 or www.smarttix.com
Closes April 7, 2013
Reviewed by Paulanne Simmons March 12, 2013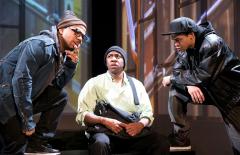 L-R: Chris Myers, Anthony Gaskins and Reynaldo Piniella. Photo by Ben Hider.
Despite its provocative title, "Honky," a new play by Greg Kalleres has a very gentle bite. The play, well directed by Luke Harlan, is a tale of advertising gone awry.
Thomas (Anthony Gaskins), an African American shoe designer, has created an urban shoe called "Sky Max." Peter (Dave Droxler), a white ad man, created the ad that made it one of the hottest numbers in the inner city. His boss, Davis (Philip Callen), is thrilled, but Peter has second thoughts when a youngster gets killed over a pair of "Sky Max" and the killer calls out the ad slogan during the crime.
L-R: Danielle Faitelson and Dave Droxler. Photo by Ben Hider.
This is just the beginning of the complications. Peter has a girlfriend, Andie (Danielle Faitelson), who meets and falls for Thomas. Thomas's sister, Emilia (Arie Bianca Thompson), is a therapist who ends up treating the guilt-ridden Peter. The solution seems to be in a new anti-racism pill. If the coincidences and the premise are too bizarre to believe, that's okay. Kalleres isn't asking us to. For the most part, he just wants us to have fun.
And in the beginning, that's exactly what we do. Each of the characters is a racist in his or her own way. Whites and blacks alike are unaware of their true feelings, or they are aware of them but too politically correct to give them voice. When their true feelings sneak out, the audience has a good time.
L-R: Arie Bianca Thompson and Anthony Gaskins. Photo by Ben Hider.
But after a while, despite the fast pace and excellent acting, many will become a bit tired of the pony's one trick. Kalleres is certainly clever, but his variations on the same theme end up a lot like a Saturday Night Live skit that has gone on too long.
The play was inspired by Kelleres's five years experience as a copywriter. In the interests of total honesty, let me confess, I worked for many more years as a copywriter, although at a time when the industry was less concerned with "demographics," according to Kellares, better known as "stereotypes." And I learned years ago that the concerns of this industry are not universal.
Advertising is about making money, not about ethics. It is not exactly a good forum for a discussion about racism, but it is a good basis for dark humor. And Kellares is correct to have turned his play into a farce. However, a really good farceur should throw a much wider net than Kalleres does with "Honky."