"The Little Mermaid" swims into New Jersey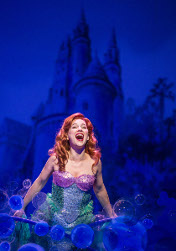 Disney's The Little Mermaid at Paper Mill Playhouse,, Jessica Grové (Ariel) photo by Billy Bustamante.
The Little Mermaid
Directed by Glenn Casale
Paper Mill Playhouse
22 Brookside Drive, NJ
From May 29, 2013
Tickets: $26 - $97 (973) 376-4343 or www.papermill.org
Closes June 30, 2013
Reviewed by Paulanne Simmons June 2, 2013

Having only seen the film of "The Little Mermaid," I was a bit skeptical about how all those mermaids, mermen and monsters could be represented on stage "under the sea." But thanks to wires, bubbles and actors who undulate with invisible waves, Paper Mill Playhouse's production is every bit as exciting and visually stimulating as the film version.
Kenneth Foy's set and Amy Clark and Mark Koss's costumes are indeed overwhelming, but that doesn't mean one should forget the excellent actors, directed by Glenn Casale. What's more, the Paper Mill production features a revamped script, and additional songs.
This is a full-bodied musical fantasy with a large cast. The book by Doug Wright carries us into the depth of a tropical sea and into a princely palace. While the score by Alan Menken (music) and Howard Ashman (lyrics) and Glenn Slater (lyrics) has produced a few modern classics: "Part of Your World," "Kiss the Girl" and "Under the Sea." The show is filled with humor, pathos, dance and song, and it's lots of fun.
Jessica Grové as the love-smitten Ariel, has a beautiful voice that no doubt entices more than one sailor in the audience. The one she attracts onstage, of course, is really a prince, played by the excellent romantic lead Nick Adams.
"The Little Mermaid" is a fairy tale, and what would a fairy tale be without its villains? One would have to look far to find a better villainess than Liz McCartney, who plays Ursula with great gusto and sings "Poor Unfortunate souls" with evil delight.
But the heroine also needs her friends. And her best friend is Sebastian (the talented Alan Mingo, Jr.), a red Jamaican crab who not only gives sound advice, but does it in verse. She also needs a father to rebel against. Edward Watts is the wise and compassionate King Triton.
"The Little Mermaid" is based on Disney's film of one of Hans Christian Anderson's most beloved stories. But it should not be dismissed a a frivolous piece of fluff. In fact it carries a message of love and tolerance as much needed today as it was when Anderson was writing. This may be a show that is best seen with a youngster in tow. But it is a delight for people of all ages.