Beautiful - The Carole King Musical
Jessie Mueller as Carole King and Jake Epstein as Gerry Goffin. Photo by Joan Marcus.

"Beautiful - The Carole King Musical"
Directed by Marc Bruni
Stephen Sondheim Theatre
124 West 43 Street
Opened Jan. 12, 2014
Reviewed by Paulanne Simmons Jan. 18, 2014
There Are Tender Tuneful Moments in "Beautiful"
If you are a Jewish woman of a certain age who grew up in Brooklyn, "Beautiful - The Carole King Musical" will fill your heart with love and your eyes with tears. Everyone else will just have one hell of a great evening.
In the first place there's all King's fabulous music. But because book writer Douglas McGrath also puts King and her first husband Gerry Goffin's best friends, fellow-writers Barry Mann and Cynthia Weil, into the story, we hear many of their equally memorable songs as well.
Then, under Marc Bruni's more than capable direction, there are excellent performances by Jake Epstein as Goffin, and Jarrod Spector and Anika Larsen as Mann and Weil. And best of all there's Jessie Mueller, as the vulnerable, earnest and enormously talented Carole King, a young lady who is simultaneously confident and timid.
What's more, Mueller has the same slightly hoarse deeply emotive voice that makes King so appealing. Even seated at the piano, we know she is talking to us and speaking for us.
Epstein has perhaps the most difficult role in the show. Goffin was a philandering self-absorbed neurotic, so involved with his own demons he couldn't worry about the family he was destroying. But Epstein makes us understand, if not totally sympathize, with this troubled man
Spector and Larsen are not only funny; their characters are also perfect foils for King and Goffin. While Goffin can't figure out if he wants to stay married, Mann does everything he can to convince Weil they should tie the knot. If King is desperately trying to hold her marriage together, Weil can't decide if she wants to leap into matrimony. The fact that in real life Mann and Weil have remained married for over fifty years adds a special irony.
When the two couples are not singing their songs, actors playing The Shirelles, The Drifters, Little Eva, The Righteous Brothers, Janelle Woods and Marilyn Wald do it for them. And boy do they do it. Keep your hands and feet ready for clapping and tapping.
Liz Larsen does a fine job as King's mother, Gennie Klein, the anti-stage mother who only wants her daughter to pursue a career in teaching. If King's mother is not exactly supportive, the music producer, Don Kirshner (the genial Jeb Brown) is most supportive when he hears the money coming in.
To those who say the story told in "Beautiful" is a cliche, the obvious answer is - so what? Every success story is about adversity overcome. What else could it be? And does deep character analysis really belong in a musical?
"Beautiful" follows the arc of King's life from her first big hit, "Will You Still Love Me Tomorrow?" to her performance at Carnegie Hall, after her marriage has fallen apart
and she decides to take her career in a new direction, singing her own songs. This is a solid script that does its job for a jukebox musical.
The critics can keep howling at the moon. The audiences will keep eagerly coming to The Stephen Sondheim Theatre.
---
A Lot More Than Just Beautiful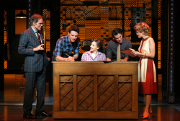 Jessie Mueller as Carole King. Photo by Joan Marcus.

"Beautiful - The Carole King Musical"
Book: Douglas McGrath
Words and Music: Gerry Goffin, Carole King, Barry Mann, Cynthia Weil
Director: Marc Bruni
Choreographer: Josh Prince
Scenic Design: Derek McLane
Costume Design: Alejo Vietti
Lighting Design: Peter Kaczorowski
Sound Design: Brian Ronan
Stephen Sondheim Theatre
124 West 43rd Street
New York, NY 10036
Tues 7PM, Wed 2PM, 7PM, Thurs 7PM, Friday 8PM, Sat 2PM, 8PM, Sun 3PM
Reviewed by Edward Rubin: Saturday, January 18, 2014
Phone: 212-239-6200, telecharge.com. Price: $75- $152 - Running time: 2 hours 25 minutes.
Reviewed by Edward Rubin
Whether found on the stage, TV, at the movies, or housed at your local museum, there is nothing more challenging, or for that matter more annoying, than having your own lifetime experiences recycled and sold back to you.
Sin number one is that you have to pay for it. Sin number two is that they never get it 100% right. Of course, one could say the same thing about the storied obituaries found in the New York Times, the fictionalized resumes of job applicants, and your own diary jottings. There is a lot of padding, skip-over's, eliminations, and stretching of points.
Still, there are times, especially in theatre which is the one live art most in your face, when getting every little fact down is far less important, than catching the essence—a tried and true fact that Jersey Boys and Motown The Musical are still capitalizing on.
Beautiful—The Carole King Musical, currently at the Stephen Sondheim Theatre on Broadway, is another prime example where song and dance, beautifully delivered by a talented cast and crew, trumps the storyline.
The feel-good script, sanitized to a fare three well, is thinner than a slice of bologna. Nowhere is it mentioned that King formed a band called the Co-Sines in the 50s, and made demo records with her friend Paul Simon for $25 a session. Nor are we told that King was married 4 times, or that she birthed 4 children. On top of this some twenty years plus of King's life remains unaccounted for. Also shockingly missing – I told you they don't get things 100% right - is the fact that Carole King attended James Madison High School in Brooklyn, the same one that I attended, or that Carole Klein as she was known in those years belonged to Gamma Phi the same sorority as my sister Annette.
Nor was it even alluded too that King used to come over to our house and was in no way the shy lady the play makes her out to be. Like all of Annette's chatty sorority sisters Carole had an opinion about everything.
Missing information aside – who other than me wants to know such stuff – let it be said that King's heart-swelling songs, beautifully delivered by Jessie Mueller and company, transported me back to my wee youth. Yes, those of us long in the tooth were made to feel young and vital again.
For those too young to know much about Carole King – which includes most people under 50 – you can go to Wikipedia which I did. King's career, started to blossom in 1960 at the tender age of 18, with her number 1 hit Will You Love Me Tomorrow. Written with Gerry Goffen - King's first husband, the only one you get to meet face-to face in the play - it was recorded by the Shirelles.
King's career climbed to the top of the mountain with her 1971 album Tapestry which allowed the lady for a 2nd time – the first album flopped - to play the piano and sing her own songs. It sold 25 million albums worldwide. Winning 4 Grammys, it remained on Billboard's Chart for an unheard of six years. Many awards, too many to list, were to follow. King was inducted, along with Gerry Goffin, into the Rock and Roll Hall of Fame in 1990, became the number 2486 star on the Hollywood Walk of Fame (2012), and was awarded the Grammy Lifetime Achievement Award in 2013. And now she is conquering Broadway.
Reawakening us to the singer-songwriter's vast repertoire, Beautiful opens with King, stunningly brought to life by Jessie Meuller, singing So Far Away at Carnegie Hall. Taking us full circle, the musical ends on a high note with King, once again at Carnegie Hall, singing Beautiful the show's title. In between the Carnegie bookends, we witness King's early Brooklyn beginnings, comedic exchanges with her mother (the delightful Liz Larsen), her struggle to have her songs recorded, her first big break given to her by record producer Don Kirshner (Jeb Brown whose masterful maneuverings hold the play together), and her close but competitive friendship with fellow hit-making songwriters Cynthia Weil (Anika Larsen) and Barry Mann (Jarrod Spector).
Adding romance, as well as a touch of disappointment and sadness, is King's fairytale marriage and subsequent divorce — he just couldn't keep his pecker in his pants - to her songwriting partner, Gerry Goffin (a very sexy and seductive Jake Epstein), the birth of her first two children – talked about but never seen – and King's eventual move to Los Angeles where she lives today.
A scene from Beautiful. Photo by Joan Marcus.
Sandwiched in between King's truncated history, all smoothly directed by Marc Bruni and choreographer Josh Prince, are some 26 hit songs sung by the four songwriters, as well as an ensemble of actors, each one representing the original individual or group who recorded the song. Along the way, smoothly integrated between scenes, we are serenaded by the look-alikes of Neil Sedaka (Oh Carol), the Shirelles (Will You Love Me Tomorrow), Drifters (Up on the Roof), Righteous Brothers (You've Lost That Lovely Feeling), and Little Eva (Ashley Blanchet) of Locomotion fame.
The five leads, all cleverly gift-wrapped inside the musical's nubile singing and dancing ensemble, carry the play's simple story. Mueller, without any flashy makeup, hairstyle, or clothes – no star attitude here – emphasizes King's humble, down to earth attitude. What we see is a kind of Plain Jane – writing songs, tending to her husband, and raising her first two children who we never see, as she climbs the ladder of success.
Breaking News! It is rumored that Mueller is being courted to play the lead in a rival of Funny Girl. With her beautiful voice, wonderful sense of timing, and a letter perfect Brooklyn accent, she is the perfect choice to reprise the role that Streisand originated both on Broadway (1964) and on the Big Screen (1968).
The perky writing team of Weil and Mann, friends and competitors of the Goffin's – both accomplished singers – add yet another layer of interest, as we watch their tenuous relationship begin to develop. It is especially fun when they get to sparing, not only among themselves but with record producer Kirshner whose job it is to decide which singer or group is going to record whose song.
Mystery kicks in as we wait to see who Kirshner is a going to assign each song to and if it is going to be a hit once recorded. The wonderful thing about this page to stage is that that audience is treated two renditions of each of each song sung.
The first time around the songwriters get to sing their own song. The second version, performed in concert style by actor's playing the song's original performers – those that put the song on the chart – was simply thrilling.
Some audience members swayed in their seats throughout the evening to the rhythms of the music. Others had tears sliding down their face, as memories of their long lost youth flooded both brain and heart.
Many were heard vociferously extolling the musical's virtues as they exited the theatre. Not a few were heard to say they just don't write songs like they used to.
---

A woman and her art triumph in "Beautiful: The Carole King Musical"

"Beautiful: The Carole King Musical."
Book by Douglas McGrath, words and music by Gerry Goffin & Carole King, Barry Mann & Cynthia Weil, directed by Marc Bruni, choreographed by Josh Price.
Stephen Sondheim Theatre, 124 W. 43 Street (between Broadway and 6th Avenue)
212-239-6200 or 800-432-7250; http://beautifulonbroadway.com/
Opened Jan 12, 2014.
Reviewed by Lucy Komisar Jan 30, 2014.
Jessie Mueller as Carole King and Jake Epstein as Gerry Goffin in "Beautiful: The Carole King Musical." Photo by Joan Marcus.

Clever, charming, sometimes funny, this show is always schmaltzy and delightful. I should connect to Carole King, since we both went to Queens College in the early 60s, but I admit I didn't know her then. Maybe she was one of the arty folks who hung out in the small cafeteria. Like Paul Simon.

But I connect now! King was an icon of her time, getting past the limitations set for her ('be a teacher,' said her mom), reflecting women's desires and hurts, and then great talents. The play is fascinating not only as King's story, but as a look into the status of women and the music business of the time.

By the way, she began as Carole Klein and quickly changed to King. Bobby Zimmerman changed his last name to Dylan. Other Jewish performers also took Anglo names.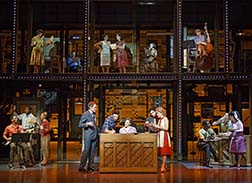 The cast of "Beautiful: The Carole King Musical." Photo by Joan Marcus.

King started at a time of hokey romantic ballads. Star Jessie Mueller, who channels her superbly, is striking in works such as "Take Good Care of My Baby" and "Will You Love Me Tomorrow." King wrote them with Gerry Goffin (Jake Epstein), her psychologically fragile husband, who she met at college and who penned the lyrics to her music. They expressed early 60s female angst, which sold a lot of discs.

The production by director Marc Bruni and set designer Derek McLane establishes the corporate culture of the music business. It's a factory that looks like a two-tier erector set. It is presided over by Don Kirshner (Jeb Brown), one of New York's top record executives, who used it to drive his writers and performers to the top, sometimes setting them in competition against each other.
Ashley Blanchet, Rashidra Scott, Alysha Deslorieux, and Carly Hughes as The Shirelles, in "Beautiful: The Carole King Musical." Photo by Joan Marcus.
The show is a reprise of the 60s, with near-nonsense songs such as "Be-Bop-A-Lula" and "The Locomotion." And big groups such as the Shirelles ("Will You Love Me Tomorrow") and the Drifters ("Up on the Roof" and "On Broadway,") who sang King's songs. Interesting that a white woman's music was performed by black groups. Maybe the white groups were too white bread.

As time passes, Gerry wants more serious lyrics, darker, not the fluffy love stuff. King goes there. And the sounds get rougher, with the addition of an electric guitar. (Mueller's piano playing is as good as her singing, which is very good.)
Jeb Brown as Don Kirshner, Jake Epstein as Gerry Goffin, Jessie Mueller as Carole King, Jarrod Spector as Barry Mann, and Anika Larsen as Cynthia Weil in "Beautiful: The Carole King Musical." Photo by Joan Marcus.
The other song-writing couple, who are first rivals and then good friends of King and Goffin, are the jazzy Cynthia Weil (Anika Larsen) and Barry Mann (Jarrod Spector). Weil is a tough character who fears giving up her freedom in marriage. She finally agrees to live with Barry, who jests, "We're moving in together as part of our audition for marriage."

Director Marc Bruni works the songs by King and Goffin and by Mann and Weil effectively into Douglas McGrath's script. We get enough of the story, which has a lot to do with her straying husband, to understand her life and enough music to appreciate her art.

Jessie Mueller as Carole King. Photo by Joan Marcus.
King did not start out singing her songs. We see her perform, hesitantly, at "The Bitter End" in Greenwich Village where she'd been invited by a musician colleague. By the time she becomes a singer as well as a song writer (and ditches her faithless husband), her conservatively cut hair is long and in tight corkscrew curls, and her voice has an inflection that seems part southern country.

At 28, she decamps with two daughters for Los Angeles. There she records her major hit, "Natural Woman," a serious girl song that assures her path to world stardom. She performs at Carnegie Hall. Not bad for a little girl from Queens College.