The Anahid Sofian Dance Company Celebrates with Friends

Anahid Sofian Dance Company 35th Anniversary Celebration
Directed by Anahid Sofian
Manhattan Movement & Arts Center
248 West 60th Street
Sat. June 28 at 8pm and Sun. June 29 at 3pm
Reviewed by Paulanne Simmons June 29, 2014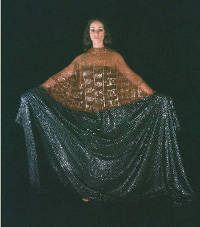 Anahid Sofian company. Photo by
Mike Manetta.
The Anahid Sofian Dance Company celebrated its 35th anniversary with a gala program of Middle Eastern dance and music at Manhattan Movement & Arts Center on June 28 and 29. Both performances featured signature work from Morocco, Egypt, Turkey, Persia, Armenia, Greece and Uzbekistan.
The dances were performed by The Anahid Sofian Dance Company and guest artists: Nourhan Sharif and Dancers, Carlos Fittante & Robin Gilbert of Balam Dance Theatre, and Sera Solstice Ensemble. There was also live music provided by The Souren Boronian Ensemble.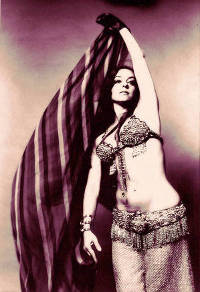 Anahid Sofian company. Photo by Stacey Lespinasse.
Sofian, who directed and choreographed the show, integrates ballet, modern dance and contemporary music in a highly original manner. But for many, the signature Middle Easter dance is still what Westerners call the "belly dance."
Patricia Clarke, Katherine Sandberg and Mia Yamada of performed raqs baladi, belly dance in the folk style, which is often part of festive occasions; while Nourian Sharif & Dancers performed Egyptian Raqs sharqi, the style made familiar to Westerners through restaurants and cabarets.
Nourhan Sharif.
However, the gala featured many other dances. Highlights included "Morocco," based on a traditional Moroccan group dance; Sera Solstice Ensemble's "Future Human," which gave traditional Middle East dancing a very modern twist; and the incredible Jean Musacchio, who danced while balancing a sword on her head.
The dancers wore the exotic, colorful and often revealing clothing that reminds Westerners of Scheherazade, flying carpets and the Dance of the Seven Veils. Skirts swirled, jewelry jingled, arms and legs flew and a good time was had by all.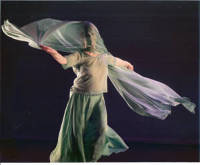 Anahid Sofian company.