"The Last Ship"
Jimmy Nail and the cast of The Last Ship. Photo by Joan Marcus.
"The Last Ship"
Directed by Joe Mantello
Neil Simon Theater
250 West 52nd Street
Opened Oct. 26, 2014
Tues. and Thurs. at 7pm, Wed. at 2 & 8pm,
Fri. at 8pm, Sat. at 2 & 8pm; Sun. at 3pm
Reviewed by Paulanne Simmons Oct. 25, 2014

Wishing "The Last Ship" Has a Fine Crew, a Capable Captain and Much More
There's a certain delicious irony in the rising price of a Broadway ticket coexisting with the spate of shows with working class heroes. From the miners in "Billy Elliot,P to the factory workers in "Kinky Boots," and now the ship builders in "The Last Ship," Broadway musicals seem to love those people who can't afford to see them.
Irony aside, however, "The Last Ship," with a book by John Logan and Brian Yorkey, and music by Sting, is a joy to see and hear. Helmed by Broadway veteran Joe Mantello, it has all the bravura and emotional power of a musical hit.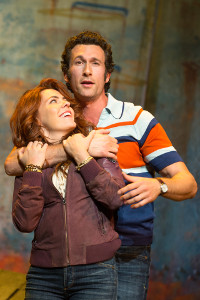 Rachel Tucker and Aaron Lazar. Photo by Matthew Murphy.
There are star-crossed lovers, two father-son relationships gone awry, two good men fighting for the love of a woman, and a not-so-saintly spiritual advisor, all set within the context of a community fighting for its life.
Okay, so none of this is particularly new. But who, aside from the critics, actually cares about an innovative plot in a musical? What's more, the story is enhanced and explored through Sting's pulsing, lyrical and continually evolving score.
Collin Kelly-Sordelet is the young Gideon Fletcher, who refuses to follow in his father's footsteps, eschews shipbuilding and sets sail from Wallsend to see the world, leaving behind his childhood sweetheart, Meg (Dawn Cantwell). Fifteen years later Gideon (now played by Michael Esper) returns to find Meg (a more mature Rachel Tucker) has another guy, Arthur Millburn (Aaron Lazar) and a 14-year-old boy, Tom (Kelly-Sordelet).
No one is very happy at the return of this prodigal son except the kindly priest, Father O'Brien (the excellent Fred Applegate), a feisty old man who is not afraid to defy his own church. It is O'Brien who rallies the men and helps them resist Millburn's offer of employment in a new salvage company. O'Brien gives purpose to their lives, even in defeat, by encouraging them to build that last ship. And he christens Gideon as their leader.
Esper and Lazar prove to be worthy opponents, while Tucker makes the spunky Meg well worth their efforts. They are backed by an ensemble of worthy ship builders and their women.
"The Last Ship" has touching love songs (Lazar's "What Say You Meg?" and Esper and Tucker's "It's Not the Same Moon" ), comedic interludes (Esper's "The Night the Pugilist Learned How to Dance") and production numbers ("The Last Ship" "Shipyard," "Show Some Respect"), accompanied by Steven Hoggett's nautical choreography.
Rachel Tucker, Michael Esper and Aaron Lazar. Photo by Matthew Murphy.
Even in the liveliest moments, a sense of foreboding hovers like an albatross over this show, reinforced by David Zinn's set, in which the hulk of a ship casts its shadow over the stage, it's parts hauntingly illuminated by Christopher Akerlind's lighting design. There's no happy ending here or easy solutions to complex problems.
But if "The Last Ship" is not lighthearted, it is certainly uplifting and inspirational. The song and story move us. We care about these people and wish them smooth sailing, even as we know they are headed for treacherous reefs.