Patti LuPone and Christine Ebersole Match Wits in "War Paint"

War Paint
Nederlander Theatre
208 West 41 Street
Opened April 6, 2017
Reviewed by Paulanne Simmons April 14, 2017
Two giants in business and cosmetics like Elizabeth Arden and Helena Rubinstein should be portrayed by two giants in theater. Clearly Patti LuPone and Christine Ebersole fit the bill.
Doug Wright's book for the new musical, "War Paint," is based on Lindy Woodhead's dual biography, "War Paint: Madame Helena Rubinstein and Miss Elizabeth Arden: Their Lives, Their Times, Their Rivalry" and the 2007 documentary film "The Powder & the Glory" by Ann Carol Grossman and Arnie ReismanIt. The musical presents the life of the two women as parallel stories.
"War Paint" is a study in contrasts. Arden (Ebersole), né Florence Nightingale Graham, was a farm girl from Ontario who dropped out of nursing school. Rubinstein was a European Jew whose father kept a shop in Krakow. Arden reinvented herself as an American blue-blood. Rubinstein turned herself into European royalty.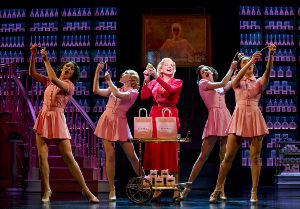 War Paint : Jennifer Rias, Steffanie Leigh, Christine Ebersole, Mary Claire King, Stephanie Jae Park. Photo by Joan Marcus
However, both Rubinstein and Arden realized there was great marketing potential in convincing women they could make themselves beautiful, or at least a lot better looking, with the right kind of care and cosmetics. If they were willing to spend the money.
Of course, "War Paint" takes considerable license with the facts. Although Arden and Rubinstein were business rivals, there is no evidence they ever met or had any personal animosity toward each other. Not so in this inventive musical.
In "War Paint," we see Arden and Rubinstein vying to dominate not only the market but also the men in their lives. In fact, they make these men so miserable Arden's husband Tommy Lewis (John Dossett) defects to Rubinstein, and Rubinstein's marketing maven, Harry Fleming (Douglas Sills) abandons her business for Arden's. The men eventually have their say in "Dinosaurs."
Scott Frankel (music) and Douglas Sills (lyrics) have created an engaging score, and director Michael Greif keeps LuPone and Ebersole holding the fort on their side of the stage when they each sing their version of songs like "If I'd Been a Man," "Face to Face" and "Beauty in the World."
Ensemble numbers "Behind the Red Door" and "My Secret Weapon" highlight what made these women so different, so dynamic and at times so difficult. They also set their careers in the context of mid-20th century America, when middle-class women were in the home and wealthy women were at tea.
And oh those hats! The inimitable Catherine Zuber has dressed these women from head to toe with an elegance that will make many women turn pale with envy. But the hats are the crowning glory and a delight to behold.
Although Dossett and Sills are formidable veterans and do their best to give their characters life, they are no match for Ebersole and LuPone, just as their real life characters do not appear to have been able to hold their own next to their powerful bosses.
Hopefully Dossett and Sills enjoy standing on the stage with Lupone and Ebersole as much as the audience enjoys watching them from their seats.
____________________________________________________________________________________________________________
Patti LuPone and Christine Ebersole in War Paint
A Double Display of Delicious Divadom
War Paint
Playwright: Doug Wright, Director: Michael Greif
Nederlander Theatre
208 West 41 Street, New York City
www.warpaintmusical.com, Phone: 877-250-2929
Opened April 6, 2017, Open End Run
Reviewed by Edward Rubin
It is no surprise that Patti LuPone and Christine Ebersole two of Broadway's most beloved Tony-winning performers, each with their own cadre of diehard followers, are filling the seats at Broadway's Nederlander Theater. It is equally unsurprising that the audience goes over the moon after each Scott Frankel (music) and Michael Korie (lyrics) War Paint song that they sing. And there are some twenty of them. They must realize that this is History in the Making, heaven-sent if you will, for having two knock 'em dead Broadway stars singing their hearts out for the price of one, is a treat of great and rare proportion.
Add to this two talented, albeit underused, male leads, John Dossett and Douglas Sills, who play the much needed foils to these two wonder women, a thicket of beautiful leggy Elizabeth Arden sales girls, Helena Rubinstein's beauty technicians, and cosmetic customers who inhabit War Paint's minor roles. Backing up the actors are a slew of surprisingly inventive and ever-changing confection of colorful sets (David Korins), costumes (Catherine Zuber), and lighting (Kenneth Posner) – pink and red are the reigning colors du jour – and you will quickly understand the verbal wows emanating from the audience, as well as the riotous standing ovation at curtain call.
War Paint, obviously written with two star-turn, glove-fitting roles in mind by Doug Wright of Gray Gardens, The Little Mermaid, Hands on a Hardbody, and I Am My Own Wife fame, the latter which garnered him a Tony, Drama Desk, and Pulitzer (2004), covers the lives of cosmetic titans Polish born Jewess Helena Rubinstein (1872-1965) and Elizabeth Arden (1881-1966) the child of a Canadian farmer during the years 1935–1964. For inspiration, as the program tells us, Wright turned to Lindy Woodhead's book War Paint and Carol Grossman's and Arnie Reisman's documentary, The Powder & The Glory. This said, scenes are fictionalized and dates rearranged for dramatic purposes.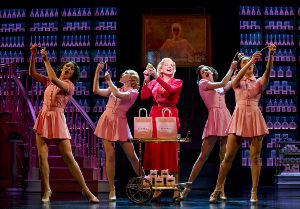 War Paint : Jennifer Rias, Steffanie Leigh, Christine Ebersole, Mary Claire King, Stephanie Jae Park. Photo by Joan Marcus
While the script as written does not dig deep, it does cover, in sketch-like fashion, the major events in Rubinstein's and Arden's parallel appearing lives. We see them at their beginnings, watch their companies grow at breakneck speed, partake in their decade's long rivalry with each other, and meet the main men in their lives, Arden's philanderer and lush of a husband Tommy Lewis (John Dossett), and Rubenstein's gay business manager Harry Fleming (Douglas Sills), both of who eventually switch their allegiance to their bosses' rival. We even get to sit with the cosmetic goddesses as they make duel appearances before the Food and Drug Administration to defend the ingredients in their products.
As wonderful as soprano Christine Ebersole cum Arden is – and the lady does have a couple of sensational show stoppers - it is the in-your-face belter Patti LuPone's Rubinstein who commands the most on stage attention in this show, as Rubinstein did in her every day life with her exotic wardrobe and jewelry, her thick European accent, and fast-flying zingers. "There are no ugly women, only lazy ones," is one of her more famous quotes. As far as the cool and collected Arden, who is just as conniving and underhanded in business as Rubinstein, Ebersole effectively channels this quintessential Wasp, society accent and all, with great emotional delicacy.
The shows most annoying weakness is its structure which appears to bend over backwards in equalizing the amount of stage time and the number of songs that each actress is allotted. So we get LuPone followed by Ebersole who is followed by LuPone who is followed by Ebersole ad infinitum. There are a couple of welcome breaks in this back and forth routine; the most exciting being a chance meeting at The King Cole Bar at the St. Regis Hotel between Tommy Lewis and Harry Fleming.
Recently discarded by their bosses Dossett and Sills finally get to show their considerable chops in a dramatically satisfying song aptly titled Dinosaurs. Lamenting the fact that they are no longer relevant, they sing about being replaced by Charles Revson "a two bit carnival barker in an Italian suit whose products are found in drug stores right next to chocolate bars and Bromo Seltzer." We were "once behemoths with an appetite for blood" they sing, and now we are "lapping up prune juice like puddles in the mud, ruthless but as toothless as their roar."
Another break from these seesawing scenes actually shows a young and highly energetic Revson (Erik Liberman) the founder of Revlon, trying to interest Arden and Rubinstein in his many shades of lipstick and nail polish. Being conservative and loath to change their path he is readily dismissed by both women. Unlike Revson, who jumped at the opportunity, they also turned down turned down an offer to advertise their products on TV. The Program, The $64,000 Dollar Question. For them the very thought was vulgar. As fate was to have it, Revlon eventually acquired the Elizabeth Arden Company for a $419.3 million in 2016.
Obviously, what excitement exists resides in this Michael Greif directed production is in watching LuPone and Ebersole, across many story-telling scenes and songs have a go at each other. Along the way we see and hear, out of the mouths of These Dueling Divas, about the complexities of the cosmetic industry, the beauteous wonders it bestows on women, and the challenges these two legends face on being a woman alone, a CEO no less, in a man's world. Towards the end of the play, late in the lives of both Rubinstein and Arden, a bit of sadness creeps in as both women look back on what they accomplished or perhaps did not accomplish in their life.
Ebersole's most moving number is Pink, poignantly delivered after hearing that her Board of Directors is looking to find her successor, someone younger and in touch with the trends at the soda shops and drive-ins. They want to license the name Elizabeth Arden along with the color pink, the signature color of all of her products, driving Arden to question how she will be remembered in the future. "In years to come" she asks, "will I be thought of as a legend or some ageing erstwhile juvenile in pink. Will pink be my one accomplishment to last, when I am put out to pasture."
Forever Beautiful, delivered during a business meeting concerning a foundation that Rubinstein wants to set up is LuPone's knockout number, helped along in part by numerous portraits that famous artists such as Dali, Dufy, Picasso, Laurencin, and Tchelitchew, to name but a few, painted of her. Advised to sell them, one by one, as each painting descends from on high, balking at the very thought, Rubinstein explains in song why she will never sell any of these works. "These portraits, they will never age. They will live forever...Look at them all. Their light will never dim! If death should come for me, they bar the door on him. Though flesh may fade, canvas lives immortally! And there I'll hang for all eternity."
In the scene, coming just before the finale, the playwright has Rubinstein and Arden, who if we are to believe history, not only never met but assiduously avoided each other during the decades of their reign meet by chance during a meeting of the American Women's Association at the Barclay Hotel. Unbeknownst to the other, each has been invited to talk about beauty in changing times. Sequestered in a waiting room they are forced to deal with each other. Though this premise sounds corny, their meeting is funny, sad, wistful, loving, and extremely poignant. It is the musical's most moving scene. Not being a whistle-blower, I dare not tell you more. For more, you are going to have to get thee to the theater.
Theater: Nederlander Theater
Theater Address: 208 West 41st Street
Phone: 877-250-2929
Website: warpaintmusical.com
Running Time: 2 hrs, 30 min
Genre: Musical
Author: Book: Doug Wright. Music: Scott Frankel. Lyrics: Michael Korie
Director: Michael Greif
Choreographer: Christopher Gatteli
Cast: Patti LuPone, Christine Ebersole, John Dossett, Douglas Sills, Barbara Jo Bednarczuk, Patti Cohenour, Mary Ernster, Tom Galantich, David Girolmo, Joanna Glushak, Chris Hoch, Mary Claire King, Steffanie Leigh, Erik Liberman, Barbara Marineau, Donna Migliaccio, Stephanie Jae Park, Jennifer Rias, Angel Reda, Tally Sessions
Technical:
Sets: David Korins, Costumes: Catherine Zuber, Lighting: Kenneth Posner
Critic: Edward Rubin
Date Reviewed: April 2017