Searching for Poe's Ghost in Williamsburg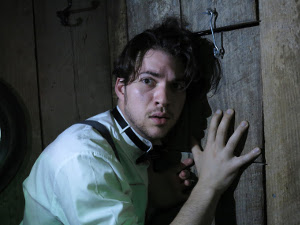 Gordon Palagi in "The Cooping Theory: Who Killed Edgar Allan Poe?"
The Cooping Theory: Who Killed Edgar Allan Poe?
Conceived by Aaron Salazar
St. Mazie Bar and Supper Club
345 Grand St., Williamsburg, Brooklyn
From May 31, with an open-ended run
Three shows per week, Wed. at 6:30pm and 10:30pm, Sun. (choice of 12:30pm or 1:30pm seating)
Tickets: $75-$115, several packages available
Reviewed by Paulanne Simmons June 14, 2017
Poet, editor, literary critic and inventor of the detective story, Edgar Allan Poe is considered a major figure in American literature. However, Poe is almost as well known for his life as his works. Something of a bad boy in his time, Poe got himself court-martial at West Point and married his 13-year old cousin. He was often in debt and frequently drunk, especially after the death of his child bride.
If Poe's life was filled with tragedy, his death is shrouded in mystery. On Oct. 3, 1849, he was found delirious on the streets of Baltimore and was taken to a local hospital, where he died four days later. He was wearing someone else's clothing and kept referring to someone named "Reynolds." Both his medical records and his death certificate have been lost.
The lack of evidence concerning Poe's death has encouraged much speculation. As early as 1872, some suggested he'd been the victim of "cooping," a form of electoral coercion in which citizens were abducted and held in a room (coop) where they were given large amounts of alcohol and sometimes beaten so they would vote for a particular candidate, most often repeatedly.
Poseidon Theatre Company's artistic director Aaron Salazar has his own theory of what happened to Poe, and you can find out what that is in a former speakeasy under St. Mazie Bar and Supper Club in Williamsburg, the home of an immersive theatrical and paranormal experience, "The Cooping Theory: Who Killed Edgar Allan Poe?" Unlike most immersive experiences, "The Cooping Theory" offers not only sounds and sights but also a delicious meal and craft cocktails.
The book, by Nate Suggs and Samantha Lacey, puts the audience in St. Charles Cellar, a dark tavern where the Poe Society is meeting to commemorate the 100th anniversary of their hero's death. The three members, Virginia (Caroline Banks), John (Jeffrey Robb) and James (Gordon Palagi) are also trying to recruit new members to their society.
In pursuit of both goals, they have engaged Madame Harlow (Dara Kramer) an experienced medium, to summon Poe's spirit and get at the truth of how he met his end. Soon the three Poe enthusiasts are spouting lines from some of Poe's best-known works: "The Raven," "Annabel Lee," "The Tell-Tale Heart."
But that's not all. Under the influence of Poe's spirit (or perhaps Madame Harlow), Virginia, John and James lose their normal inhibitions. They rave. They argue. They make accusations. John Salutz provides appropriate lighting and Conor Heffernan and Manuel "Cj" Pelayo set the mood with original music.
"The Cooping Theory: Who Killed Edgar Allan Poe?" runs with a 20-minute intermission. They show could lose ten minutes and the intermission for a more powerful effect. Surely Poe, who was a master of the short story, would approve.
By the end of the evening, most people will have learned little about how Poe died, but they will know a lot more about his life and times. And the lesson has been made all the more pleasant by great food, good drinks and excellent company.