Restorations Drama Revived in the Park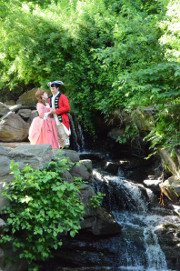 THE RIVALS -- Kristen Calgaro and Michael Sweeney Hammond in New York Classical Theatre's production of "The Rivals" by Richard Brinsley Sheridan. Photo by Miranda Arden.
"The Rivals"
Directed by Stephen Burdman
New York Classical Theatre
June 6 to July 2 in Central Park, enter at 103rd Street & Central Park West
July 5, July 7-9 in Nelson A. Rockefeller Park, enter at Warren Street & River Terrace Drive
June 12 -16 in Carl Schurz Park, enter at East 86th Street & East End Avenue
All performances begin at 7:00 pm and are free
Reviewed by Paulanne Simmons June 20, 2017

William Shakespeare lived and worked at a time of peace and prosperity in England. During most of his lifetime, Elizabeth I was queen, and Protestantism was firmly established, while Catholics were somewhat tolerated. In 1588, the Spanish Armada was defeated and Great Britain reigned supreme on land and sea.

Most important for Shakespeare, Elizabeth was a patron of the arts. Fortunately, when Elizabeth died, she was succeeded by James I, who may not have gotten along with parliament but was also a great friend of the arts.

Certainly Shakespeare knew which side is bread was buttered on. Especially in his histories, the Bard never tires of flattering the current royals. Despite the Public's interpretation of "Julius Caesar" in Central Park this summer, Shakespeare was not about to upset the status quo.

When the theater was reestablished in after the return of the Stuarts, playwrights began writing comedies that were superficially lighthearted but actually made some cutting comments on the frivolous elite.

With this in mind, you don't have to feel guilty if you missed "Julius Caesar" and head uptown (or Rockefeller Park in Battery Park City from July 5 through July 9 or Carl Schurz Park from July 12 through July 16) to catch New York Classical Theatre's free presentation of Richard Brinsley Sheridan's 1775 comedy "The Rivals."

Directed by Stephen Burdman, with lavish costumes selected by Melinda Hare, the production has the gorgeous greenery of the park for a set. And, in fact, that's all it needs. The wonderful cast is perfectly sufficient to take us back to 18th century England, when the wealthy plotted, gossiped, dissembled and courted, and for the most part, behaved with an insouciance only possible for those who have money.

If "Julius Caesar" is about deception and treachery that affects the future of an empire, "The Rivals" covers the same issues on a smaller scale. Set in the resort town of Bath, the play chronicles the adventures of the wealthy Captain Jack Absolute (the irresistible Michael Sweeney Hammond), who, disguised as the impoverished Ensign Beverley, successfully woos the wealthy young heiress, Lydia Languish (Kristen Calgaro), ward of the prudish widow, Mrs. Malaprop (Barbara Kingsley in hilarious glory).

Said widow, has an elevated conception of her linguistic abilities, resulting in a truly sidesplitting string of what have become known as "malapropisms." To complicate matters, Mrs. Malaprop has taken a fancy to one of Lydia's suitors, a poor Irish gentleman named Sir Lucius O'Trigger (Nick Salamone) and is answering the love letters Lydia's maid, Lucy (Sarah Corby Woolf), is intercepting.

Lastly, Jack's friend Faulkland (David Friedlander) is in love with Julia (Connie Castanzo), but consumed by unfounded jealously, he precipitates silly arguments that allow both lovers to expound on views of romance that were current at the time. Their elaborate and high-flown speeches about true love satirize the romantic dramas of the period.

Using New York Classical Theatre's signature style of presentation, the production requires the audience to travel with the actors from scene to scene. Although this does not change the drama much, it does force the audience into becoming participants in the the action. An added bonus is the opportunity to see different areas of the park.

As the sun sets and the actors are illuminated with artificial lights, the story takes on a magical air. Some of us think that's what theater is all about.