TACT Gives Us a Taste of Runyon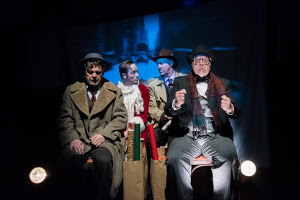 THREE WISE GUYS -- Joel Jones, Jeffrey C. Hawkins, Karl Kenzler, and Ron McClary. Photo by Marielle Solan.
Three Wise Guys
Directed by Scott Alan Evans
The Beckett Theatre, Theatre Row
410 West 42nd Street
From Feb. 28, 2018
Tuesday, Wednesday, Thursday, Friday – 8:00pm, Saturday – 2:00pm & 8:00pm, Sunday – 3:00pm
Tickets: $65, www.telecharge.com
Closes April 14, 2018
Reviewed by Paulanne Simmons March 10, 2018
If you love Damon Runyon's outlandish characters and their eccentric articulations, you're in for a treat. TACT's latest offering (and final production) is "Three Wise Guys," a comedy based on two Damon Runyon stories, "Dancing Dan's Christmas" and "The Three Wise Guys." Although the combination, as hammered out by Scott Alan Evans and Jeffrey Couchman, is at times a bit clumsy, the result is a thoroughly entertaining evening.
Evans directs the cast of wise guys and their dolls. The wise guys have deliciously dubious names. There's the three principle wise guys, Blondy (Karl Kenzler), The Dutchman (Joel Jones) and Dancing Dan (Jeffrey C. Hawkins). But there's also the most feared wise guy of them all, Heine Schmitz (John Plumpis), who is especially touchy about anyone interfering in his amorous endeavors.
The dolls, on the other hand, despite their nontraditional professions (mostly related to dance halls), are all quite properly addressed. Blondy pines over Miss Clarabelle Cobb (Victoria Mack), the young lady whose love he lost when he refused to give up his trade. And Dancing Dan is in hot pursuit of Muriel O'Neill (also Mack), even though Heine Schmitz believes he's the object of her affections.
Set on Christmas Eve, the first part of the comedy deals with the wise guy's attempts to evade the wrath of Heine and get to safety, with the aid of a Santa Claus suit and a car borrowed from a rich benefactress. The second part takes the wise guys on the road, trying to retrieve the contents of a safe The Dutchman and two other gangsters cracked many years ago.
Although the threat of violence is ever-present in all Runyon stories, this comedy is surprisingly tame and, for the most part, entirely appropriate for youngsters. The gangsters are what The Three Stooges might be like if they had guns. And their dolls are vivacious alternatives to Lucy and Ethel.
The cast is quite wonderful. One only hopes they are having as good a time as they are giving the audience.
Certainly Runyon's view of the 1940s underworld had little to do with reality. But in these harsher times, the idea of benevolent gangsters and their loyal and loving dolls is a welcome diversion.