"Head Over Heels" Creates a Topsy-Turvy World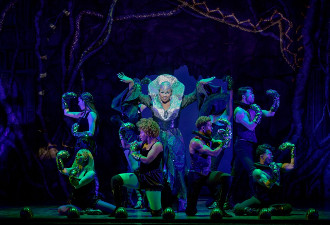 Peppermint (center) as Pythio, The Oracle of Delphi and the ensemble. Photo by Joan Marcus.
Head Over Heels
Directed by Michael Mayer
Hudson Theater
141 West 44 Street
Opened July 26, 2018
Reviewed by Paulanne Simmons, Aug. 2, 2018
In Sir Philip Sidney's Renaissance pastoral fantasy, "The Arcadia," the Duke of Arcadia is told by the oracle at Delphos that his daughter will be seduced by an undesirable suitor, his wife will cheat on him and he will lose his throne. Quite naturally, the Duke hopes to prevent all these outcomes. Unsurprisingly, he is not successful, but the prophesy is fulfilled in a very unpredictable way.
Jeff Whitty's new musical, "Head Over Heels," is both a parody and a tribute. Retaining Sidney's poetic language, adapter James Magruder updates the story by turning cross dressing into sexual nonconformity and bringing the energetic music of the Go-Go's, an all-female rock group, into the mix. He gets considerable assists from Tom Kitt's musical arrangements, Spencer Liff's choreography, Arianne Phillip's costumes, Julian Crouch's set and Michael Mayer's direction
This is indeed a zany, fast paced production. The family of four, King Basilius (Jeremy Kushnier), his wife, Gynecia (Rachel York) and his two daughters, the elder Pamela (Bonnie Milligan) and the younger Philoclea (Alexandra Socha) are certainly not one's typical next-door-neighbors, even by royal standards.
In the first place, Arcadia runs smoothly only when everyone follows the all-important beat (set by the Go-Go'smusic). And, horror of horrors, when the oracle's predictions come true, this beat will be destroyed.
The first threat comes in the form of the lowly shepherd, Musidorus (Andrew Durand) who falls in love with Philoclea, but seems equally comfortable as a man and disguised as a woman. Then Pamela, who is shocked that he prefers her younger sister, soothes her ruffled feathers in the arms of Mopsa (Taylor Iman Jones), the daughter of the King's viceroy, Dametas (Tom Alan Robbins). What's more, the oracle Pythio, is played by drag queen and trans-activist, Peppermint, who gives a naughty and delicious twist to the role.
There are some truly hilarious scenes in "Head Over Heels." Milligan Is outstanding with her show-stopping anger in "How Much More" or when explaining her feelings of sexual arousal inevitably leads her to women. And Durand is funniest when he can't seem to decide between his male and female side.
Despite all the vigor and vitality of this production, however, there are times when it seems to slow down from the sheer weight of the nonsense onstage. Too many of the songs sound exactly like each other, and sometimes they don't seem to serve the musical.
Nevertheless, most of the time," Head Over Heels" seems to moves with the speed and exuberance of a roller coaster. It may not be going any place. But the ride is pretty darn exhilarating.