Bill Irwin "On Beckett"
On Becket: Exploring the Works of Samuel Beckett
Conceived and Performed by Bill Irwin
Irish Repertory Theatre, 132 West 22 Street
Opened Oct. 3, 2018
Wed. at 3pm & 8pm, Thurs. at 7pm, Fri. at 8pm, Sat. at 3pm & 8pm, Sun. at 3pm
Tickets: $40-$56 www.irishrep.org
Closes Nov. 4, 2018
Reviewed by Paulanne Simmons Oct. 21, 2018
Whether you're interested in a master class on Samuel Beckett or the art of acting and mime, or you just love Bill Erwin, "On Becket" at the Irish Repertory Theatre will not disappoint. In 90 minutes, Irwin demonstrates unequivocally why he's a great actor and Becket is a great writer.
Finn O'Sullivan, Bill Irwin. Photo by Carol Rosegg.
The first half of the show is devoted to Beckett's dense, often unfathomable novels, "The Unnamable" and "Watt," and the short prose collection "Texts for Nothing," while the second half features excerpts from Beckett's most famous work, "Waiting for Godot" (Irwin spends a good deal of time on the pronunciation but comes down at last in favor of the British). Here Irwin is assisted by Finn O'Sullivan, a young actor who clearly has a formidable future in theater awaiting him.
Throughout the performance, Irwin shows himself to be not only a magnificent oral interpreter of the written word but also an actor who physically portrays and embodies the role. He stumbles, he struts, he raises and lowers his body so effortlessly behind a podium we think this is being accomplished mechanically.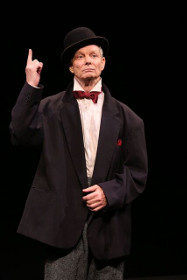 Bill Irwin. Photo by Carol Rosegg.
Irwin has won Tonys for his performances in "Full Moon" and "Who's Afraid of Virginia Woolf?" But he is above all a clown. He makes masterful use of costumes, from baggy pants and an oversized jacket to the many different hats he dons. In fact, in Irwin's hands (or rather on his head) the hat becomes a meaningful artifact that reveals character and intent. The bowler never had it so good.
Because Irwin has a long career in theater and has worked with many other legendary stars, the performance is filled with interesting tidbits about such luminaries as Robin Williams, Nathan Lane, Mike Nichols and Irwin's mentor, Joseph Chaikin. Irwin, who played Lucky in the Lincoln Center production of "Waiting for Godot" that also featured Robin Williams as Estragon, still has fond memories of Williams flying at him.
In fact, the most transcendent and penetrating parts of "On Becket" are Irwin's interpretations of some of the great scenes in "Waiting for Godot," particularly Lucky's speech demonstrating how he thinks, and the famously moving last scene.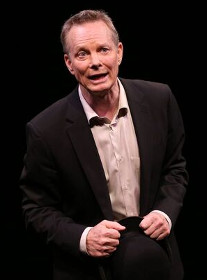 Bill Irwin. Photo by Carol Rosegg.
Irwin claims he is neither a Beckett scholar nor biographer, but rather an actor who comes to the writer's work with an actor's sensibility. Considering that he is performing in front of a live audience, this is entirely appropriate. Although there is an intellectual, even academic, aspect to Beckett's work, it is above all emotional. When we hear and watch his characters, we laugh, we cry, we smile, we frown.Beckett's world is inspired by absurdity. That means it is filled with the joy and tragedy of life. Irwin makes this palpable and poignant.