"Clueless" Wanders
Aimlessly but Pleasantly.
Directed by Kristin Hanggi
The Pershing Square Signature Center
480 West 42 Street
Opened Dec. 12, 2018
Tuesday at 7:30pm, Wednesday at 2pm* and 7:30pm, Thursday at 7:30pm, Friday at 7:30pm, Saturday at 2pm and 8pm, Sunday at 2pm and 7:30pm*
*Sundays at 7:30pm performances on 11/25, 12/2, 9, 16, 30 and 1/6; Wednesdays at 2pm on 12/19, 26 and 1/2. Monday, January 7 at 7:30pm
Tickets: $105, ticketcentral.com
Closes Jan. 12, 2019
Reviewed by Paulanne Simmons Dec. 22, 2018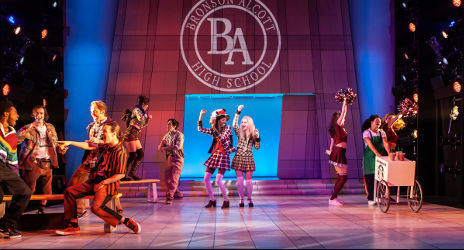 Center L-R: Zurin Villanueva, Dove Cameron and cast in "Clueless, The Musical." Photo: Monique Carboni.
The 1995 romantic comedy, "Clueless," grossed $56.1 million in the United States, was turned into a spin-off television sitcom as well as a series of books, and has in the succeeding decades developed a cult following. So it should come as no surprise that the venerable "Clueless" has finally landed onstage at The Pershing Square Signature Center as The New Group's new musical.

"Clueless, the Musical" has a book and score by Amy Heckerling, who authored the film, based on Jane Austen's "Emma." This means the musical retains much of the tongue-in-cheek zest that made the film so agreeable. Dressed in Amy Clark's reinterpretation of 90s Beverly Hills chic, Cher Horowitz (Dove Cameron), blithely takes on the simple challenges of her privileged lifestyle (her father, Mel, played by Chris Hoch, is a cut-throat and highly successful lawyer).

In an attempt to improve her grades, she matches Mr. Hall (Hoch), her dour debate teacher, with Miss Geist (Megan Sikora), her ditzy history teacher. She also remakes the new girl, a goofy pothead named Tai (Ephie Aardema), into a cute airhead who will fit into her clique. And she tries to keep her father on the healthy diet his doctor has prescribed.

Sometimes Cher's cheerful meddling backfires. She gets herself into trouble by trying to match people who are not interested in each other. She can't tell the gay guys from the straight ones. Most important, she doesn't recognize the mutual attraction between herself and her serious, socially-conscious step-brother, Josh (Dave Thomas Brown).

Heckerling's score is suitably 90s and upbeat. Kelly Devine's choreography is muscular and exuberant. And with the help of Beowulf Boritt's set, director Kristin Hanggi keeps this musical moving almost as smoothly as a brand new Mercedes.

However, there is a certain choppiness that may be unavoidable due to the show's cinematic origins but nevertheless makes "Clueless" seem somewhat episodic. What's more, the slender and repetitive nature of the plot sometimes has a somniferous effect. But, no worries, one can doze off for extended periods of time without losing much of the plot. In fact, you might not even notice the cast is singing a different song.

And even if you do lose track of who's going out with whom or why Tai falls into the swimming pool or how Cher ends up on the highway with no money and no cell phone, it won't matter. This talented cast can sing and dance up a storm. And as we all know, whether or not we've seen the film, love will triumph and lessons will be learned.