"The Pink Unicorn" Explores One Mother's Journey Into Gender Identity
"The Pink Unicorn"
Directed by Amy E. Jones
Out of Box Theatricals at The Episcopal Actors' Guild
1 East 29 Street
Opened May 15, 2019
Wed. thru Fri. at 7pm, Sat at 2pm & 7pm, added performances Sun. Jun2 at 7pm
Tickets: $99 general admission, $29.50 partial view, $159 premium tickets (includes complimentary beverage & reserved seating)
Closes: June 2, 2019
Reviewed by Paulanne Simmons May 22, 2019
At the beginning of Elise Forier Edie's new play, "The Pink Unicorn," Trisha Lee (the luminous Alice Ripley) does not understand her young daughter when she announces she is genderqueer. By the end of the play she still does not understand but she has learned to accept and even celebrate human diversity.
Alice Ripley. Photo by Jazelle Artistry
Set in small-town Texas, this solo show, directed by Amy E. Jones, charts the spiritual development of a mother who is often confused, sometimes angry, and always loving. She does not approve of her daughter's new choice in clothing. She resists calling her Jo (her given name is Jolene) and addressing her as "they." But she supports her daughter's efforts to form a Gay Straight Alliance and cross dress for class photos.
Trisha, as portrayed by Ripley, is clearly part of her environment. She wants her mother's approval, her neighbors' support and her pastor's blessing. When this does not happen she needs to summon her inner resources to confront community prejudice.
Indeed Trisha does find succor from other sources: radical lesbian, the ACLU, her alcoholic brother and the memory of her deceased husband. But it is the imaginary pink unicorn of the show's title which reminds her that we are all watched over and all life is sacred.
Alice Ripley. Photo by Jazelle Artistry
"The Pink Unicorn" is produced by Out of the Box Theatrics, founded in 2015 by Elizabeth Flemming "to celebrate all the unique traits that give actors character." What makes this play particularly interesting is that the story is told through the eyes of the mother, and not the young girl herself. As a result, the show explores rather than preaches, a welcome change in any politically charged issue.
But even better, the show is staged in the Episcopal Actors' Guild's very, very intimate theater. This gives the audience the unique opportunity of watching from very close an actor of Ripley's stature ply her trade. Solo shows have an inherent problem, which is the monotony of only one point of view. But Ripley's powerful performance almost overcomes this difficulty.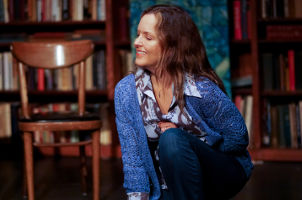 Alice Ripley. Photo by Jazelle Artistry
Forier claims her play is a fictional piece based on personal experience. But although none of the people in her play actually exist and none of the events actually happened, similar events have happened involving high school student in the United States today. Clearly this is a story that needs to be told.