"Original Sound " Has an Interesting Theme
"Original Sound"
Directed by Elena Araoz
Cherry Lane Theatre
38 Commerce Street
From April 30, 2019
Tickets: $55-$85
Closes June 8, 2019
Reviewed by Paulanne Simmons28, 2019
In our age of sampling, remixes and computer-generated music, the definition of originality seems more than a little vague. Do artists own their work? Are they stifling creativity when they protect their copyrights? Are they merely protecting their own interests? All these questions, and a good deal more, are explored in Adam Seidel's "Original Sound," now staged at Cherry Lane Theatre, under Elena Araoz's skilled direction.
Anthony Arkin and Jane Bruce Photo by Russ Rowland
Sebastian Chacon plays Danny Solis, a Nuyorican musician who's achieved some local renown, mostly through his online fans. Danny is pretty much on his own, having moved first away from home and then out of his sister's apartment, thanks to family disagreements. His father is nowhere in sight. But his roommate, Kari River (Lio Mehiel) definitely has his back.
Danny's career takes a surprising turn when he realizes Ryan Reed (Jane Bruce), a popular folk/pop singer has plagiarized one of his songs, "Sway," turning it into her own "Stay." Kari, who has a bit of Colombia education and a bigshot father, gives Danny sound legal advice (most of which he doesn't take), and before he can say b flat minor, he's signed a somewhat exploitative contract, but a contract nonetheless, to record with the, needless to say, reluctant Reed.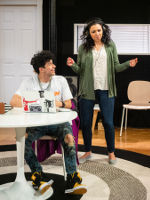 Sebastian Chacon and Cynthia Bastidas. Photo by Russ Rowland
With Kari as Danny's manager and the no-nonsense Jake Colburn (Anthony Arkin) as Reed's, the collaboration proceeds. But it is at these recording sessions that magic happens. Bruce (guitar) and Chacon (piano) are fine musician, and their creative sessions mimic the way musicians really do make music. There's definitely chemistry between the two. Bruce is excellent as the petulant diva, while Chacon combines vulnerability and belligerence quite believably.
As Ryan and Danny struggle to find the exact combination of rhythm, harmonies and melody that makes a great song, there are additional complications in their personal lives. Ryan is having issues with her record label. Danny has issues with everyone – his sister, his mother and his father, a musician he now hunts down for help. Even Danny's roommate, the stalwart Kari, complains of feeling abandoned and misused.
Jane Bruce and Sebastian Chacon. Photo by Russ Rowland
The play does not fully explore Danny's relationships with his sister, Felicia (Cynthia Bastidas); or his father, Tommy (Wilson Jermaine Heredia); or his friend, Kari. In fact, Danny's relationship with Kari is especially confusing as Mehiel is transmasc (a person who was AFAB but identifies closer to the masculine side of the gender spectrum – if this doesn't help, look it up). But the play does an excellent job explaining the creative process in musicmaking.
Seidel is a former music journalist, and he knows what he's talking about. Thus "Original Sound" should be of special interest to anyone who is in or wants to be in the music industry. Everyone else will happily get in the groove.