"Soft Power" Speaks Truth to Power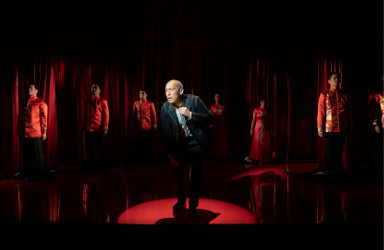 Francis Jue and the company of Soft Power. Photo by Joan Marcus.
Directed by Leigh Silverman
Public Theater
425 Lafayette Street
From: Sept. 24, 2019
Tuesday thru Sunday at 8pm, Saturday and Sunday at 2pm
Tickets: From $100
Closes: Nov. 17, 2019
Reviewed by Paulanne Simmons Nov. 10, 2019
In 2015 David Henry Hwang was stabbed on a street in Brooklyn. Some people might react with fear or anger. Hwang decided to write a musical, or rather what the authors call a "play with musical." This is indeed a play on words, because the work Hwang created with composer Jeanine Tesori is, to a great extent, a twist on Rodgers and Hammerstein's "The King and I."
In this production, deftly directed by Leigh Silverman, Xue Xing (Conrad Ricamora), a theatrical impresario from Shanghai, comes to New York City with the goal of persuading Chinese-American playwright David Henry Hwang (Francis Jue) to write a musical interpretation of a well-known Chinese movie, "Stick with Your Mistake." Hwang almost agrees until he finds out he cannot change the ending. The film's estranged couple must remain together; Chinese people, says Xue Xing, care more about their reputation and responsibility than they care about love.
The tremendously engaging Ricamora makes a strong case for doing what's right; Hwang makes an equally compelling argument for following your heart. Then Hwang is stabbed and Xue Xing decides to make a musical that's really "The King and I" from a Chinese point of view. The I, who in Rodgers and Hammerstein's musical is the governess, Anna, is now Xue Xing himself; and the King, who must be tutored in the ways of the world, is Hillary Clinton (the marvelous Alyse Alan Louis), whom Xue Xing supports through her election defeat.
Clinton is treated quite sympathetically in the musical. Hwang seems to believe her loss was just as much due to her lack of pizzazz as the electoral college (which he explains in song). Louis proves Clinton can sing and dance. But even more important, this Hillary has a heart, and it is quickly captured by Xue Xing.
This is a musical of ideas. Clearly it wants to tell us that Americans may not be "great" forever (the first scene after the intermission depicts a humbled American adjunct and triumphant Chinese cineastes in a panel discussion of the musical). But if we hope to maintain our position of leadership, we need to put down our arms on the street where we slaughter ourselves and on the world stage where we threaten others (an idea which Xue Xing expresses in a hopeful ballad).
But the musical also recognizes that American democracy has some unique and admirable qualities, despite its faults and failures. The beautiful hymn to democracy is sung twice. As for soft power, for Hwang (and Clinton, who represents him) it's the strength of our values that counts the most.
"Soft Power" seems to be Hwang's attempt to reconcile his Chinese heritage with his American citizenship. This is a problem facing many immigrants and their children today. For many of us, it's a problem faced by our grandparents or great-grandparents.
This is also a musical with lots of very memorable songs: Hillary's dazzling nightclub number, her lament over the elections, the love song between Hillary and Xue Xing. Some of the music sounds American in the vein of Aaron Copeland. Some of it is more like rock n roll. Lots of numbers are clearly influenced by Broadway's greatest composers of the 50s and 60s. There's even a smattering of rap. Much of the music has strange and interesting Asian overtones.
Because of the play-within-a-play (or play-within-a-play-within-a-play) structure and several time shifts, it's not always easy to follow the plot. Sometimes we can't even be sure if we're watching the play about the musical or the musical itself.
But don't worry. Even though parts of the trip might be bumpy, there will be a soft and very pleasant landing.