"Rococo Rouge"
"Rococo Rouge"
Produced by Company XIV
Conceived, directed and choreographed by Austin McCormick
428 Lafayette Street Theater-Lounge, New York, NY
Reviewed by Philip W. Sandstrom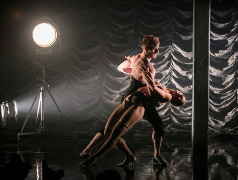 Steven Trumon Gray & Cailan Orn. Photo by Phillip Van Nostrand.
From the serious nature of the first dance, with its period shoes, luscious costumes, tight group work, and fantastic singing by the operatic soprano Brett Umlauf, I knew we were in for a great evening. Umlauf's exceptional vocal quality, nuanced performance and consistent delivery throughout the show made for pure pleasure. These were beautiful people with extraordinary talent.
In this show, "Rococo Rouge", conceived, choreographed, and directed by Austin McCormick, we were treated to some serious music with exceptional performers in sexy costumes by Zane Pihlstrom, who made a heavy, yet appropriate use of red and lace and garters and thongs; set within a fun-loving environment, mysteriously and smokily lit by Jeanette Yew.
Davon Rainey & Shelly Watson. Photo by Phillip Van Nostrand.
The program continued with a fan dance solo featuring soprano Shelly Watson, then a solo danced by Laura Careless (a stage name?) and Umlauf singing Handel's "Endless Pleasure". The duet featuring Allison Ulrich and Steven Trumon Gray was partnered exquisitely to "Song to the Moon" sung by Shelly Watson. The first act finished on an exciting note with Courtney Giannone, Cyr Wheel (a large circle of tubing within which an acrobat stands and wheels around the stage like a wobbling hub cap) Artist extraordinaire. She wheeled up a storm to "La Danza" by Rossini sung by Watson.
Then to intermission, of which there were two, both emcee'd by Watson, a woman of substance, who flirted with the crowd. Her Weimar approach to song was intoxicating.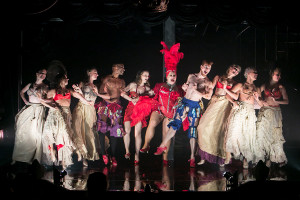 The Company - Cast: Laura Careless, Katrina Cunningham, Courtney Giannone, Lea Helle, Rob Mastrianni, Cailan Orn, Davon Rainey, Steven Trumon Gray, Allison Ulrich, Brett Umlauf and Shelly Watson (in center). Photo by Phillip Van Nostrand.
The second act included some Britney Spears and Bizet's "Carmen" and finished up with a powerful duet by Cailan Orn and Steven Trumon Gray accompanied by five female dancers rolling on the floor to music by Le Bel Indifferent, Jean Cocteau, Padam Padam, and Edith Piaf.
Act III took a different approach, opening with "Go Slow" by Julie London, expertly sung by Umlauf and masterly played by guitarist Rob Mastrianni, followed by "Is That All There Is?" by Peggy Lee, sung by Watson and danced with emotion by Davon Rainey. The evening concluded with "Can-Can" by Offenbach, which was danced with exuberance by the full company.
Laura Careless. Photo by Phillip Van Nostrand.
It proved to be an exciting and satisfying evening at a theater which felt more like a club. The only thing which held back the bacchanallian nature of the event was the high price of the drinks. I felt sorry for the wait staff who were anxiously offering yet another drink, so they could earn a tip, to a crowd that was holding back due to price. There is a delicate point where buyer and price come together and this establishment has not found it. With two intermissions that included the wonderful, talented, funny, and voluptuous, all the crowd needed was a bit more lubrication.