By Rosalie Baijer
April 30 to May 2, 2015
Ailey Citigroup Center, 405 West 55th Street, Manhattan
Presented by Steps Beyond Foundation
Reviewed by Rosalie Baijer April 30, 2015
Dancers from "Le Monde est Fini." Photo by Nan Melville.
If anything should give us confidence in the future of the Steps Repertory Ensemble under the new (relatively) leadership of Bradley Shelver, it was the ensemble's program April 30 to May 2 at Ailey Citigroup Center. I attended the first night and was treated to four works of ingenuity and aplomb, danced with assurance by an able company of dancers.
The evening opened with the premiere of Shelver's "Le Monde Est Fini, Pas De Panique," a vigorous piece preceded by dancers holding signs: "The end of the world is nigh...It will be tweeted" and "Sinners repent, the end is near." A witty voice over advised us to turn off cell phones. The ensemble appeared in white leotards (the men in rust-colored pants). The snappy rhythms of clapping percussion evoked the velocity of modern digital life. An energetic and attractive young company took stage in rows, the men in the middle row suggesting paranoia with grimacing movement. A sign came across: "Jesus is coming, quick, look busy." And everybody did.
There was a partner dance with voice over about suspicion of a neighbor: the man has poison under his sink and a stockpile of formaldehyde. What's he building in there (shudder!)? While cast members engaged in selfies, another placard passed: "The Rapture is at hand, back up your files!" Yet another said "Due to the high cost of ammunition, I can no longer afford a warning shot."
Everybody stared at their phones, ignoring the events of their world. The message was: we have seen the dominion of arrogance, and it is being whipped in and out of our pockets and purses. The dancers were pleading, "We are storytellers. We are offering ourselves through our dances. But we are being ignored because you (the world) are on the phone!"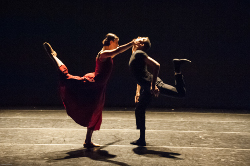 "She and Him" - Joseph Wamp and Katherine Sprudzs. photo by Nan Melville.
The last third of the dance offered a recurring bit in which a man danced an articulate solo, and then a woman snuck up behind him and pulled his pants down. The dance seemed to be saying, "Every time I try to do fine things, the world sneaks up and pulls my pants down." If that's a reflection by Mr. Shelver on his responsibilities as the new head of the company, bravo for his humor!
This dance was followed by a rather nice film introducing the Steps Beyond Foundation that was written by Patricia Klausner, directed and filmed by Aleutian Calabay. It provided background on the venerable Steps dance studio and on the impulse to create this company.
"Recur" by Jae Man Joo, excerpted from a longer work that premiered at the Joyce in 2013, ended in "Longing," a memorable duet by Aurélien Peillex and Malik Kitchen. It was a sensitive piece with fluid movement which showcased the dancers' footwork and technique.
Kudos to Carley Marholin for her work throughout the evening and especially in "She and Him, Him and Her" by Bradley Shelver, which was excerpted from the full act work that had been presented last year at Ailey Citigroup Theater. In that dance, a happy couple (Marholin and Aurélien Peillex) were contrasted with a volatile couple (Katherine Sprudzs and Joseph Wamp) to illustrate the mercurial nature of love.
Dancers from "Le Monde est Fini." Photo by Nan Melville.
The evening ended in the company premiere of the lovely "The Legend of Ten" by Lar Lubovitch, which offered commendable work by Allie Mae Geen and Aurélien Peillex and also called our attention to the growing strength of this troupe and to its ensemble chemistry.

Rosalie Baijer, from Holland, is an Assistant Editor of Curator's Choice.