Introdans and Rennie Harris at Fall for Dance Festival 2018
Fall for Dance Festival at New York City Center, Program #4
Reviewed by Rina Kopalla on Oct 10, 2018
Every Fall since 2004, New York City Center seems to open the new dance season with its annual festival, which showcases various dance genres, throughout two weeks. With very affordable tickets, it exposes many people to new, but also well-established artists and offers interesting evenings with their well-mixed programs.
In this year's 15th Fall for Dance Festival, the 4th program featured works from Frederick Ashton (excerpts of the ballet "Rhapsody") and Jennifer Weber's silent movie version of "Petrushka," where she infused the ballet classic with street dance. The Dutch company Introdans performed "Canto Ostinato," choreographed by Lucinda Childs, and Rennie Harris' excerpt of his latest work, "Funkedified," closed the program.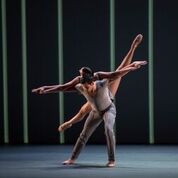 Introdans' Kim van der Put and Pascal Schut in "Canto Ostinato."
Photo by Stephanie Berger.
Introdans positively surprised me. I did not know them before, but I very quickly associated their style with the distinctive Dutch dance scene. Their use of contemporary concepts reminded me of Dutch choreographer Anne Teresa De Keersmaeker, who also works with repetitive sequences and a canon-like staging. Four dancers were mostly organized in duets, performing the same sequences, but staggered. Their floor paths consisted of diagonals and straight lines and their use of movement was drawn from ballet. This emphasized the leitmotif of lines and clear forms. Music by Simeon Ten Holt, "Canto Ostinato," used some sort of mathematical composition. Paired with the sounds of the music, the dance had a feeling of trance. The dancers were clothed in simple grey outfits and their expression was kept neutral despite the very emotional music, which supported this state of trance.
After the dancers left the stage and the light simmered down, the whole dance started repeating itself. However, the feeling changed: the music was faster, the sequences got shorter. Earlier they put me under hypnosis and left me feeling very relaxed; with their second round however, they dragged me out of that calmness. It's as if they wanted to put me to sleep but decided to wake me up before I fell. Interesting night-story.
Hood Lockers' Andrew Ramsay and Marcus Tucker (front), Richard Evans and Joshua Polk (back) in "Funkedified."
Photo by Stephanie Berger.
As a hip-hop dancer myself, I chose to visit this program to see the work of hip-hop choreographer Rennie Harris, who is a pioneer in hip-hop theater and transforms street dance into concert dance (but is still big on 'roots'). Even though only an excerpt of "Funkedified" was shown on that evening, the intention of the work was conveyed regardless. "Funkedified," a multimedia work, pays homage to the 1970s party, funk and dance scene and displays the evolution of funk. Thus, it does not only entertain, but also educates about the rich history of social dance.
The energy-fueled performance featured a live band on stage jamming on songs by James Brown next to the dancers of Rennie Harris Puremovement and Philadelphia's Hood Lockers. A narration, a recorded voice over of Harris himself, guided the performance while highlighting a variety of street dance styles, such as funkstyles and breaking.
Rennie Harris Puremovement's Maile Ho Johnson in "Funkedified."
Photo by Stephanie Berger.
The staging induced a feeling of being out on the streets with the dancers passing through, joining in for the dance in unison and then leaving again. Other than that, the outfits, dance styles and staging kept the Hood Lockers and Puremovement separated. That could also be interpreted as the Hood Lockers presenting the past and Puremovement the future, which causes the eras to blend together. Another way of looking at it is the symbiosis of the West and East Coasts, which was important for the development of hip-hop. Either way, these simultaneous moments worked very well and played an important part in holding the show together.
"Funk has two sides," said Harris. While the performance was dominated by energetic and spirited movement, a slow number starring Leigh Foaad (a.k.a. Breeze-Lee) and the guitarist Mathew Dickey presented the pain. This was my favorite part. It emphasized and made the interrelation between music and dance very clear, which was visible throughout the whole show with the way the dancers used the music. [Kopalla]