Tell me what you write, I'll tell you who you are
"In the Room"
Written by Lawrence Dial
Directed by Adam Knight
Presented by Slant Theatre Project and Kelli Giddish in association with Wheelhouse Theater
At the Alchemical Theatre (104 West 14th Street between 6th and 7th Avenue)
October 20-November 13, with performances Thursday through Saturday at 8:00 PM and Sunday
at 3: 00 PM. Tickets ($18) are available online at http://intheroom.bpt.me or by calling 1-800-838-3006.
Running Time: 2 hours
Reviewed by Remy.S November 5, 2016
In The Room featuring Reuben Barsky, Susan Neuffer, Suzy Jane Hunt, Jacob Perkins, Rob Robinson, Chelsea Melone, and Matt Harrington. Photo byJeremy Daniel.
Writing is not easy. I remember when I was in college and when I said to everyone that I wanted to spend my life writing, I always got the same answer: "But, what will your real job be?" Because people write all the time/ emails, postcard, text or Facebook posts,we assume that writing is easy. But it's not. When you write, you put a part of your soul in the ink. You can write a lie, but your writing style is generally true to you . "Tell me what you write, I'll tell you who you are" could be the subtitle of "In the Room," a masterful intimist play written by Lawrence Dial, directed by Adam Knight.
Seymour is a teacher in a writer's workshop. Every week, he comes to teach his students how to write their stories, novels, videogames. Every week they all gather in the eponymous room to try to help each other wrie the next chapter of their stories. Between classes, they try to write the next chapter of their own lifes. Who are they? We don't know. All that we'll ever know is what they write and what they tell each other "In the Room".
Writing about writing is very difficult because it has been done a thousand times. But this play is different. Lawrence Dial wrote a magnificent play: realistic, philosophic and true. It's a perfect balance between a story and real life, a marvellous definition of what theater is really supposed to be. No cliché of the blank page sindrom, no tortured writer. The teacher and the students are real, we know these people, we are these people. They all became you friend after five minutes of the play and we are sad to leave them at the end, even if we barely know them.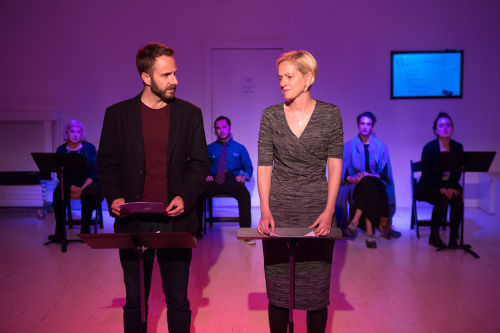 In The Room featuring Matt Harrington and Suzy Jane Hunt. Photo by Jeremy Daniel Photography.
We are not watching a play, we are living a play. In Adam Knight's intimistic direction, the audience is on stage with the actors and the setting is in the round. We can see everything. The characters can't hide what they do or what they feel. They don't project their voices as in a traditional play. They don't act, they live, and we live with them, becoming their friends, their teachers, their consciousness ,and at the end the show we become the audience of what they wrote to remind us that nothing was real. It's a story.
Helped by a wonderful cast which plays sincerely and perfectly a whole range of characters, Lawrence Dial and Adam Knight entertain us, make us laugh, smile, cry, and find the perfect balance between reality and fiction. While you watch all these characters trying to write their stories, you get some clues to write your own. You're not the same at the begining and the end of this play, because during two hours, like Seymour thinking he teaches while he is being taught, you think you are watching characters but they are watching you. It's a brillant way to say that we are all the writer of our lifes. All we have to do now is write and live.
Forget all the big Broadway productions. "In the room" is an experience, a wonderfully entertaining play that will remind you that we spend too much time trying to write/live, instead of letting go and writing/living our dream.