A Sweet Taste of Feminism
The Fempire Strikes Back !!
Presented by American Candy
At the Actors Fund Arts Center, Brooklyn, NY
Ticket information : fempirestrikesback.eventbrite.com
December 2-3, 2016, 8pm.
March 17 and 18th 2017
Running time : 2 hours
Reviewed by Remy.S December 3, 2016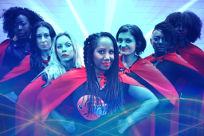 American Candy. Photo by Martin Balaguer.

Pierre Desproges, one of the most important stand up French actors, once said, "we can laugh about everything, but not with everyone." He was right. It's very difficult to make jokes about difficult themes ; you have to be careful because the frontier between funny and mean is thin. So when I heard that a play about feminism was performed to help the association GEMS, which provides services for girls and young women at risk for commercial sexual exploitation and domestic trafficking, I was extremly curious. It's a dangerous bet to make people laugh about all these themes. But it's not dangerous when you have the talent of American Candy.

"AMERICAN CANDY: The Fempire Strikes Back" is a juicy, hilarious show demonstrating how hilarious the Mighty Female Blow can be What is that ?. Twelve sketches and some videos show the women's point of view about some situations, like how the world would be if men were the weaker sex. In the sketch "The UN," The United Nations is only composed ?? by a woman president, and in"Casting session," women are casting men and judge them only by their bodies. But it's not a sexist show. This talented team succeeds in a wonderful goal : to make fun of everyone in the audience (white, black, men, women, young, old, Americans, foreigners) and make them laugh about themselves. That's right ! The world is not equal, but this show is . Make everybody laugh the same way, what a wonderful way to send a message about equality !
American Candy. Photo by Martin Balaguer.
An amazing cast ! Hollie Harper (the Creator of American Candy), playing and singing the part of a wonderful writer, knows how to choose her team! Megan O'Leary is a real chameleon and gets a laugh everytime she says a word. Lisa Dennett, Amber Bloom and Gretchen Knapp are hilarious, and Alexis Braxton, Myriam Moss and Okema Moore prove that in the 21st century women, contrary to men, can do both things at the same time: make us laugh and sing perfectly.
But I'm not going to forget men. Even if the team is not equal, the men of the team succeed in self mockery to give us a wonderfull performance! Rich Wisneski, Xavier Rodney Franck Juste and George Perry are here and we can't forget them because they are excellent! They make us laugh from the beginning to the end, and sometimes, without saying a line.
It's not a perfect show. Lighting is not used ; they really need a lighting designer to help the direction, and some sketches need better endings. Introducing every sketch with a voice over gives a bad tempo and the sound wasn't good. But the purpose of the show is so important, and the message that it sends is so strong, that we really forgive the imperfections and retain what's most important: they have talent, and they have a good heart.
Thank you American Candy. Thank you for creating equality in a world that still doesn't want to create it, thank you for helping GEMS, and thank you for offering us a wonderful and entertaining show. Come to see this show about equality: you'll help a worthwhile nonprofit and you'll discover a wonderful team that going to make you laugh a lot. It's a perfect balance, isn't it ?