Three views of "Day of Absence"
---
Albert Eggleston (L) and Jimmy Gary, Jr. (R) discover that all the town's negros have disappeared.
"Day of Absence" by Douglas Turner Ward
Theatre 80 St. Marks, 80 St. Mark's Place
Opens Sunday, December 4 at 3:00 PM; plays 7:00 PM on Mon (12/5), Wed (12/7)-Sat (12/10); 3:00 and 7:00 Sunday (12/11).
Presented by Negro Ensemble Company, Inc. (www.necinc.org)
Tickets $18; Students, students and groups $15
Box office: (212) 868-4444, www.necinc.org. Group sales 212-582-5860
Running time: 1 hour.
Reviewed December 4, 2016 by Bettijane Eisenpreis
I was privileged to attend a performance of "Day of Absence" by Douglas Turner Ward by The Negro Ensemble Theater, which was originally performed in 1965, the founding year of the ensemble. In some ways, the play seems like a period piece. It is set in the South in the bad old days of separate and profoundly unequal. Yet, as the term of our first African-American President ends, it is shattering to realize how relevant the play seems in many ways.
Daniel Carlton and China L. Colston discover their Mammy is missing.
A broad farce, "Day of Absence" tells the story of the Southern town whose Negroes vanish for a day, leaving the white citizens helpless. As an acid and howlingly funny reversal of the old minstrel shows, the actors are all in "whiteface," except for one lone white actor who plays newsperson from out of town. The pace of the play is leisurely, as the players slowly realize what has happened and what a profound effect the absence would have on them.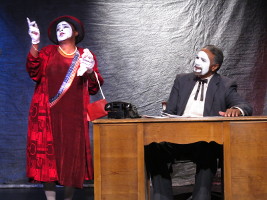 Cecelia Antoinette as a Clubwoman and Charles Weldon as the Mayor.
While the costumes and makeup add to the general hilarity of the performance, it is the actors who really carry the show. I was only able to jot down a few of my favorite lines and phrases, including "miscellaneous dirtywork doers," "lily white images of Dixie femininity" and "Why did you marry me? Decoration," but there were many more that were bitingly clever and to the point." I won't spoil the ending, but it is appropriate.
Charles Weldon, NEC Artistic Director, starred as the Mayor, but it would be unfair to single out any of the excellent cast, since I can't list them all here. At the performance I attended, four of members of the original 1965 cast participated, and were enthusiastically welcomed by the audience. The Negro Ensemble theater was the training ground for so many actors who went on to Broadway and Hollywood and, judging from the credits of many of its cast members, it continues as an important off-Broadway venue.
The play will only be on for a week, but I hope many of the readers of this review can get to see it. As I watched it, I remembered the quote: "Those who ignore history are destined to repeat it." [BJE]
---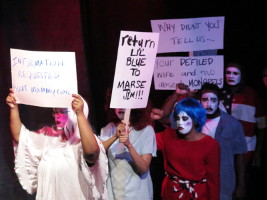 The town marches to get its Negros back.
"Day of Absence" by Douglas Turner Ward.
Directed by Arthur French at St. Marks Playhouse, 80 St. Marks Place, NYC.
Dec. 4-11, 2016. Mon., Tues., Thurs., Fri., Sat. at 7 PM. Sun. at 3 and 7 PM. Tickets $18 at 212-868-444 or www.necinc.org.
Group and student discounts.
Reviewed by Glenda Frank December 4, 2016
To celebrate its 50th anniversary the Negro Ensemble Company (NEC) is staging "Day of Absence," a satire by Douglas Turner Ward. The play won the 1965 Drama Desk award for playwriting and made history. Backed by a grant from the Ford Foundation, playwright Ward, actor Robert Hooks and manager Gerald S. Krone launched the NEC, a home for black talent and a must-see for anyone interested in American theatre for over 20 years.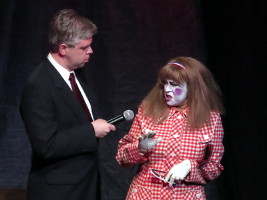 Michael O'Day as News Announcer, Kim Weston Moran as the town's Social Worker.
Staged primarily by black actors in white-face, "Day of Absence" explores one day in a town in the deep South when all African Americans have vanished. Two laconic Southern men (Jimmy Gary, Jr. and Albert Eggleston) slowly come to the realization that something is wrong, but they can't put their finger on it. In another part of town, the husband (Daniel Carlton) of a Southern Belle (China L. Colston) insists that she care for her crying child. But she doesn't know how. The absent nanny did everything for her. She and I are a pair, she informs her husband. You got both of us when you married me.

Slowly Ward's gentle touch grows harsher and the dismay deeper as the white townspeople realize they will have to care for themselves: empty their own trash, sweep and mop, polish their shoes, drive their own cars. Panic sweeps the town. Search parties find no one at home and there is some talk of burning down black neighborhoods to find the missing workers. A few African Americans are located in the Confederate Memorial Hospital, but they are all in a coma. Sheriff Bull uses dogs and power hoses trying to flush convicts out of their cells, but the jail remains in a curious lock-down.
Bill Jay as the Clan bigshot.
And then there are the disappearances of prominent whites, including the man courting the mayor's sister. "Infiltrators," someone declares, "secret Negroes." A Klan big shot (William Jay Marshall) and the Reverend Pious (Count Stovall), both inarticulate men with a few push-button phrases, pontificate to a reporter. The mayor (Charles Weldon, NEC Artistic Director) makes a televised appeal, even getting down on his knees and promising to kiss the shoe of the first black to appear. When that fails, the mob attacks him. And then, the next morning, everyone is mysterious back at work without explanation.

The format is funny, clever, and inventive but the play does not wear its age well. Much of that has to do with the curious direction by Arthur French. The whole seemed rushed to production; some of the actors had not learned their lines. The costumes by Katherine Roberson were mostly tongue-in-cheek Americana: stars and strips, red, white and blue. The women were dolls, in white face with round red cheeks, red, red lips, and bold wigs in a variety of styles and colors. The make-up was attractive and droll. Many in the cast, especially those with only a few lines, chose postures, expressions, and attitudes to distinguished the characters and create a panorama of the town.

For all its faults, it was good to see this play on stage again, good to hear some of the sharp lines, like the Klansman saying yes, he wanted separation, but only when he says so. The bible-toting Reverend's explanation for the disappearance was "voodoo." And someone remarked: "Return your buckets to where they lay and all will be forgiven," a paraphrases of Booker T. Washington's 1895 speech of accommodation to racism. The mayor's speech, although laced with bigotry, was also moving. "We need you. You're part of us," he confesses. And then he adds, "You belong to us."
---
What if…?
L-R: Count Stovall, Kim Weston Moran, Bill Jay as townspeople.
December 4 – 11, 2016
"Day of Absence" by Douglas Turner Ward
Presented by the Negro Ensemble Company
Theatre 80 St. Marks, 80 St. Marks Place
Mon, Tue, Thu, Fri, Sat at 7 PM, Sun Dec 11 at 3PM and 7PM
Tickets: $18, students and groups $15
Box Office: (212) 868-4444, www.necinc.org Group sales: (212) 582-5860
Reviewed by Beate Hein Bennett December 4, 2016
What a special joy to attend the celebratory performance of NEC's 50th anniversary as a company and to see some of the original members on stage in the revival of one of their early successful productions, moreover in the same neighborhood where NEC started! The Otway family owned Theatre 80 St. Marks is a standing landmark playhouse in the East Village while the original St. Mark's Playhouse on the second floor of 133 Second Avenue and St. Marks Place—in the 60s, 70s, and early 80s a pioneering playhouse—has given way to modern real estate. On November 16, two giants of African American theatre were honored by having their signature and hand imprinted on the sidewalk in front of Theatre 80 St. Marks: Woodie King, Jr., director/producer of New Federal Theatre and Douglas Turner Ward who founded the NEC in 1967 together with actor/producer Robert Hooks and theater manager Gerald S. Krone.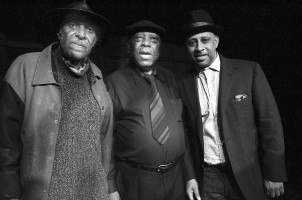 L-R: Douglas Turner Ward, Woodie King, Jr. and Rubin Santiago-Hudson at Sidewalk Signing and Honors Ceremony honoring Mssrs. Ward and King at Theatre 80 St. Marks on November 16, 2016. Photo by Tanja Hayes
Douglas Turner Ward was born in 1930 as Roosevelt Ward, Jr. in Burnside, Louisiana and can count as one of his ancestors—irony of ironies—General Nathan Bedford Forest, the founder of the Ku Klux Klan. He may have adopted the middle name Turner from the first short play "Star of Liberty" he wrote in 1949 about the rebel Nat Turner. In the early 50s Ward moved to New York, studied acting at the prestigious Paul Mann Workshop, and started his off-Broadway career, first in O'Neill's "The Iceman Cometh." In 1959 he was cast in Lorraine Hansberry's "A Raisin in the Sun" and assumed the role of Walter Lee Younger when the production went on national tour; at that time he met Robert Hooks, Woodie King, Jr. in Detroit, and actors, such as Allie Woods, with whom he was to work later. All of whom were drawn to New York. And it was here in the shadows of "the great white way," in lower Manhattan on Second Avenue where Yiddish theater had blossomed in the 20s, 30s, and 40s that serious Black theatre emerged in the early 1960s.
St. Mark's Playhouse was owned and operated by Lynne Michaels and Harry Baum, producers of The Open Space Theatre Experiment, one of the first off-Broadway organizations that produced challenging modern European theater, for example Jean Genet's "The Blacks" in 1961, directed by Gene Frankel, with a (now) who's who of African American artists, such as Maya Angelou, Cicely Tyson, James Earl Jones, Lou Gossett, Jr. , Roscoe Lee Browne, Godfrey Cambridge, then all young actors. Lynne Michaels may have met Douglas Turner Ward originally at Paul Mann's Workshop which she also attended as a young actress. In 1964 she provided a home at St. Mark's Playhouse for the fledgling new group (not yet named NEC) to produce the radical work of Leroi Jones, later known as Amiri Baraka. I remember seeing there the double-bill, "The Toilet" and "The Slave," in January 1965—I was then a nineteen year old student from Germany in college in Minnesota on a theater tour to New York—the whole experience shook me to the core. Having climbed up some rickety dark staircase to the second floor, I found myself in a small black-box theater, facing three dirty urinals and then being assaulted by the rough poetry of angry black young men—I realized then the real power of theater as it grabs at the very guts of humanity. The pathos of Al Freeman Jr. as The Slave, young and old, it all has stayed in my memory for over 50 years. And here I am fifty-plus years later at a revival of Douglas Turner Ward's 1965 Drama Desk Award winning play "Day of Absence" and meet cast member Norman Bush, one of the original young actors in "The Toilet" now playing Rastus, the old forgotten Negro who appears at the end of "Day of Absence"—portrayed by Bush with a subtle whimsical pathos reminiscent of the old forgotten Firs in Chekhov's "The Cherry Orchard." The miracle of life in living art!
PANIC IN THE MAYOR'S OFFICE -- Cecilia Antoinette, Jay Ward, Charles Weldon, Chauncey DeLeon Gilbert.
"Day of Absence" works on a comic conceit that satirizes the social and economic dependence of white society on "Negro" labor. The play takes place in a small Southern town where one day all Blacks totally disappear; utter chaos breaks out as nothing functions anymore—no nannies to take care of babies, no trash collectors, no one to pick cotton, no factory workers, no cleaners, no one in need of social services for the poor. The mayor is faced with a local white rebellion if he cannot find the requisite workforce of "darkies." Ward does not shy away from all the derogatory demeaning terminology that have been heaped upon African Americans, especially in the "land of cotton," the old Dixie South that he knew only too well. The characters in the play are all whites played by black actors in whiteface, designed by Ali Turns. They are, of course, caricatures with the familiar clichés of Southern white country folk—the preset music is traditional banjo strumming white country music from "Oh Susannah" to "I wish I were in the land of cotton…I wish I were in Dixie…" All the costumes, designed by Katherine Roberson, contain somewhere the US or the Confederate flag. The complete reliance on familiar clichés may seem over the top but as a satire it flips all the clichés that had adhered to the characterization of Blacks through blackface minstrelsy, and is thus justified. The comedy is broad, the message is clear—the US economic and social functioning of which the country prides itself so arrogantly would totally collapse without the cooperation of the traditionally exploited Black labor force that for much of the US history has been kept on the lowest levels. The same patronizing or stereotypical maligning of the population that works on the lowest but essential levels, whether as migrant fruit pickers, home health aides, or nannies—now mostly immigrants—persists. And so the substance of the satire still pertains.
The present production is blessed by the contribution of original cast members: Allie Woods who plays Jackson, a marvelous rattled Mayor's aide, and William Jay Marshall who towers as a red-clad Clan, the Ku Klux Klan superior, in his interview over the Announcer, a Northern reporter, played by the only actual white cast member Michael O'Day, with requisite objectivity. Veteran director Arthur French, an original member of NEC, presents a fast-paced simply staged farce. The cast is augmented by students from the NEC acting workshops and professional young actors. Notable among them are the two actors who set the tone at the beginning with irresistible comic timing of their largely monosyllabic one word utterances, Jimmy Gary Jr. as Clem (played in 1965 by Lonne Elder) and Albert Eggleston as Luke (played originally by Arthur French). Their whiteface masks with black-rimmed mouths and eyes accentuate the slow motion of their brains while slow fly-swatting and otherwise rare movements give the atmosphere of a sweltering Southern morning. After their realization that something is amiss, the events accelerate and an utterly addle-brained mayor, given a desperate attempt at charm by Charles Weldon (originally played by Ward himself) leaves the town in shambles. At the end the play returns to Clem and Luke, now watching in amazement as ancient Rastus, the only Negro, ambles onstage. Luke relapses/relaxes with a sigh of relief and comments: "It's just like it was yesterday." But Clem's question in response and last line in the play: "Is it?" leaves a looming echo in the house.
Charles Weldon, as The Mayor, and townspeople.
---