Film
United States vs. Reality Winner
"United States vs. Reality Winner" is a fake film about a phony heroine. By Lucy Komisar.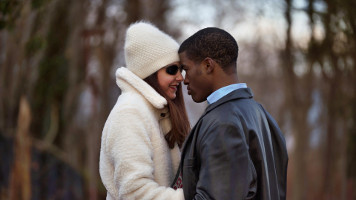 Emily Seibert and Clas Duncan play the ill-fated lovers.
"Used and Borrowed Time"
Sophia Romma's film, "Used and Borrowed Time," centers on an ill-fated interracial love affair between a blind Jewish girl and a black young man in Birmingham, Alabama in the 1960s. Their love affair, and racism it exposes, are the center of a psychological drama phantasma that very likely has the distinction of being the first new work to be screened in New York when the Greenwich Village art houses reopened after the Covid-19 lockdown. Beate Hein Bennett attended its theatrical world premiere on May 7, 2012 at Quad Cinema, 34 West 13th Street.
HBO's Coastal Elites: Grappling With Politics, Culture,
And The Pandemic
A pre-and post-COVID-19 slanted offering, muchly peppered with condemnation of Trump and the current administration, was presented one time only this past September. HBO's Coastal Elites was originally written by playwright and novelist Paul Rudnick, intended to be performed at New York City's Public Theater. Widely known for his humorous and satirical writings which regularly appear in the New Yorker, Rudnick turned to Matthew Jay Roach (Meet the Fockers, Trumbo, Bombshell) to direct, but the closing of all theatres in the city nixed that idea. Here we get 5 fictional monologues, each one running 15 to 20 minutes, all but one filmed in a single take. The actors, sitting in their own space - behind a desk, in a TV studio, or in their own apartment – all looking directly at the camera and delivering their story, each from a different perspective. One is seen talking to a policeman, another to his therapist, a third to her TV audience, and two, presumably to us. By Edward Rubin.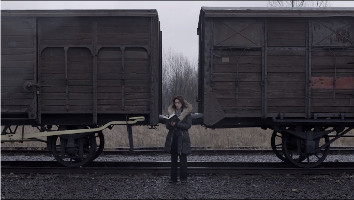 The filmmaker's mother, Alice Michalowski, reading from Maryla's memoir, as seen in "Nana," a First Run Features release.
Nana
Serena Dykman's documentary "Nana" is a eulogy, not only for her grandmother, Maryla Michalowski-Dyamant, who died when Serena was 11, but for all victims of the Holocaust. "I remember a lot of people attending her funeral," Ms. Dykman recalls. "I remember that she was a very important person, a public person." And she remembers hearing the vocabulary of her grandmother's mission – words like "Auschwitz," "Birkenau," "ghetto," "Mengele," "gas chambers" – "and not understanding them, but knowing they were bad words." "Nana" is also a film of three generations of women, and the dynamic between Ms. Dykman and her mother Alice Michalowski, Maryla's daughter, does much to propel the arc of the documentary narrative and imbue it with love and hope. By Nancy Kempf.
Paula Dofat, Blessin Giraldo, Cori Grainger as The Lethal Ladies.
"Step": Lethal Ladies Step Out and Step Up in New Documentary
If there are antidotes to Charlottesville, one may be "Step," the new documentary from Amanda Lipitz that won the U.S. Documentary Special Jury Award for Inspirational Filmmaking at the 2017 Sundance Film Festival and the Audience Award for Best Feature at the 2017 AFI Docs festival. The film tells the remarkable story of the step team at the Baltimore Leadership School for Young Women (BLSYW). "Step" focuses on Blessin Giraldo, whose mother suffers almost crippling depression; Cori Grainger, the class valedictorian whose mother has recently remarried; and Tayla Solomon, who struggles with her grades even as her demanding corrections officer mother acts not only as her daughter's booster, but the entire step team's. By Nancy Kempf.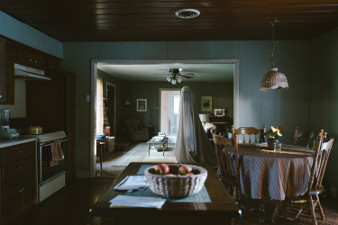 Casey Affleck as C. Photo by Bret Curry. Courtesy of A24.
"A Ghost Story": A Meditation on Time, Remembrance and Loss
What is time but loss? Loss of youth, of companionship. The process of becoming and of declining. David Lowery's "A Ghost Story" is about time and loss and opens with an epigram, the first line of Virginia Woolf's story "A Haunted House": "Whatever hour you woke up there was another door shutting." The piece is ultimately a love story. By Nancy Kempf.

Paterson
Jim Jarmusch's new film "Paterson" – about a poet named Paterson who drives a bus for a living in Paterson, New Jersey – is concerned not simply with poetry and the craft of prosody, but with the very nature of language itself. Not only do other poets inhabit "Paterson" – a rap artist who composes in a laundromat, a 10-year-old girl, a Japanese poet on a pilgrimage to Paterson, home of William Carlos Williams – but the film is teeming with myriad varieties of linguistic rhythm and style: in street talk; in conversations on the bus (guy talk, kid talk, would-be anarchist talk, old lady talk); in conversations in the neighborhood watering hole (bar stories, lovers' quarrels, wifely scolds) – each is a kind of quotidian poetry in itself. Reviewed by Nancy S. Kempf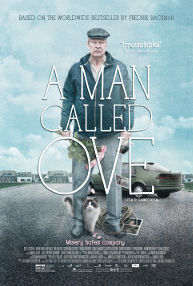 A MAN CALLED OVE: THE GRACE OF COMMUNITY.
Swedish director Hannes Holm's "A Man Called Ove" is a variation on this theme of community. What is community and how do we create it and then maintain it over time? How is the intimate community of marriage interwoven with the community of neighbors and friends? How do the interactions of the workplace sustain or betray community? Reviewed by Nancy S. Kempf
Daniel Radcliffe and Paul Dano in "Swiss Army Man"
Quirky little subversive films made for a delightful summer.
If you're not into superheroes ("Captain America," "X-Men") and super villains ("Suicide Squad"); if thriller ("Jason Bourne," "Independence Day," "Now You See Me") and sci-fi ("Star Trek") and horror ("The Conjuring," "The Purge") and animation ("Angry Birds," "Teenage Mutant Ninja Turtles," "Ice Age") franchises and franchises-to-be ("Warcraft") aren't your thing; if just plain stupid makes you just plain sick ("Neighbors," "Bad Moms," "Mike & Dave Need Wedding Dates"), you're going to love these movies. Reviewed by Nancy S. Kempf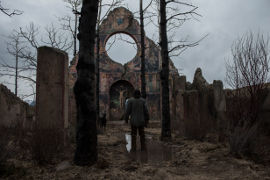 Leonardo DiCaprio as Hugh Glass in "The Revenant."
Survival in extremis: "The Revenant" and "Son of Saul"
Two of the most highly acclaimed films of this awards season have been Alejandro González Iñárritu's "The Revenant" and László Nemes's "Son of Saul." Oscars went to Iñárritu for Directing, Leonardo DiCaprio for Best Actor and Emmanuel Lubezki for Cinematography. Nemes's "Son of Saul" won the Best Foreign Language Film Oscar. Both films center on a protagonist in unimaginable torment. One survives through an obsession with vengeance, the other through an obsession with atonement. Reviewed by Nancy Kempf.
Juliette Binoche and Kristen Stewart in "The Clouds of Sils Maria."
Remember the Ladies: Stellar Performances from 2015
A roundup of remarkably talented actresses who gave us a cornucopia of praiseworthy performances. An overview by Nancy Kempf.
"The Story of Land Art." Michael Heizer, Circular Surface, Planar Displacement Drawing, El Mirage Dry Lake, 1969. Photo by Gianfranco Gorgoni, 2014.
Where time meets space: James Crump's "Troublemakers: The Story of Land Art"
Into our intellectually constricted era of cynicism and self-absorption comes a timely antidote in "Troublemakers: The Story of Land Art," James Crump's definitive documentary on the Land Art of Michael Heizer, Robert Smithson, Walter De Maria, Nancy Holt, and Dennis Oppenheim, opening January 8th at the IFC Center in New York City. For our world of narrow narcissism and trivialized themes, "Troublemakers..." serves as a valuable reminder of a particular cohort of artists who were existentially committed to ideas and ideals greater than themselves. Reviewed by Nancy S. Kempf.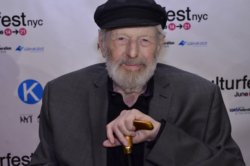 Theodore Bikel. Photo by Kate Hess.
"Theadore Bikel: Lifetime achievement award and the screening of a new play"
Glenda Frank attended the NY premiere of the film, "In the Shoes of Sholom Aleichem," which stars and features stage icon Theodore Bikel. "In the Shoes of Sholom Aleichem" illuminates Bikel's experiences with immigration to the new world, Civil Rights and anti-war activism. And Alan Alda, who narrates the film, presented a lifetime achievement award to Theodore Bikel on behalf of the now Century-old National Yiddish Theatre, Folksbiene.
Khan Chittenden as Jim.
Canopy: Sounds of Silence, World War II Style
Director/writer Aaron Wilson's "Canopy" begins in stillness, ends in muteness, and in between seldom a word will be uttered. There are be bird tweets though, and the reverberations of bombings, the segments of a tune or two, the thrashing of crickets in heat, plus a few gasps of human pain. All in all, the screenplay offers up two perfect roles for actors with poor memory recall. By Brandon Judell.
| | |
| --- | --- |
| | |
| The oldest of the Boston bombers, Tamerlan Tsarnaev. | Poster of the 1947 movie "Odd Man Out," directed by Carol Reed. |
Boston's Odd Man Out
On the night that Dzhokhar A. Tsarnaev, 19, marathon bomber on the run, was found bloodied and half dead in a boat in the back yard of a house in Watertown, Massachusetts, Jerry Tallmer suddenly realized he had seen this movie before. It was Carol Reed's "Odd Man Out" (1947), a film that offers provocative insights on the forces of history that act on radical temperaments.
"Ghost Cat of Otama Pond"
"Ghost Cat of Otama Pond:" Puss in Cahoots with the God of Retribution
It's certainly nice to have a cultural institution within our midst that's not afraid of a little fun. So with high spirits in mind, the Japan Society has initiated a fitting tribute to a Roger-Corman-like studio, Shintoho. No doubt one of the highlights of the festival is the gloriously silly "Ghost Cat of Otama Pond" ("Kaibyo Otama-ga-ike") from 1960. By Brandon Judell.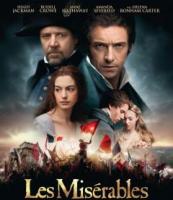 Poster of "Les Misérables" by Tom Hooper.
"Les Misérables" does not rise above the musical
The filmmaker Tom Hooper had a chance to recapture the historical details of Victor Hugo's novel. Unfortunately, in retaining the approach of a feel-good musical, a good opportunity was lost. By Adele Bossard.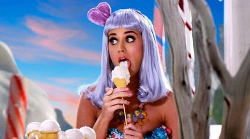 "Katy Perry: Part of Me" in 3-D
Katy Perry: Part of Me
The closer you are to puberty, the more you'll be blown away by "Katy Perry: Part of Me." Just imagine Madonna's "Truth or Dare" (1991), but without the sexual innuendo, glamour, wit, and Warren Beatty. By Brandon Judell.
Pariah: Extremely Lesbian and Incredibly Butch
Dee Rees' debut feature, "Pariah," an extension of her prize-winning short film, begins with an Audre Lorde quote: " Wherever the bird with no feet flew, she found trees with no limbs." Well, with the given title and that opening allusion, you might assume you're going to be bathed in an hour and a half of unending despair. WRONG! Instead, get ready for some tender moxie. By Brandon Judell.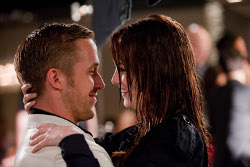 CRAZY, STUPID LOVE--Ryan Gosling and Emma Stone.
"Crazy, Stupid Love"--A Convincing Argument for Monogamy
With numerous familial subplots, sort of like three hyper-episodes of "Modern Family," "Crazy, Stupid, Love" explores love between the generations with aplomb, from preteen to teen to young singles to almost-over-the-hill. With a uniformly excellent cast, this large-spirited film is a continually entertaining adult comedy, at least for a major studio release. By Brandon Judell.
EVERY DAY--Helen Hunt and Liev Schreiber.
"Every Day": Ordinary People Redux?
Get out the hankies? Sorry, not for this one. Richard Levine, who comes from a TV background and is possibly best known for writing, directing, and producing the delightfully cynical ode to plastic surgery, "Nip/Tuck," has a tendency to undermine "Every Day," his beautifully-acted-and-written family drama, with a tasteless, unfunny parody of what it is like to work on a cable series that deems to shock its audience weekly. By Brandon Judell.
"The Next Three Days"
Eating Crowe: "The Next Three Days"
Paul Haggis who stole the Oscar for Best Picture from "Brokeback Mountain" with "Crash," his celluloid collage on L.A. racism, gets into a bit of a car wreck himself with "The Next Three Days."Russell Crowe stars as John Berman, an affable English professor lecturing on "Don Quixote," who goes a bit bonkers when his wife Lara (Elizabeth Banks) gets convicted of murdering her boss by banging a fire extinguisher on her head. By Brandon Judell.
ELVIS AND MADONA--MADONA (Igor Cotrim) AND ELVIS (Simone Spoladore). Photo by Alisson Prodlik.
Elvis and Madona
With the grace of a sledgehammer, Brazilian Marcelo Laffitte ventures into Almodóvar territory in his very first feature. This semi-comic romance opens with Madona (Igor Cotrim), a pre-op transsexual, ordering a hearts of palm pizza. After snapping her cellular shut, the ultra-blonde femme fatale immediately gets punched out and robbed of her life savings by her co-star in porn films, the drug-dealing Tripod Joe. What's a girl to do? This "moolah" that she earned from hairdressing, a little oral sex, and the aforementioned porn, was to pay for her big drag show, which was to make her a star. By Brandon Judell.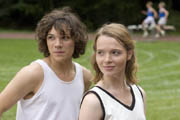 "BERLIN 36" A Tale of Olympic Drag.
Berlin 36: A Tale of Olympic Drag
It's that glorious time of year again when the annual New York Jewish Film Festival screens it latest treasures at Lincoln Center. All of the wondrous, humorous — and, at times, tragic — complexities of life are captured here on celluloid, those revelatory intricacies of existence as seen through the eyes of Jews and their neighbors, their friends and their foes. By Brandon Judell.
Harry Potter Needs a Shave
As for the film version of Harry Potter and the Half-Blood Prince, the sixth in the series to reach the screen, the film is a total delight, the most mature in the series, and a dream come true for Potter-ites. However, for those of you who have never read any of Rowling's hefty output or a seen a prior celluloid adaptation, stay away. You'll be totally addled. By Brandon Judell.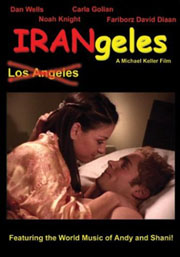 Poster of "Irangeles."
"Irangeles": Will Romeo Get Circumcized for Love?
"Irangeles," billed with a bit too much bravado as "a Michael Keller film," takes on the Romeo and Juliet trope yet again, but with a fascinating little twist. Yes, this 2003 movie, which is newly released on DVD as a "2008" production, has transformed Romeo into Kip, a beer-gurgling Kansan frat boy who moves to Los Angeles to become an actor. As for Juliet, she's now Sherry Azizi (Carla Golian), the daughter of strictly kosher Persian-American Jews. By Brandon Judell.
Pray the Devil Back to the Hell.Original artwork by Olaf Hajek, poster designed by PrettyCo.
"Pray the Devil Back to Hell": An Interview with Director Virginia Reticker
In 2003, a group of Catholic and Muslim women in Liberia got together to stop a civil war that was destroying their country, and they succeeded. Last November, a startling film, Pray the Devil Back to Hell, documenting their story opened in Manhattan. Emmy-Award wining director Gini Reticker's remarkable effort clearly works on every cinematic level at once: it educates, it astounds, and it convinces you that you can make a difference. By Brandon Judell.
Frank Langella
"The Caller", You Don't Necessarily Have to Hang Up
Very few actors have the ability to make a silk purse out of a sow's ear and almost have you completely forget you're interacting with pork product. Frank Langella is one of these.
Throughout Richard Ledes' The Caller, a little film optimistically billed as a "psychological thriller," Langella's grace and gravity keep you convinced that at any moment this at-times disjointed piece of celluloid will become worthy of its star. That never happens. By Brandon Judell.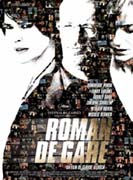 © Les Films 13
Roman de Gare : A Man, A Woman, and Too Much Plot
Who is the unshaven stranger (Dominique Pinon) driving down the highway in Claude Lelouch's latest celluloid mystery, "Roman de Gare"?
Is he a pedophilic prison escapee who plies his victims with magic tricks? Or an unhappy professor running away from a sterile home life just before his tenth wedding anniversary? Or is this bedraggled soul a ghostwriter of bestselling murder mysteries for the highly adulated and extremely wealthy Judith Ralitzer (Fanny Ardant)? By Brandon Judell.
Jacob Burkhardt as a bat-wielding hotel clerk; Royston Scott as the detective, Spade Slade, in "Tomorrow Always Comes" (2006), directed by Burckhardt.
Surreal Moving Images and Satirical Films of Jacob Burckhardt
A moving picture in the mind of an artist can take many forms. Think of Jacob Burckhardt's mind as the recorder of his life journey and the teller of satiric tales. Both are Burckhardt working to create a visual mood that captures our attention with wit and sophistication. By Larry Litt.
The Jews of Lebanon
The Jews of Lebanon
Yves Turquier dedicates his 77-minute documentary, "The Jews of Lebanon," to those Lebanese Jews who immigrated to Mexico, Israel, the United States, Canada, France, England, Switzerland, Brazil, and Italy to make new lives for their families.
By Brandon Judell.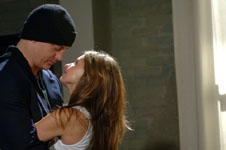 Brendan Fraser and Sarah Michelle Gellar in " The Air That I Breathe."
The Air that I Breathe
Jieho Lee's film "The Air That I Breathe," is highly entertaining and a lavishly acted drama. The critics are giving reviews on the production notes; and the director is ever-so-intense on spiritual pronouncements in the film. The storylines are interconnected; it is part of the joy of "The Air That I Breathe." Furthermore the acting is impeccable, the cinematography by Walt Lloyd is riveting, Marcelo Zarvos' score works beautifully, and the direction laudable, especially for a debut feature. By Brandon Judell.
A Tree Grows in Israel: Joseph Cedar and his Beaufort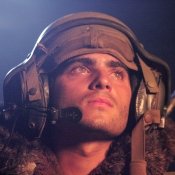 Liraz Liberti in "Beaufort" by Joseph Cedar

Winner of 4 Israeli Oscars, the Silver Berlin Bear for Best Director, and a highlight of both the Palm Springs International and The 17th Annual New York Jewish Film Festivals, Joseph Cedar's Beaufort is a powerful, trenchant, beautifully shot war drama about the supposed last days of Israel's presence in Lebanon.Cedar has noted: "What intrigued me most in the story of Beaufort is that it deals with how wars end. There is an abrupt, definitive moment in every war when the mission, or purpose, for which soldiers gave their lives until that moment, ceases to exist. With Beaufort this moment comes with a great horrific explosion, destroying one of the bloodiest mountains in the Middle East - an unforgettable, adrenaline-saturated moment, but also an image that crystallizes the inconceivable waste of human life." By Brandon Judell.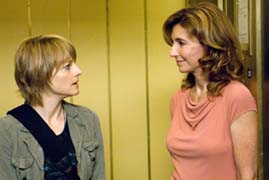 The Brave One
, Jodie Foster and Mary Steenburgen
The Brave One: Or Why The Nice Vigilante Shot Up the Big Apple
Director Neil Jordan, enjoin father/son team of Roderick and Bruce A. in this dreary, cockamamie Valentine to New York City haters, a good argument for the government sterilization of a certain family's genes when radio personality Erica Bain (Foster) is confronting a bad day. By Brandon Judell.
Broken English: Parker Posey is Unloved
Director/ writer Zoe Cassavetes, the daughter of actor John and actress Gena, captures the desperate need for love unequivocally in "Broken English." Parker Posey's performance is beautifully nuanced and finally bereft of the slight comic cynicism so many of her characterizations are slightly edged with. Posey's admirers will experience a sensual intoxication that fans always experience when their film goddesses are at their very best. By Brandon Judell.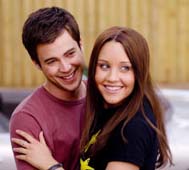 Sydney White (Amanda Bynes) and admiring frat boy Tyler Prince (Matt Long) in "Sydney White." (Photo: Universal Studios)
Sydney White: "I Used to be Snow White But I Drifted." Sydneu?
"Being a progressive nerd is better than being a conservative princess," or so preaches "Sydney White," an almost-delicious spoof on Snow White and the Seven Dwarves. (That's if you like poisoned apples.) There's just a change of character names and locale. Now all the action takes place on a college campus, cum predictable plot and stereotypes. By Brandon Judell.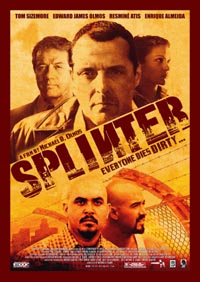 Splinter Movie Poster.
"Splinter"
"Splinter," a not-bad actioner directed by Edward James Olmos' s little boy, Michael D., features Tom Sizemore as Detective Cunningham, a seedy, alcoholic L.A. cop who's corrupt to the gills. Luckily for him, where he's situated, he almost doesn't stand out. By Brandon Judell.
L-R: Rebecca Gibney, Brenda Blethyn in "Introducing the Dwights." Photo by Daniel Smith © 2007 Goalpost Film Ltd.
"Introducing the Dwights"
There are films about monstrously overbearing moms, often played by Shelley Winters, and there are those "heartwarming" coming-of-age/losing-one's-virginity cinematic treats. Australia's entry into this field, ''Introducing the Dwights," consolidates the best elements of both genres to create a whacky, touching, sexy, biting comedy. By Brandon Judell.

Cast of "The Bubble."
Eytan Fox's "The Bubble"
Although the head-shaved, sprightly Eytan Fox might just be the prince of the Kosher New Wave emanating out of Israel for the past decade, he's definitely the king of the faygala division of the same movement. Fox's "Yossi & Jagger" (2002) and "Walk on Water" (2004) have brilliantly showcased the dilemma of being homosexual in a society where machismo was once considered a treasured Zionist trait necessary for national survival. In "The Bubble," Fox has explored gay love within the military and homophobia within the Israeli intelligence agency with warmth, wit, and applaudable plotting, dynamic acting, and sterling technique. By Brandon Judell.
Film Poster for Waitress 2007. Photo Courtesy of movies.yahoo.com.
''Waitress'' written and directed by Adrienne Shelly
If you recall the long-running TV series "Alice," you'll pretty much be revisiting familiar territory with ''Waitress.'' The plot is quite simple. Will Jenna ditch her husband and run off with her married obstetrician (Nathan Fillion)? Will Dawn find a boyfriend? And will Becky ever reveal her secret that just might have do with having sex? By Brandon Judell.
Hot Fuzz: The Good, The Bad, and the Inane
Brandon Judell wrote: ''Brilliantly directed by Wright from a gleefully acerbic script by both Wright and Simon, and masterfully shot and edited by Jess Hall and Chris Dickens respectively, one can't overlook the inspired casting. The best of both old and new Brit talent has been gathered here, including Anne Reid ("The Mother"), Billie Whitelaw ("The Omen"), Bill Nighy ("Notes on a Scandal"), Edward Woodward ("The Equalizer"), and Timothy Dalton (James Bond).'' Read his whole review by clicking the link.
''Rome Rather Than You''
"Rome Rather than You" is explained this way: "It's about politics as it is about girls, cigarettes and terrorism, false papers and water cutoffs. All in a disorderly fashion to better understand what the social situation must refuse the characters." Seen and reviewed by Brandon Judell.
A Voice Without a Face: His Dad Was a Singing Spy
The 11th NY Sephardic Jewish Film Festival, one of the more delightful, narrowly focused annual events in the Big Apple, offered "A Voice Without a Face," directed by Assaf Basson. By Brandon Judell.
La Baker
In recent writing about her, the phallic bravado of Josephine Baker seems mostly ignored or avoided. Yet to an unprejudiced eye, the sleek vertical aplomb might appear patent. A curiously poignant scene in Annette von Wangenheim's documentary, "Josephine Baker: Black Diva in a White Man's World," unveiled on January 3rd and 12th in the Dance on Camera Festival at New York's Walter Reade Theatre, shows Baker's smile, dancing. By Brandon Judell.
Photo by Jean-François Baumard.
Gorgeous (Comme T'y Es Belle!)
"Gorgeous," a huge box office hit in France, is a comedy about four attractive women of varying ages in rather varied relationships: divorced, separated, married, and the fourth obviously single. The first three have children. Some more than one. The ladies all also have family members whom we meet and lovers, too. They additionally have jobs, one with numerous co-workers. Consequently, at times, the screen seems to be populated with a lively cast huger in number than that of "Birth of a Nation." By Brandon Judell.
Dominique Swain from Alpha Dog. She is in the photo with Justin Timberlake, Charity Shea and Christopher Marquette.
Dominique Swain: Lolita Has a Tattoo
At the sweet age of 15, when other girls were getting their braces tightened or dressing up as Spice Girls, Dominique Swain was "sitting" on Jeremy Iron's lap, portraying Nabokov's infamous nymphet in HBO's "Lolita." For her efforts, she was nominated for the Most Promising Actress award by the Chicago Film Critics Association, and both she and Jeremy garnered an MTV "Best Kiss" nomination. There's nothing like a little intergenerational hoopla to get folks going. By Brandon Judell.
The Black Dahlia. Mia Kirshner. Picture by Rolf Konow/ Universal Pictures.
The Black Dahlia: The Bloom is Off
Brian De Palma, who scared the bejesus out of us with his Hitchcock paeans "Carrie," "Dressed to Kill," and the underrated "Blow Out," has also directed some spectacular flops over the last four decades such as "The Bonfire of the Vanities," "Snake Eyes," and "Casualties of War.""The Black Dahlia" fits neatly into the latter category, but not without a few moments to truly relish. By Brandon Judell.
David Ingram.
Sidekick: The Downside of Superpowers
Norman (Perry Mucci) is the ultimate office nebbish/computer geek, his existence barely registering on anyone's awareness scale. Between keyboard strokes, he moons over pretty secretaries, but to no avail, and at company sports events, he's the only one relegated to videotaping the activities. But just when his real life seems stuck on Dreary, Norman discovers that Victor (David Ingram), one of his office mates, has superpowers. By Brandon Judell.
Alex Pettyfer. Photographs by Liam Daniel.
Alex Rider: Operation Stormbreaker
If in 20 or 30 years, Daniel Craig has retired from playing Ian Fleming's stalwart secret agent, the series' producers need look no further than Alex Pettyfer as their new man. This British youth, who essays the 14-year-old Alex Rider here, has the charisma, the moves, and the looks to play Mr. Bond. He also can act which is much more than several actors who were consigned the role could do (e.g. Roger Moore). By Brandon Judell.
Daniel London and Will Oldham. Courtesy Kino International.
Old Joy: Two Hippies Go On A Car Ride
After the screening I attended of "Old Joy," one slightly disgruntled critic came up to me, complaining, "This isn't a film. There's no arc. No action." "Ah!" I responded. "For stoned hippies, this is 'Star Wars,' " But for the rest of us, this languid road film will be almost a meditation. In fact, to be perfectly honest, I blissed out into slumber for a short while during the film's commencement, only to awaken refreshed and joyful, ready to embrace the world and the rest of "Old Joy." By Brandon Judell.
Melinda Page Hamilton and Bryce Johnson stars in Sleeping Dogs Lie. Directed by Bobcat Goldthwait.
Sleeping Dogs Lie: Once In Love With Amy Doesn't Mean Always
John Waters meets "Sleepless in Seattle" in this sweet, at-times "tasteless" comic concoction about romance, reputation, the need to confess, and the yearning of society to pigeonhole everyone with a one-dimensional label. By Brandon Judell.
Volver. Penélope Cruz. Photo by Juan Gatti / El Deseo, courtesy of Sony Pictures Classics.
Volver: Almodóvar Calms Down
Someone has slipped Pedro Almodóvar a Valium. Yes, the delectable high-pitched frenzy of his recent films such as "Talk to Her" (2002), "Bad Education" (2004), and "Live Flesh" (1997), with its trademark super-Almodóvar stylization and quirks suffusing nearly every frame, has been put aside for the moment. Yes, in "Volver," there are no gigantic vaginas confronting miniature men, no stories within stories within stories highlighting the travails of sexually-abused, pre-op transsexuals, and no frenetic heterosexual copulations committed as acts of revenge. Instead, what we have here is an at-times plaintive love letter to women: a paean to their humor, their loyalty, and especially their ability to survive their encounters with cheating, lying fornicators who employ their penises as weapons of submission. By Brandon Judell.
America: Freedom to Fascism
As whacked out as it may seem at times, "America: Freedom to Fascism" is possibly the most important American documentary to be released this year after Al Gore's "Inconvenient Truth." After all, the latter predicts the death of mankind, while the former just prognosticates the demise of liberty in these United States. By Brandon Judell.
Keeping Mum: A Killer of a Mother Figure
Just when Brandon Judell thought he'd bore himself to death, having to tell yet another inquirer that the only must-see comedy of the moment was "Little Miss Sunshine," an almost equally fine option arose. "Keeping Mum" is a delicious British take on the dysfunctional household saga. Yes, in the tiny parish of Little Wallop (population: 57), everything is not going well for yet another nuclear family, this time a vicar's. By Brandon Judell.
The Devil Wears Prada
Miranda Priestley, as blazingly portrayed by Meryl Streep, is the divine despot of international fashion. She decides what belts are in, what fabrics are de rigueur, and where hems should end. And if she decides that the trendy should be hued in Golden Rod, Crimson, or Navajo White, they will be. Miranda is a distaff version of Donald Trump. Streep, without a doubt, gives here one of the grand comic performances of the year. By Brandon Judell.
"Jailbait"
"Jailbait"
Michael Pitt fans can celebrate once again at this prison drama. Even though "Jailbait" falls into that rare category of a film in which he keeps his clothes on, the young man with the sultry lips, Victorian pallor, and waif-like beauty still gets smacked around, emotionally abused, raped, forced onto his knees, and, in a piece de resistance, gets to wield a pencil as a deadly weapon. Lord knows what Pitt'd do if his character had a Magic Marker. By Brandon Judell.
"John Tucker Must Die," does he?
Criticizing a summer teen movie for not being high art is like yelling at a sociopath for being a serial killer. From "Tammy" to "Gidget" to "The Beach Blanket Bingo" flicks, films for the acne aged are supposed to be simpleminded fare that supplies archetypes for the inexperienced members of the audience to imitate once they leave the theater. So Brandon holds back on "John Tucker Must Die," sort of. By Brandon Judell.
Scoop: Woody Wields a Sledgehammer
In "Crimes and Misdemeanors" (1989), Woody Allen served up enough plot, wit, and wisdom to nourish a dozen films. This piercing study of morality in the modern world, especially as an experienced by two Jewish gents, one highly ethical and one not, bears repeated viewings to uncover all of its nuances.As for it hilarious bon mots such as the "Last time I was inside a woman was when I visited the Statue of Liberty," there are dozens of such sallies scattered throughout this often brilliant effort. Seventeen years later Mr. Allen shovels up "Scoop," third-rate shtick with about four funny lines, an indigestible plot, and colorless performances. Unlike last year's delicious Hitchcockian traipse, "Match Point," "Scoop" makes you wish that this prolific director was a little less profuse. Maybe there's a good reason most directors don't helm a new feature every year. By Brandon Judell.
Jargo
Entertainment-wise, however, "Jargo," which was understandably never released in theaters Stateside, has a lot less going for it. Unevenly acted and abominably directed, this tale of two mismatched mates simply can't make up its mind whether it's going to be an insipid teen comedy or a despondent melodrama. It settles instead for colossal muddle. By Brandon Judell.
"Stalk" by Leigh Hodgkinson.
A Visit to the Brooklyn International Film Festival
Home to the ninth annual Brooklyn International Film Festival, the Brooklyn Museum, a cultural mecca in itself, is a perfect venue for an array of 120 short, experimental, animated, documentary and feature films from all over the world. By Sasha Levites.
Interview with Marco Ursino, Executive Director of the Brooklyn International Film Festival
This year, filmmaker Marco Ursino served as the executive director of the ninth annual Brooklyn International Film Festival (BIFF). Formerly known as Williamsburg Brooklyn Film Festival (WBFF), BIFF was established in 1998 as the first international, competitive festival for and by independent film makers. Ursino discusses this year's festival and theme: "enigma 9." By Sasha Levites.
Jailbait
Michael Pitt fans can celebrate once again. Even though "Jailbait" falls into that rare category of a film in which he keeps his clothes on, the young man with the sultry lips, Victorian pallor, and waif-like beauty still gets smacked around, emotionally abused, raped, forced onto his knees, and, in a piece de resistance, gets to wield a pencil as a deadly weapon. Lord knows what Pitt'd do if his character had a Magic Marker.
Tom Hanks stars in Columbia Pictures' suspense thriller "The Da Vinci Code."
The Da Vinci Code
In his introduction to "Candide," Andre Maurois notes Voltaire's stance was "if we are prepared to view the Bible as a collection of legends compiled by barbarian tribes, then he is prepared to admit that it is 'as captivating as Homer.' If we claim to find therein a divine utterance and super-human thoughts, then he claims the right to quote the prophets, and show their cruel savagery." That savagery, the result of the unwavering righteousness of some religious folks, resounds throughout the novel "The Da Vinci Code," and to an only slightly lesser degree in the film version directed by Ron Howard.
Drum
In 1951, South Africa had its own cut-rate version of the Harlem Renaissance. In Sophiatown, a black township, writers, singers, gangsters, and immigrant shop owners all held their own. Another attraction was that folks of every epidermal coloring could commingle there. Within this potpourri of exuberance, fancifulness, and limited freedoms, Jim Bailey (Jason Flemyng), heir to a British mining family, starts a magazine, "Drum," that employs a collection of highly talented, hard-drinking, hard-living black writers. The most talented, and the most consequential, man on the magazine's masthead is Henry Nxumalo (Taye Diggs), a womanizing, often inebriated, journalist whose articles supply quality escapism to its readers. He is so good at his job, and his byline so associated with the magazine, that he soon becomes known as Mr. Drum. "Drum," the film, is the story of how Mr. Drum becomes radicalized, and places his family's security and his own life on the line to explore the abominations of apartheid.
V for Vendetta
"People should not be afraid of their governments; governments should be afraid of their people" is the pivotal statement of "V for Vendetta." Although based on the 1989 graphic novel written by Alan Moore and illustrated by David Lloyd, the film is every bit as timely as that under scroll of info bombarding the lowers parts of our sets when tuned to CNN. It will assuredly bomb its way into a thinking man's cult film status.
Poster for "Sophie Scholl: The Final Days".
Sophie Scholl
"Sophie Scholl: The Final Days" is the latest German film to connect with international audiences. Nominated for a Best-Foreign-Film-of-the-Year Oscar and winner of the Best Bavarian Film award, here is yet another of the recent slate of celluloid offerings contending that the individual can and should make a difference in a society where the enemy might be a Joseph McCarthy, a George W. Bush, a homophobic society, an occupation, misogyny, or the Nazis. During World War II, in Munich, she, her brother and their friends launched a secret organization, the White Rose, that distributed leaflets urging others to defy the fascist state Germany had become. On one such trek, at a university, Sophie and her brother were caught. Brandon Judell engaged in a brief chat with the film's director, Marc Rothemund and its star, Julia Jentsch.
Dark Night
Dark Night, An Israeli Student Film Par Excellence
A highlight of the 21st Israel Film Festival (Feb. 23- March 9; http://www.israelfilmfestival.com) and an Oscar nominee for the 2005 Honorary Foreign Film Award in the Student Academy Awards competition, Leon (Leonid) Prudovsky's "Dark Night" is a potent, thoroughly professional take on the current Israeli/ Palestinian quagmire.
"The Forgotten Refugees"
The Forgotten Refugees
In David G. Littman's 2002 National Review article, "The Forgotten Refugees," the head of the Jewish community of Tripoli recalled a 1945 riot: "The Arabs attacked Jews in obedience to mysterious orders. Their outburst of bestial violence had no plausible motive. For fifty hours they hunted men down, attacked houses and shops, killed men, women, old and young, horribly tortured and dismembered Jews isolated in the interior. . . . In order to carry out the slaughter, the attackers used various weapons: knives, daggers, sticks, clubs, iron bars, revolvers, and even hand grenades." Now director Michael Grynszpan has transformed "The Forgotten Refugees" into an eye-opening 49-minute documentary. The film is being screened as part of the 10th NY Sephardic Jewish Film Festival that runs from February 2nd until the 8th.
Keep Not Silent: Ortho-Dykes.
Keep Not Silent: Ortho-Dykes
Although lesbianism today is not such an unimaginable lifestyle choice as it was in the beginning of the twentieth century, for many women with gay inclinations, being an openly girl-on-girl proponent can still be an anguished, fear-riddled option. Don't believe me? Then view Ilil Alexander's illuminating documentary, "Keep Not Silent: Ortho-Dykes," which is being screened as part of The 15th Annual New York Jewish Film Festival, the yearly must-see event presented by both The Jewish Museum and The Film Society of Lincoln Center.
Tsotsi and baby.
Tsotsi: a Thug with a Heart of Gold
In "Tsotsi," South Africa's nominee for Best Foreign Language Oscar, a heartless, baby-faced monster finds his humanity when he accidentally kidnaps a baby. It's based upon an Athol Fugard novel, and Fugard, not an objective observer here, has written that "Tsotsi" just might "rank as one of the best films ever to come out of South Africa." But he may be right.
Casanova.
Casanova
The man who wrote: "I have always loved truth so passionately that I have often resorted to lying as a way of introducing it into the minds which were ignorant of its charms" and "Marriage is the tomb of love," seems the perfect antidote to cinema's current lack of wit. But director Lasse Hallström, whose early films were clearly his best (e.g. "My Life as a Dog"; "What's Eating Gilbert Grape"), has hooked up with two screenwriters, Jeffrey ("Stage Beauty") Hatcher and Kimberly Simi, to concoct a leaden farce that is neither sexy nor funny. (Out on DVD April 25.)
Paradise Now.
Making Nice with Suicide Bombers: An interview with Hanu Abu-Assad
Brandon Judell writes: "Three weeks after I've seen Hanu Abu-Assad's 'Paradise Now,' I still can't shake its memory. When was the last time you could say that about any film release, the bulk of which are so easily disposable, that they're out of your system by the time you've exited the Loew's exits." This coverage is followed with Mr. Judell's review.
Before the Fall (Napola).
Before the Fall (Napola)
"Napola," the highlight of this year's Palm Springs Film Festival, held in January, has turned out to be one of the best films of the year. Think "Dead Poets' Society" meets the Hitler Youth. Now it's rechristened "Before the Fall." If there were a god of celluloid, and sadly there isn't, this feature would be garnering award nominations in this country up the old gazoo.
---
museums by day,
theater by night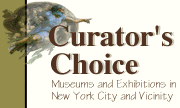 required reading
© copyright 2014, Metro New Media, Inc.
| lobby | search | home | cue-to-cue | discounts | welcome | film | dance | reviews |
| museums | NYTW mail | recordings | coupons | publications | classified |