…Caught in Passing…
"Roles and Rules of Comedy"

September 3, 4 and 10, 11 at 7 PM
The Players, 16 Gramercy Park South
Presented by We Three Productions
Tickets: $35 at https://tinyurl.com/wwx7j99f
(Proper dress is required to attend performances at The Players.)
Running time: 90 minutes
Reviewed by Beate Hein Bennett Sept. 4, 2021
Comedy that captures the absurdities and peculiar coincidences of life is especially welcome in dark times. It is an essential ingredient for the healthy survival of the human spirit. Laughter disarms and arms at the same time—the laughter of derision that takes the prideful down a few pegs and the laughter that helps to diffuse tension and heals the wounds of insult. The six comic sketches of "Roles and Rules of Comedy" written and directed by Harold Dean James catch the pathos of accidental human collisions as well as the absurdities of such situations.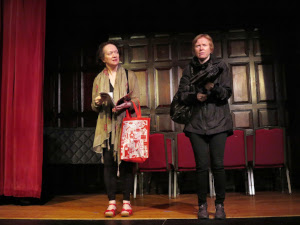 "At the Bus Stop" -- L-R: Sharon Fogarty, Donna Kennedy.
He harvested typical everyday situations of such mash-ups from the rich tapestry of New York City life. His characters are drawn from fleeting moments of encounters at a bus stop, on a park bench, in a museum in front of an abstract work of art, at an interview (for unemployed actors?), in a movie house; the dialogues seem inspired by and developed from randomly caught snatches of overheard conversations that the author takes to another level of comic absurdity or a deeper level of social critique.
In "Matters of the Heart," two lonely people meet in a movie theater. Fitzy Fitz as moviegoer, Donna Kennedy as facility's maintenance worker.
The able ensemble of actors-- Paul Albe, Fitzy Fitz, Sharon Fogarty, Jesse N. Holmes, and Donna Kennedy with special appearances of Claudia Menza and Ray Grist—portray a variety of characters, each with special problems, idiosyncrasies, and tics. The six comic sketches-- some seriocomic, some hilarious, some farcical, some with a romantic touch, some diabolical—are conceived and staged by Mr. James with a straightforward simplicity of means; this is effective for the stage at The Players that is designed for recitals or lectures rather than actual theatrical production.
In "The Last Laugh," the ghost of a departed man finds out that his best friend has been conducting a years-long affair with his wife. (L) Jesse N. Holmes, (R) Paul Albe.
The focus is thus totally on the art of the actor to take the audience into the dramatic situation and the character's persona—there is no scenery, no lighting to enhance or distract, everyday apparel was selected by designer Ramona Ponce. It is essential actor's theatre! The live theatre evening is appreciated after these many months of theatrical dearth by actors and audience alike who enjoy this simple display of the comic vagaries of the human heart!