| go to entry page | | go to other departments | more film reviews

Brandon Judell
"The Adventures of Alvin Sputnik, Deep Sea Explorer"
Created, Performed, and Animated by Tim Watts
Directed by Tim Watts
Original Perth, Western Australia production directed by Tim Watts
Performance Space 122
150 1st Avenue
New York, New York
Tickets 1 (800) 838-3006
4th Annual Undergroundzero Festival July 6 – July 25, 2010)
Website: http://www.weepingspoon.com/AlvinSputnik/Welcome.html
Reviewed by Brandon Judell, Thursday, July 9, 2010
"Theatrical innovator" is possibly an epithet that Mr. Tim Watts might find too burdensome, but it certainly seems to fit him like a pair of made-to-order gloves.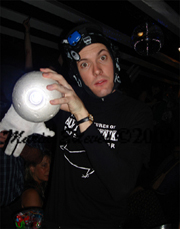 "The Adventures of Alvin Sputnik, Deep Sea Explorer." Created, performed and animated by Tim Watts.
Seamlessly melding live performance, song, puppetry, and animation to a fantastic tale of woe and hope, this Australian import elicited surprise, cheers, and hearty applause during his five performances at the 4th Annual Undergroundzero Festival.
The hour-long play begins with humanity in dire straits. The icecaps have melted, and many of the cities of the world are under water. Yet, on one isolated little mountaintop, by a tiny house, romance survives. Yes, there an Alvin Sputnik woos and weds the love of his life, but then loses her to a sudden illness.
Desolate and bereft, Alvin volunteers for a chancy, last-ditch subaqueous mission to save the world after watching an ad on TV requesting undaunted heroes. He's the only soul who responds. So soon, with Chaplinesque innocence and wonder, the sad wee gent, donning a specially designed diving suit equipped with a limited amount of oxygen, starts travelling through the deepest seas in search of a solution to the ecological disaster mankind is trying to survive.
Along the way, travelling through cartoon-corpse-filled skyscrapers, Alvin is pursued by ferociously multiplying sea creatures and befriended by a whale. Eventually, he winds up dancing at a disco. But just about then, when he starts feeling the futility of the task at hand, the spirit of his wife shows up to egg him on.
Mr. Watts, who's the founding member of Weeping Spoon Production, brings a childlike grace to his characters as they move through various mediums, reminiscent of the children's classic "Harold and the Purple Crayon." Add a dash of James Thurber, a sprinkling of Kurt Weill, and an iota of Siddhartha, and you've almost got it.
Possibly, to nitpick, a little more drama could be added to the dramatic arc here. But when you are this close to perfection, and when you are capable of inspiring both adults and youth to the importance of conservation while you are highlighting the future of theater, maybe you've done enough.
| lobby | search | home | cue-to-cue | discounts | welcome | film | dance | reviews |
| museums | NYTW mail | recordings | coupons | publications | classified |